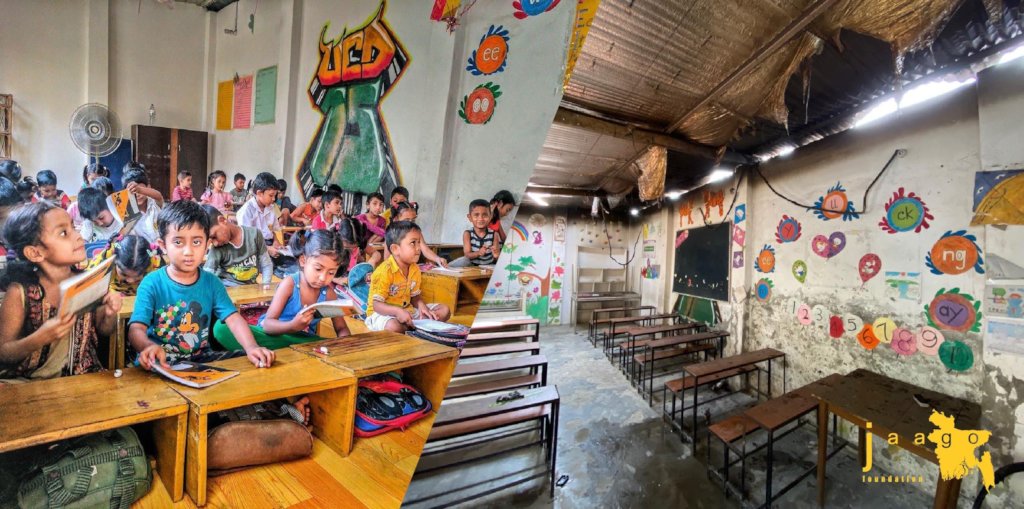 One can only imagine the losses that could have been due to a fire breakout.

The day of 14th March, Saturday, started just like any other quiet weekend at our schools until a fire broke out at Rayer Bazar slum around 9 am. The flames quickly spread to adjacent areas. Large sections of the slum were completely destroyed. The fire also reached the JAAGO Foundation School at Rayer Bazar, burning 5 classrooms. Till now, we have learned that a huge amount of books, shelves, benches, desks, walls, rooftops along with the classrooms have been burned in the aggression of this horrifying fire.
The slum is also home to many of the students, whose homes were damaged in the fire on that horrific day like a nightmare. It is not still clear what caused the fire. We thank the Almighty that it was a holiday for the school and students were not present on the premises; otherwise, there could have been a serious number of fatalities.
We appeal to all our sponsors and well-wishers to stand beside us and our students in this time of need and provide assistance to us so that we can ensure that the children can get back to their homes and their classrooms as soon as possible. Your help and contribution will help these children and their families to go back on their feet.
A Search for New Prospect:
Right after the trauma of fire incident, the whole world faced the new trouble of COVID 19. The world currently is facing probably the deadliest infectious virus- COVID 19 or Coronavirus as we widely know it. Countries all around the world are taking necessary steps to combat this virus which has affected and taken thousands of lives. There is a deeper problem rooted in this we believe. Coronavirus spreads rapidly through community transmission and to avoid spreading the disease the Government of Bangladesh has declared closing down all educational institutions.
Since JAAGO Foundation has a major project called "Education Program" to bring the light of hope through education among 3500 underprivileged children across 11 schools in Bangladesh, In line with the government's request to close all schools, JAAGO Foundation schools were shut on 17th March 2020. Prior to the closure students were giving lessons on hygiene and preparedness for Coronavirus. We continue to stay in touch with the School communities around Bangladesh through SMS and phone calls. Many of the parents of these students are not able to work and as shops shut down and people are no longer using rickshaws the situation for them will get worse for them. During these difficult times, we have started a relief fund. This fund is helping the families of the students with food and essentials for families and most importantly support toward healthcare.
It is very hard to fight the unknown but we can definitely slow down the spread of the virus and the misery. We are fighting with an invisible force and it requires huge motivation, willpower, hands full of support and hearts filled with empathy to get things done during this crisis period. JAAGO Foundation is working solely to help the community in this crucial moment. We are also aiming to raise funds to distribute food and other precautionary items to day laborers, including slum dwellers.
Life before Pandemic:
The students from JAAGO have always been very fond of their school. The activities besides their academic syllabus fascinate them to be more attentive towards their studies. Followed by different events arranged by our partners and donors our students often get to be a part of many amazing experiences. These events and visits keep our students inspired to move ahead with their dreams of breaking the cycle of poverty through education.
Flight of Fantasy:
One of the major experiences that our students have earlier this year that one of the country's leading private carriers gifted 20 students of JAAGO Foundation school with the experience of an exceptional pleasure trip called "Flight of Fantasy".
"Flight of Fantasy" took the children away from the hustle and bustle of Dhaka to the world's longest unbroken sea beach in Cox's Bazar. The delights continued with a visit hosted by Bangladesh's biggest aquarium, Radiant Fish World authority only for the JAAGO students. Afterward, the children were taken to lunch and presented gifts before being flown back in the evening.
Friendly Football Match (JAAGO Vs AISD):
Following month the JAAGO Foundation School's football team was invited to be a part of a "Friendly Football Match" arranged by the leading international school of the country AISD. Team JAAGO has sealed the match by 10-2 goals against the AISD middle school team.
A Day with AISD Service Learning Team:
Apart from this the AISD High School Service Learning team also invited our students to spend a day with them where the students got to play, explore and learn more about chemistry experiments and sports. The day was finished with a dinner where the bonding of friendship among the students was worth being observed.
Gratitude Note:
We are grateful to individuals, our NGO partners, corporates, donors and supporters for their generous support on the "Free of Cost School for Underprivileged Children" project. On behalf of all the students and parents who are related with JAAGO, we would like to express our heartiest gratitude. Without your contribution and support, our journey would not have progressed and prospered in changing the lives of these children who came from an economically disadvantaged background. We request you to continue your love by supporting this project of "Free of Cost School for Underprivileged Children".