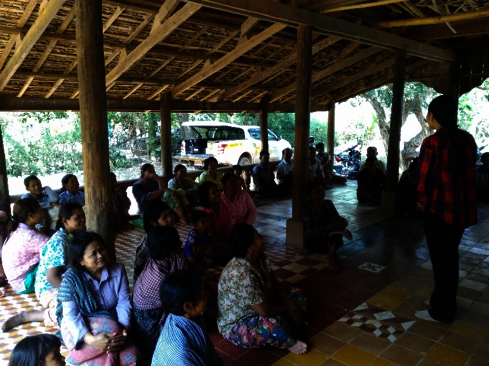 Dany* is a 52 year-old farmer, and the youngest sister of three siblings. Her parents passed away, and so she had an unstable childhood made even more challenging by the Khmer Rouge war in Cambodia. However, today she still has a great relationship with her siblings who are close to each other and have built positive memories together.
When Dany married, life with her husband was difficult. He was aggressive, liked drinking, and would leave the house and have a relationship with another woman. Dany and her husband have four children. Since the birth of their first child, Dany's husband would regularly beat her. The beating injured Dany's body so badly that she can't hear well.
At the start, after her husband would abuse her, Dany would issue a complaint with the police. However, it wasn't effective because he would find out and come home, threaten her, and beat her more. She hesitated to complain to the police or get them involved for many years after this, and had decided to keep quiet and endure the beatings.
One day, Chenda* (a Social Worker) who lived near Dany's village joined the training with World Hope International (WHI). Chenda knew about Dany's abusive relationship with her husband and asked the clinical advisor of WHI to join with her to support Dany's case.
After meeting for three sessions, Dany understood that her husband's violence against her was wrong, that it was not her fault, and that she has rights and could take the case to court. Today, Dany's court case is still processing, and she just finished her court interview this month.
Dany said, "I feel very happy that you care about me. I think I'm about to get freedom soon."
Thanks to your support, WHI-trained social workers continue to intervene and advocate for women like Dany this month.
*All names in this publication have been changed to protect their identities.