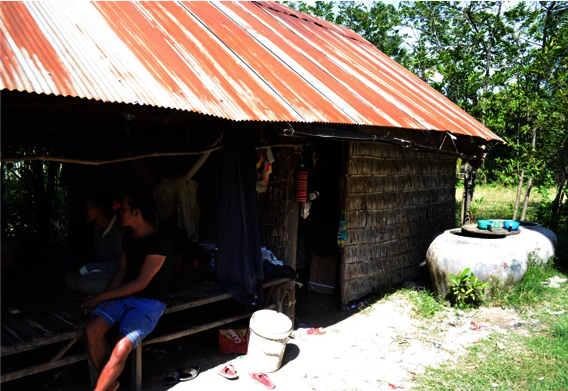 Sopheap*, 43, is part of the more than 30% of Cambodian women who have experienced physical, sexual, emotional or economic intimate partner violence in their lifetime. However, she is also among the almost 250 women and girls, victims of violence, who have received counselling and case management services from government social workers trained by World Hope International (WHI).
For seven years, Sopheap was constantly afraid of going back home to her husband after working all day in a garment factory. Her husband was extremely violent. And like in many other cases of domestic violence in Cambodia, this aggressive behaviour was usually triggered by her partner's frequent drinking. Sopheap's husband remembers those days with regret, "I drank every day. And every time I drank, I would get angry very easily." One day, Sopheap was left unconscious by her husband's anger. After she recovered, she approached the village chief for help. Only a week later, Chariya*, a WHI-trained social worker, was at their door offering them support.
"During the first session, I found it very difficult because the perpetrator was very aggressive and I felt scared. The victim wasn't sharing anything and I felt frustrated, but after the third session, everything was smoother. They started talking to each other and expressed feelings they had been suppressing for a long time," shared Chariya.
After just five sessions of counselling, Sopheap's husband stopped drinking and started to work hard for his family's wellbeing. They understood that housework is not only a female task, and that they need to work together for their family to thrive. "Before, when I would come back from the factory, I had to cook and during that time we would always argue with me. Now we share the household responsibilities. He cooks and takes care of our daughters while I am still in the factory," Sopheap shared. "We work together. We feel happy and we care for each other," expressed Sopheap's husband proudly.
Today, Sopheap and her husband understand the consequences of violence and the benefits of working together for their family. They are building a new house and Sopheap's husband was offered to become a 'village safety volunteer.' This means that he will work together with authorities to report cases of violence against women. Sopheap's story shows the importance of having professional social support services that are available to every community, and the positive impact of both women and men working together to end violence against women.
*All names have been changed to protect the individuals' identities.