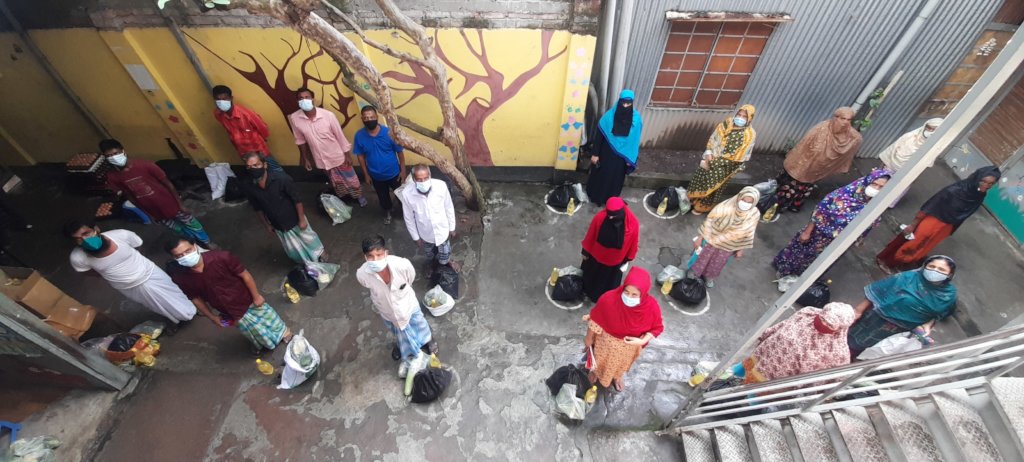 Due to COVID-19, most underprivileged people lost their jobs and don't have income, so they depend on organisations or individuals to help them. It is not an exaggeration to say that your donations have made a real difference in this crisis. Many families now have food at their table. This is the power of your contributions.
But unfortunately, there are millions of people who still need our support. This is why JAAGO implements a healthy living program to ensure that our students and their families have access to nutritious food. One of our most constant donors of healthy meals for the students is "Thrive".
On June 17th, Thrive provided around 500 monthly food packages to our JAAGO Banani School student's families. The package included food items such as Rice, Lentils, Soybean Oil, Eggs, Bottle Gourd, Cauliflower, Green Papaya, Muffins and Biscuits. We express our deepest gratitude to Thrive for always standing beside these marginalised communities.
JAAGO is working towards breaking the cycle of poverty through education among thousands of underprivileged community children. Given the fact "Underprivileged", these children and their family cannot meet the challenge of their daily bread. Hence, providing proper nutrition for their growth is preparing them for the future.
To continue implementing this humanitarian project, we warmly invite you to start a Monthly Donation. Even a few dollars a month will go a long way. That is the best way to ensure an ongoing impact. We are looking forward to seeing your support.
Thank You Note
We would like to take the opportunity to thank you on behalf of JAAGO Foundation for your contribution to fighting poverty and achieving the right to nutrition for thousands of children in Bangladesh. Your contribution means a lot to us. The financial support from your side would help us fulfil our mission of ensuring a healthy generation for a better world. With the funds donated by you, we would transform the lives of many children and their families. We believe your kindness equips the JAAGO students to break the cycle of poverty in the best possible way.