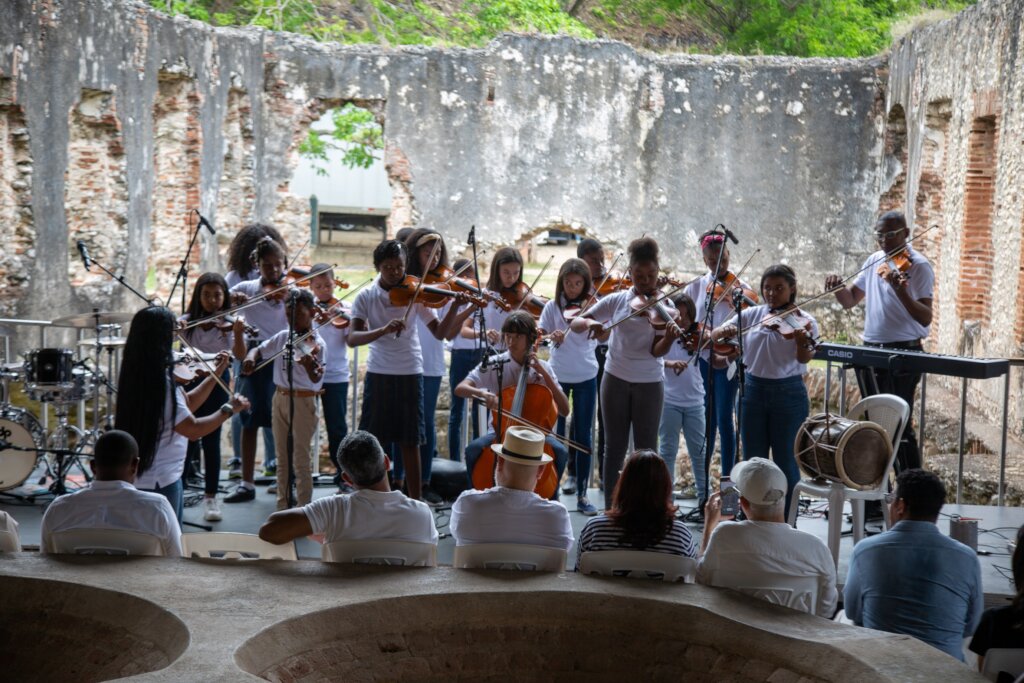 International Jazz Day Celebrations
FEDUJAZZ celebrated International Jazz Day on April 30th with an outdoor concert in the UNESCO World Heritage site Ingenio de Boca de Nigua, near Santo Domingo.
Under the direction of Maestra Venus Guerrero, The Fedujazz Student Ensemble and Master Ensemble enjoyed a recital with the St. Gregory String Orchestra of Nigua. We thank all of our sponsors, staff, volunteers, parents, and students.
A memorable day for the foundation to celebrate a beautiful day in this special UNESCO World Heritage site. Ingenio de Boca de Nigua is a site of historical significance, known as the first colonial sugar mill in the Americas. The site is part of the colonial history of the island of Hispaniola and is believed to be the site of the first slave revolt in the Americas.
International Jazz Day raises awareness in the international community of the virtues of jazz as a force for peace, unity, dialogue, and enhanced cooperation among people.
A drumming circle workshop was conducted by master percussionist David Almengod, who offers a dynamic way of making music with young people, through the use of upcycled plastic or metal buckets, tanks, and gallons. Through this connection between sound and space, the music paid homage to African slaves who had lost their voice and freedom.
Cultural Event ~ Carnaval in Cabarete
Fedujazz students participated in workshops during the month of March, where they learned more about the cultural traditions of the Dominican Carnival, taught by Erick Michael, Director of Cabarete Carnaval.
The workshops culminated in a live musical performance by Fedujazz students on stage at Cabarete Beach, during the official Carnival parade and beach event. Fedujazz students performed musical arrangements of Carnival classics in front of a joyful, dancing crowd at this fun, colorful event.
Music Classes In Session at Fedujazz
High-quality and free-of-cost music education continues at Fedujazz center in Cabarete. Our group of students ranges from beginner to advanced levels, with children of various ages. Courses are offered for piano, drums, saxophone, and musicality, and are provided by trained and talented music professors.
Our center is open Monday - Saturday, and we invite you to visit us! Thank you for supporting quality music education for children of the Dominican Republic.