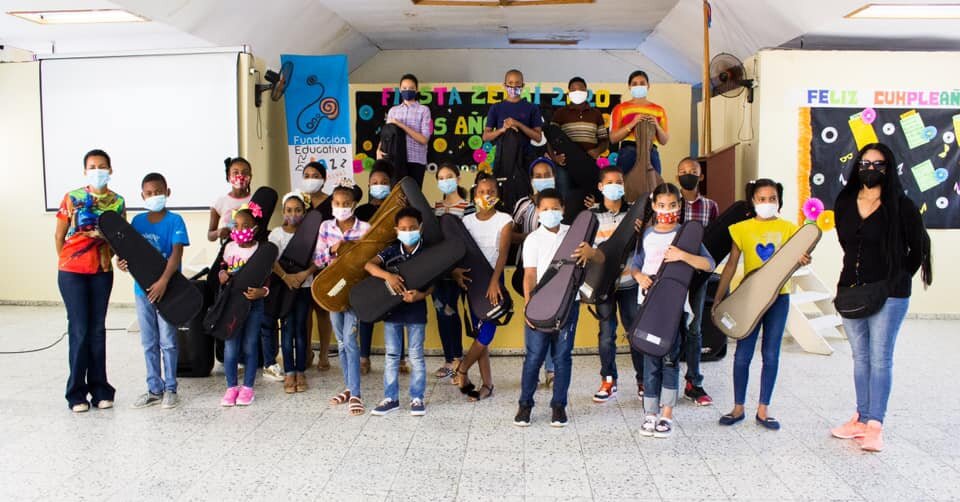 Rebounding from the Pandemic, Students Return to Class
The global pandemic caused a major disruption to education worldwide, and the Dominican Republic was no exception. Children in this Caribbean nation were negatively impacted by the closure of schools. FEDUJAZZ worked hard to maintain a connection to our students virtually, and continue engaging learning opportunities for them.
Through the pandemic, we were able to retain the majority of our students through our virtual learning program, which was supported in part by the prestigious Danilo Perez Foundation. The online classes were dedicated to improving the technical craft and providing opportunities to practice.
After a long wait, we are finally returning to in-person learning this semester. The return to classes in person opens the door to more students participating in our programs. Our student numbers are growing again, coming back from a reduced number attributed to the pandemic. A major barrier to online learning in the Dominican Republic is the lack of 24-hour electricity and access to the internet in many households. We are thrilled to see familiar faces in our center again and welcome the exchange of ideas between teachers and students.
New Initiatives, New Growth Opportunities
Our String Program will resume, with violin classes commencing in person. We are starting a new chorus group, which is an exciting addition to our curriculum. A new "Musicalidad" class was implemented in September, with 24 new students enrolled. This class is for new students between 7 to 10 years of age. The class explores in a creative and age-appropriate way, the basic elements of music such as sound, rhythm, melody, and harmony. In order to provide a solid foundation for future training classes and the choice of musical instrument.
Live Performances for FEDUJAZZ Students
Our teacher and student ensembles were invited to perform at two events over the holidays, providing an opportunity to play live in front of an audience. The music recitals included piano, violin, guitar, and saxophone students performing solo pieces. Students demonstrating what they learned during the previous year was a highlight of the season.
We look forward to "getting back to normal" while resuming our programming of the foundation, expanding and improving the quality of classes, interactions, and activities for all of our students.