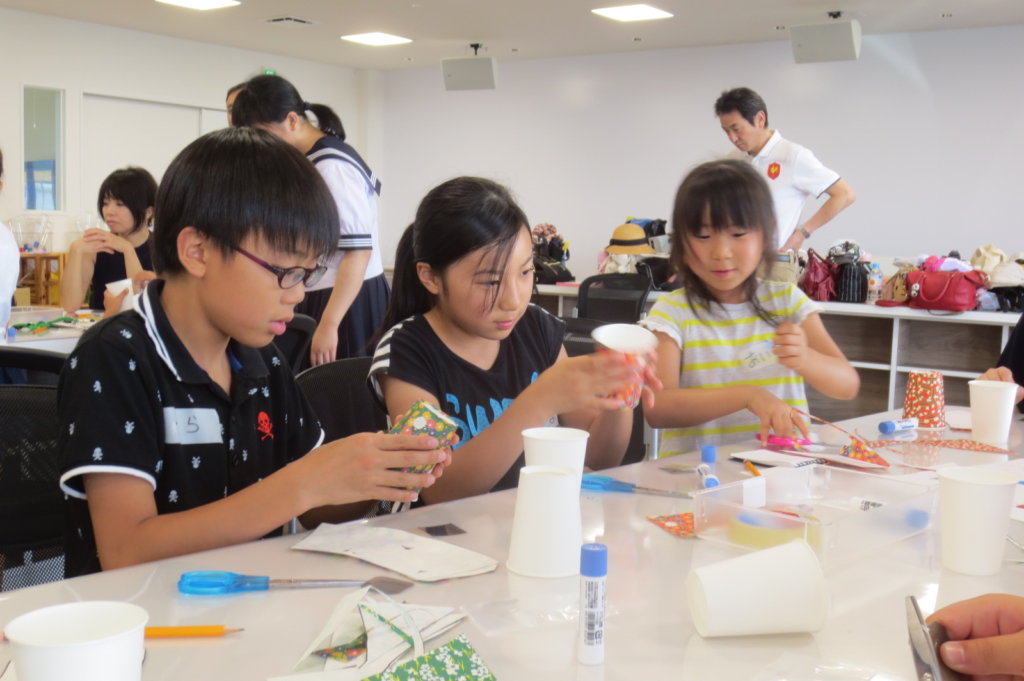 This summer we continued our efforts to nurture the youth of Fukushima by creating venues for a variety of experiences, for young people from elementary school to university age. Kids who first learned at our Minamisoma Solar Agripark at the elementary school age are now high-school students, and we can now see them volunteering in operations, so this summer we were able to witness the recirculation of human resources in the region.
(1) Summer school on the theme of renewable energy
On July 22, we offered various solar experiences for 72 elementary school children with their parents. First, using our own originally-designed movable solar panels, the kids observed changes in the amount of power generated when they altered the vertical and horizontal orientation of the panels. Next, they were able to use experimentation to solve questions and doubts when they conducted experiments with the three primary colors using LCD displays and were surprised to see color combinations that differed from their expectations. Finally, with new understanding of the characteristics of light, they made objects using light-refracting "polarizer" materials. Then, using the variations in interesting colors coming through the polarizers, they made creations such as kaleidoscopes and stained glass. This all deepened their understanding of solar light, using objects available around them and with high school students playing supporting roles.
On August 20, about 30 elementary school kids and parents got together to assemble a street light to shine in a park, starting with individual solar panel components. Using soldering irons to make series connections of photovoltaic cells and then laminating them, they constructed a complete solar panel. Finally, they installed the completed solar panel for lighting in Sekiba Park beside Odaka Elementary School. The actual soldering work and light wiring was done by students from the electricity department of Odaka Industrial Technology and Commerce High School, who also carefully monitored the work by the elementary school kids.
(2) Intergenerational Entrepreneurs' Camp for high school students to working adults
On August 5 and 6, we organized what we called the "Asubito Fukushima Community," an entrepreneurs' training camp. It was held on one night and two days, with eight teams consisting of Fukushima high school and university students who are trying to create new value and revitalize Fukushima, together with working adults who support Fukushima, with the aim of actually launching social enterprise projects.
They toured local places including Namie, a town where former residents are still not returning even after the lifting of evacuation orders that resulted from the nuclear accident, and Minamisoma's Odaka Ward, where post-disaster recovery is gradually progressing. The first day was dedicated to getting a sense of current conditions in the disaster-affected areas by interviewing and discussing the situation with key persons living there. On the second day, participants thought extensively about what they would do individually, and later each of the eight teams made a presentation of their project plans.