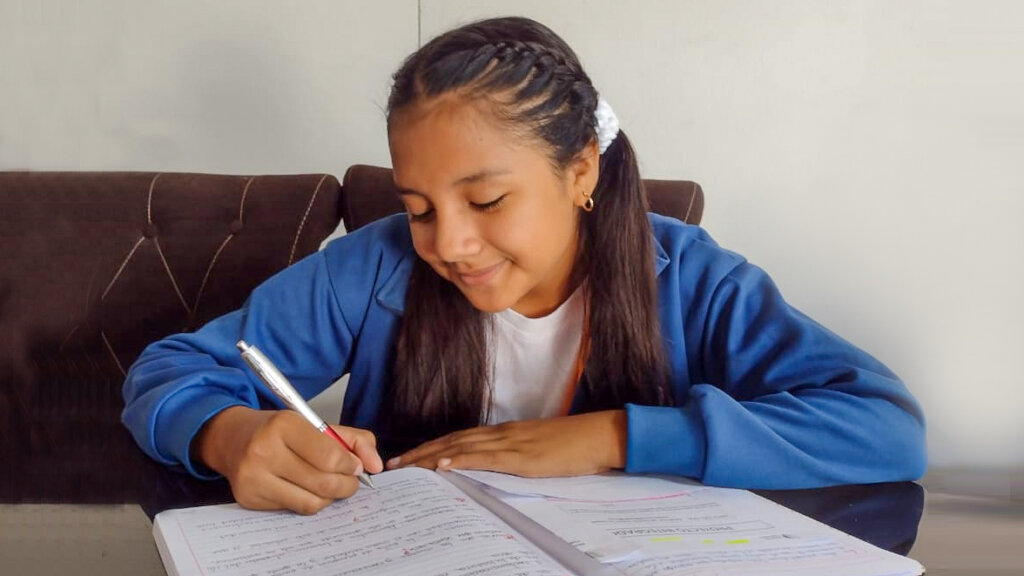 When Cielo was 7 years old, she was a victim of racism at her school. Today, she leads a promising action to end this problem in Peru.
Cielo is a 14 years old peruvian teenager who was born and raised in Piura, a city in northern Peru, along with her parents and her three younger brothers. For six years, she has been a beneficiary of the Peru Champs scholarship, which allows her to access a quality education and strengthen her leadership skills. Cielo has been carrying out an important action against one of the biggest problems in the country: racism. Her case, and the beginning of her fight, have been recorded in the book "Mancha Brava-Colegialas", by the writer and journalist Antonio Orjeda, which compiles the stories of 10 peruvian girls who seek to break gender stereotypes and lead the change of the country.
In the book, Cielo says that her interest in solving this problem goes back to a personal experience, unfortunately a very common one suffered by many boys and girls in schools in Peru, such as exclusion by their classmates due to their skin color. However, the case of Cielo becomes special, when she tells us how her parents and teachers, upon learning what happened, encouraged her to raise awareness among her classmates, through her talent. "They called me black" by Victoria Santa Cruz was the poem that Cielo declaimed in front of her classmates. She says that since she read it for the first time she felt strongly identified. As a result, Cielo left all the class impressed that day.
Sometime later, Cielo's family found out about the Peru Champs scholarship. Her mother, knowing the great potential and talent of her little girl, encouraged her to apply. Today, thanks to the academic and leadership training that Cielo receives as a Champ, she has turned that childhood experience into a commitment to improve her country. She stands out how the workshops and conferences, in which she has participated since her first day as Champ, have awakened her desire not to sit idly by and change the situation of racism in Peru. Just as at one point she did by reciting a poem, today she seeks to raise awareness by writing articles that fight against this problem in school correspondents for the famous peruvian newspaper El Comercio.
In a few years, Cielo will finish school, but she knows perfectly well that the Champ DNA will always be part of her. For this reason, she wants to become a professional journalist, and also a filmmaker whose stories help to build a fairer and more egalitarian Peru. She is aware that there are still many victims and recognizes that there is much work to be done, but she also knows that as Champ there is no limit to her potential, because it goes beyond the sky.
Learn more stories like Cielo's and help more Champs achieve their dreams by donating today.