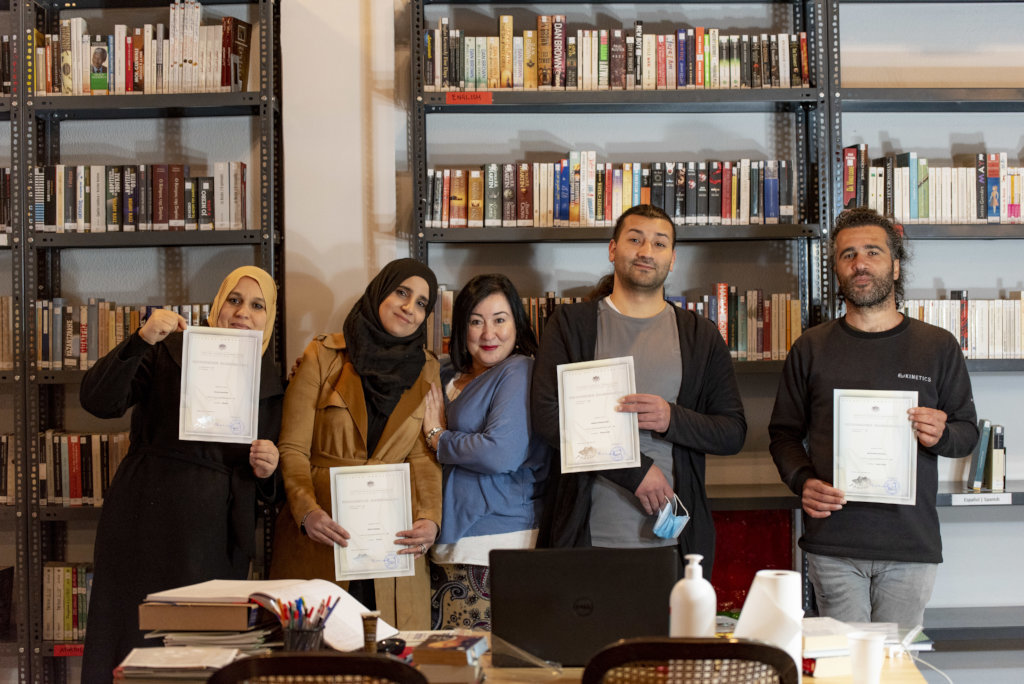 Dear friends,
Thank you for your support. We are delighted to share with you news of our students' success!
All five of our students passed the official A2 language exam and have in their hands a certificate that testifies to their dedication and commitment to learn Greek and become active members of the community!
S. is Syrian, married, with five children and has been in Greece for 18 years. Family life and helping her husband with their shop took up all her time and energy. When she saw the announcement for our lessons, she decided it was about time she did something for herself. She enrolled in our class and never missed a lesson. She did her homework in the shop and in-between choirs. When her daughter's school teacher noticed that that her Greek had improved, she felt so proud she immediately called her teacher, Georgia Fountoulaki, to share her enthusiasm and thank her.
Georgia would ask the group to meet fifteen minutes early, have some tea and share all the day's joys and frustrations. During the lockdown we couldn't have any lessons in the library and this loss of physical, personal contact came at a great cost to our students. For the women the lessons were their time away from home, their opportunity to socialize. For the men it was a way out of the confined spaces they are living and a step forward in the process of integration.
The day of the exam all were very nervous but Georgia was there to offer her support. When the results came, everyone was thrilled beyond words and eager to know when the B1 class would begin!
This, dear friends, depends on you, too.
Although the demand for Greek lessons is very high among refugees and migrants, We Need Books insists on having small groups of students where personal relationships can be built. As the every day reality of our students' lives is a very harsh one, and often comes in the way of their education, it is only in a warm, supportive environment that they can really thrive. And thrive they did!
For We Need Books to be able to offer quality services, we need to compensate qualified teachers for their time, provide educational materials to all students for free and be able to cover their exam fees. For this group of five students, all costs were covered by GlobalGiving and by your individual donations.
So on behalf of S., N., G., M., M., Georgia and the whole We Need Books team, THANK YOU SO MUCH FOR YOUR ONGOING SUPPORT! Your contributions really transform the lives of refugees and migrants in Greece!
In solidarity,
Ioanna Nissiriou
Managing Director & Cofounder
We Need Books