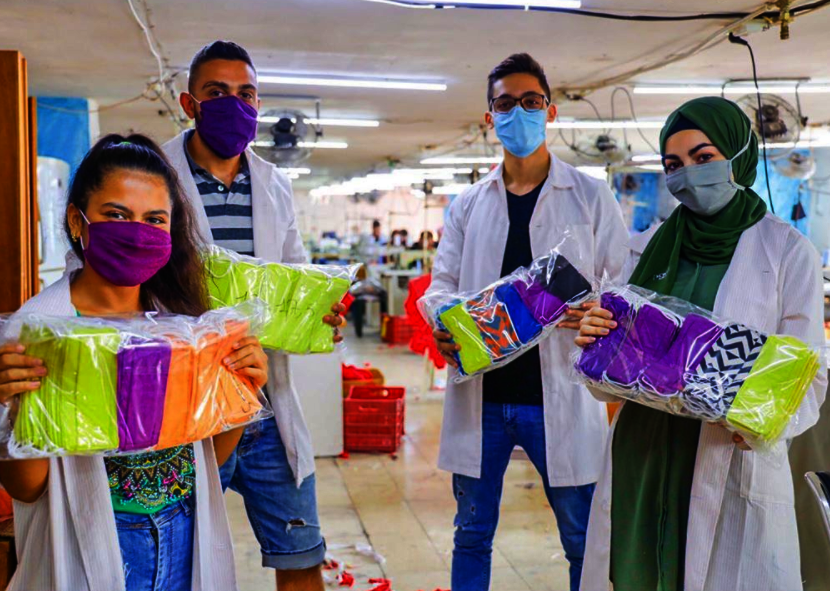 A cataclysmic explosion in Beirut on August 4, 2020 killed over 180 people and injured another 6,500. It was one of the largest non-nuclear explosions in history. Emergency rooms were over capacity with badly injured people, and medical supplies are still being depleted with no restock available. A large swath of the city has been destroyed or damaged, leaving families unable to return home in the middle of a pandemic and financial crisis. With the port inoperable, expensive air shipments are currently the only way to get humanitarian relief into the country.
Anera has 60 staff in Lebanon helping to rebuild after this tragedy. In the immediate aftermath, Anera staff in Lebanon worked to coordinate UN volunteers to begin initial cleanup and triage measures. Anera has identified 3 major areas of need: shelter rehabilitation, medical donation, and distribution of relief items.
Shelter rehabilitation:
Anera assessment teams with backgrounds in construction, social work and engineering have begun visiting Beirut neighborhoods affected by the blast. We work in areas that were already economically vulnerable, and then suffered the most from the blast: Karantina, Borj Hammoud, the Zoqaq El Blat and Basta Tahta areas of the Bachoura neighborhood, the Beydoun area of Achrafiye, and Gemmayze and Mar Mikhael. Anera is working with partners like Muslim Aid, to repair damaged homes in Beirut, Lebanon. So far, 800 homes have been assessed, 250 rehabilitated and 150 are in progress.
Medical Donations:
With the Port of Beirut inoperable, all medical supplies must enter Lebanon through air shipments. Air transport is far more expensive than traditional sea shipping methods. Thanks to donors like you and Anera's institutional partners, Anera has been able to continue providing life-saving medicines for chronic conditions in Lebanon to the most vulnerable families. Anera has worked continuously to maintian an updated needs list of emergency medicines and medical supplies based on our ongoing direct communications with hospitals and medical clinics in Beirut.
We communicate the needs to our amazing network of partners that includes Direct Relief, Americares, IHP, HPIC, CMMB, Lutheran World Relief, Heart-to-Heart, Wheels-to-Heal, Hikma, and others. Our medical donations team is working on 20+ shipments for Beirut. We currently have four shipments going through the clearance process in Beirut: an Americares shipment of donated anesthetics, an HPIC shipment of donated chronic disease medicines, a CMMB shipment of donated antiviral and chronic disease medicines, and a procured shipment of PPE from China. In the last week of August alone, Anera delivered a 56-ton shipment of donated supplies.
Distributing Relief Items:
Within days of the explosions, Anera set up a tent in the Mar Mikhael neighborhood, about a kilometer from the blast site. From our location at the Laziz beer factory in Mar Mkhayel, we have mobilized hundreds of youth volunteers from all over Lebanon to clean up rubble and glass, sort trash, make and distribute sandwiches, and hand out water, face masks, and Johnson & Johnson-donated hygiene kits to families affected by the explosion. Additionally, Anera is currently employing graduates and students of our vocaitonal courses in sewing to sew masks for distribution to prevent the spread of COVID-19.
Links: