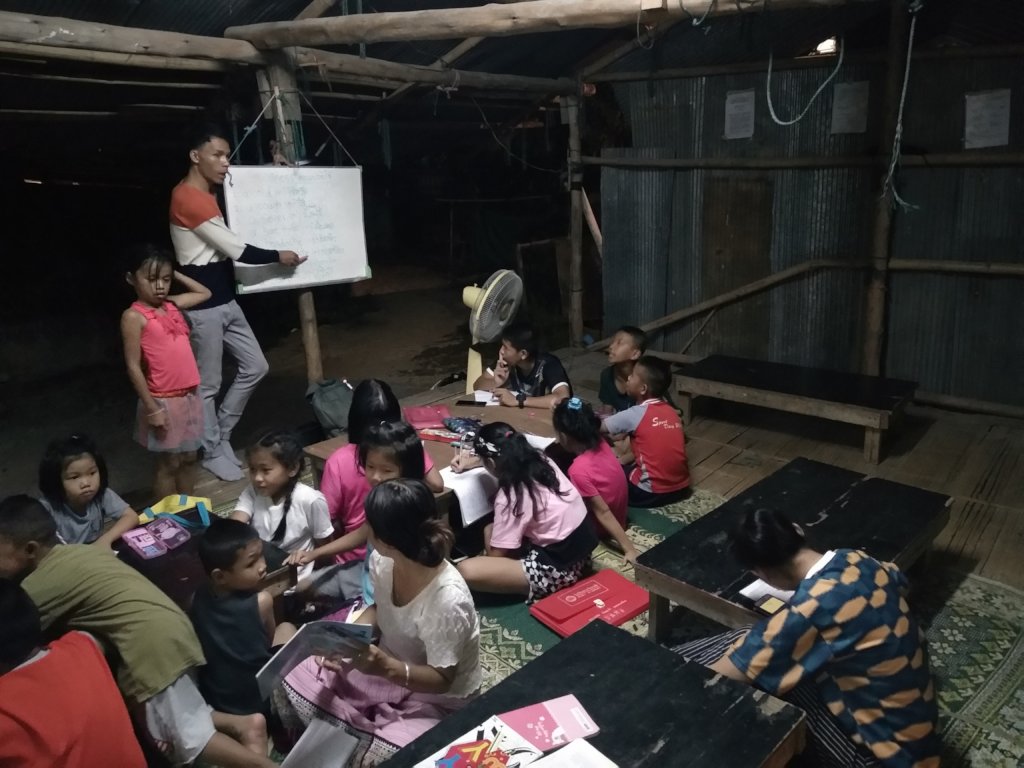 Dear all,
Hope that you are enjoying your summer! In the fall semester semester, we had a shortage of scholarship funds. However, thanks to your generous donations, we were able to have adequate financial support for our students during the spring semester. Thank you so much for your continuous support of our students' education access; it means so much for them, their families, their communities, and BEAM.
Our students have completed another full year of college. They have different summer break schedules, working hard on various professional, academic, volunteering, and/or personal endeavors. Su, We Hkawng, Thel Thel and Chen have kindly shared their updates with us.
Su, 3rd year studying Social Science at Chiang Mai University
Summer Activities:
During this summer break, I am working as an intern at Phan Tee Eain (Creative Home) for cooperative studies of CMU. Cooperative Studies aims to provide the opportunity for students to undertake a work internship in a social science related field after the 3rd academic year. The grade for Cooperative Studies is based on a Satisfactory/Unsatisfactory criterion. Students choose one organization as their interest areas and they must undertake a comprehensive research report on an issue related to their internship. This research must be approved by the student's agency supervisor and university liaison officer. Length of report depends on the issue of research, but it needs to be no fewer than 6,000 words.
My interest area is gender equality, women empowerment, and women rights issues. Therefore, I chose Phan Tee Eain (Creative Home), which is local NGO based on Yangon, Myanmar. Phan Tee Eain (PTE) is supporting and facilitating to empower women by enhancing their knowledge and capacities, providing social services, conducting research related to gender inequalities in politics, strengthening local youth networks, and advocating women issues Their target regions are Sagaing, Magway, Ayeyarwaddy, Yangon, Shan (North), Naypyidaw, Bago and Mon states in Myanmar.
I have to complete 14 weeks in this internship with 8 hours of work per day. My internship started on the 6th of May and will end on the 9th of August. Now, I have finished 11 weeks and I am learning how the PTE implement activities and how network organizations collaborate with each other. I follow their workshops and activities in Northern Shan State and Kayah State to assist my project officer if needed. My research is "Gender Based Violence and Kayah Women"; therefore, I have to conduct interviews in the Kayah state for the sake of comprehensive research with the support of the organization. Also, I participate in gender forums, workshops and trainings organized by PTE and other NGOs in Yangon. I have received many work experiences from this internship and gotten a chance to visit communities in remote areas of Shan state and Kayah state. Thus, I enjoy this summer break.
Plan for the Upcoming Semester/Year:
For this coming semester, my goals are to study hard and participate in new field trips, seminars and other activities organized by CMU. I have to study more than I did during the previous semester because I want to improve my GPA. I will do my work internship by teaching Burmese language at Wat Sai Mon monastery during weekends. I hope that I will gain new experiences through volunteering.
Photos (attached at the bottom of the report):
Phan Tee Eain (Creative Home) was implementing 'Gender Equality and Local Governance' workshop as one of their projects. The participants were Shan ethnic people and government officers. The venue was in Hsenwi city, Northern Shan state and we went there last week. My job is to help my supervisor and organize these workshops as much as I can.
We Hkawng, 4th year studying IT at Payap University
Summer Activities:
"For 2019-2020 academic year, Payap university has changed the whole International College department schedule by shifting the university opening period two months earlier. Therefore, as a Payap international student, I only had a very short summer break. I stayed in Chiang Mai and continued my internship at BEAM, where I had a chance to teach computer basics to the new GED students along with Saya Thor Zin. This was the first time I have taught basic computer skill to others in a class. It was a very exciting experience for me, and I have enjoyed it.
On the other hand, I have been volunteering in the media team at Wunpawng Christian Church. Within my short summer break, the church media team was working on the church photo magazine about the church's half-year activities. I am glad that I had a chance to be part of the team, and I have gained experiences through serving."
Plan for the Upcoming Semester/Year:
As this academic year will be my fourth year, I will have to study much harder in order to finish a bachelor's degree within four years. Therefore, I have been prepared mentally and physically for this coming semester. Now, the semester has already started and I am doing well with academics. This semester, I am taking 7 courses and aiming to finish all of them with no lower than C. I will do all the assignment and homework and pay focused attention in all my classes and lectures.
Thel Thel, 2nd year studying Social Science at Chiang Mai University
Thel Thel could not do a summer internship because she went back to her hometown; this is her update from the spring:
Currently, I am doing my internship at Shan camp and teaching Burmese to Shan children. I teach Burmese at Shan camp every weekend. There are about 15 students, but they are different levels. Some children can read and write basic Burmese and they are fast learners. So, we divided into two groups to teach Burmese. For me, I teach children who do not speak or read Burmese at all. I love teaching and I learn many things from this internship. I am delighted to make a contribution of my knowledge and skills to children by teaching Burmese.
Chen, 2nd year studying English for Communication at Chiang Mai Rajabhat University
Summer Activities:
I am happy to share what I am doing in this school break. Yes, I am taking a part-time job and doing community service. Everything is going well with me. From Monday to Friday, 9:00am to 4:00pm, I work as a tourist guide at an elephant camp in Mae Taeng district. On Thursday and Friday evenings, I teach basic English and Shan language at Shan Youth Power organization. And on weekends, I help as a facilitator at Community Learning Center, Burmese Class, at Wat Sai Moon. I feel happy with my private job and volunteering currently.
Plan for the Upcoming Semester/Year:
For the coming next semester I hope I will learn very useful subjects and skills that will improve my English. As usual, I will do my best to maintain my grade standard, which looks good
BEAM Education Foundation is committed to supporting migrants, refugees, and underprivileged applicants who have a limited chance to further their studies and who have the potential to contribute to their communities. Among the migrant population in Thailand, there are more than 1,000 students finishing high school equivalency programs every year, but the opportunity to continue their education is restricted. Currently, only an estimated 25% of college-ready students are provided the funding needed to attend university. Please help BEAM raise this number! Thank you very much for your continued support! You can also learn more about our programs by visiting these links:
With gratitude,
BEAM Education Foundation