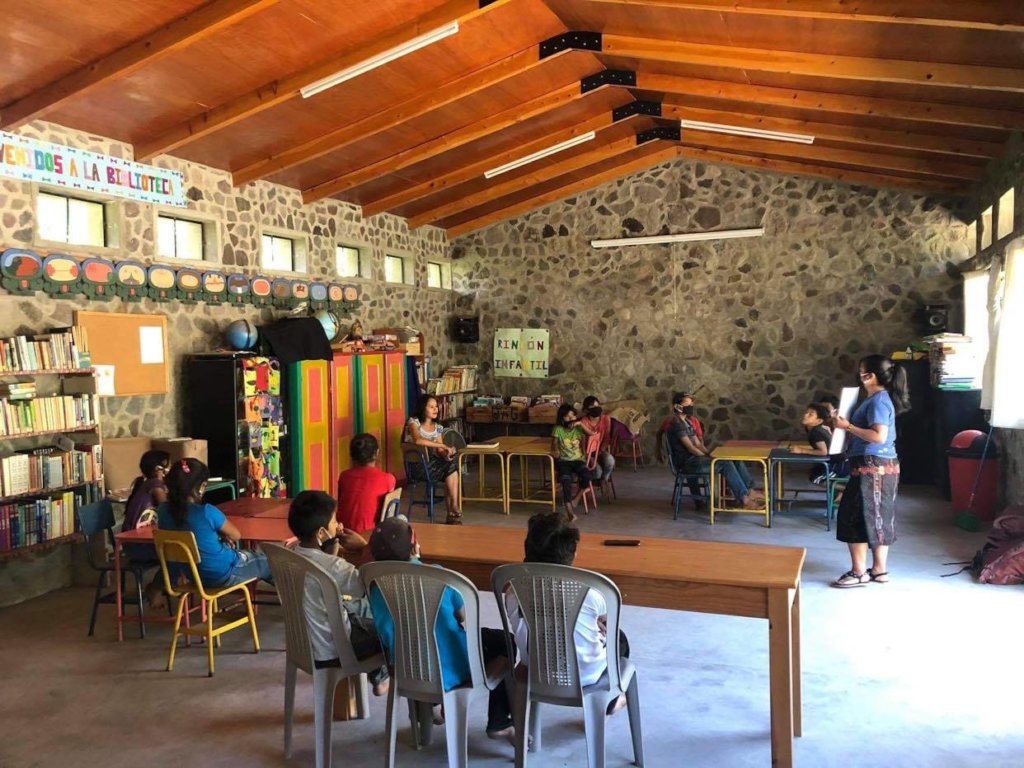 Guatemala is slowly re opening but still schools, libraries and all educational activities are not allowed. Most education happens online. But in this small town access to computers is not easy and most don´t have one at home and cannot afford internet, so we had to be very creative to keep going.
We managed to start with art classes with the children at the Community Library, taking care of mask wearing, allowing small groups and keeping children organized by neighborhood. This means that they are together in any case so all is safe to come to the Library to receive training.
We are having art classes Monday through Saturday with three different teachers. We have done many planning meetings to have a goal that will give the children some education in painting and drawing.
It has made already such a difference for all the children involved to be able to get out of their houses and socialize with other children while learning.
We have some classes going on at the Community Library, do walks in nature to learn how to observe before drawing and then children have gone to paint some wall in houses so they can apply what they have learned.
A group of woman was helped to do some family gardens through another project that works in town. They needed support on how to protect their vegetables from plagues. So on a Saturday afternoon we had training for woman on bio ferments for pest control in their family gardens. And the following week had another training on practical making this bio ferments and how to apply them to the plants. This is empowering the woman to be able to produce their vegetables and has helped a lot by giving them tools to not be discouraged by insects eating the vegetables.
Café Tz´Unun has opened its doors. This is a small restaurant that will bring many people to the Community Center. As part of the whole vision this place is slowly becoming the hub for education. Having a place to sit and share food and natural juices is the perfect addition. For the time being it is only take away but we will have as per next week tables and chairs so people can come and sit down and connect. Selling homemade food and healthy juices that are affordable for people born in Tzununá is very important as well as having tourists and residents that get to meet other people. On the other hand it is giving Josefina that is running the Café a way of living and a good bridge to bring more woman and children to the educational activities.
There is an ongoing project of cleaning garbage in town. And once a month they started doing activities with children at the Community Center on teaching them to make creative things with garbage. "Roboto" (the garbage robot) that you can see in one of the pictures was one of the results of a lot of garbage transformed into something the children did themselves and can see as a productive way of dealing with garbage. In the same training, vegetable hanging gardens with recycled plastic bottles were started in the entrance of the Community Center. This is part of educating on creative ways to use plastic bottles as containers to produce vegetables.
We are happy to have had all this educational projects during this times were the training places are closed and schools are still not open. As this is giving the children some activities to look forward to and helping us achieve our goals of education and training at the Community Center.
We hope to increase the activities and be able to have more training happening in the near future.