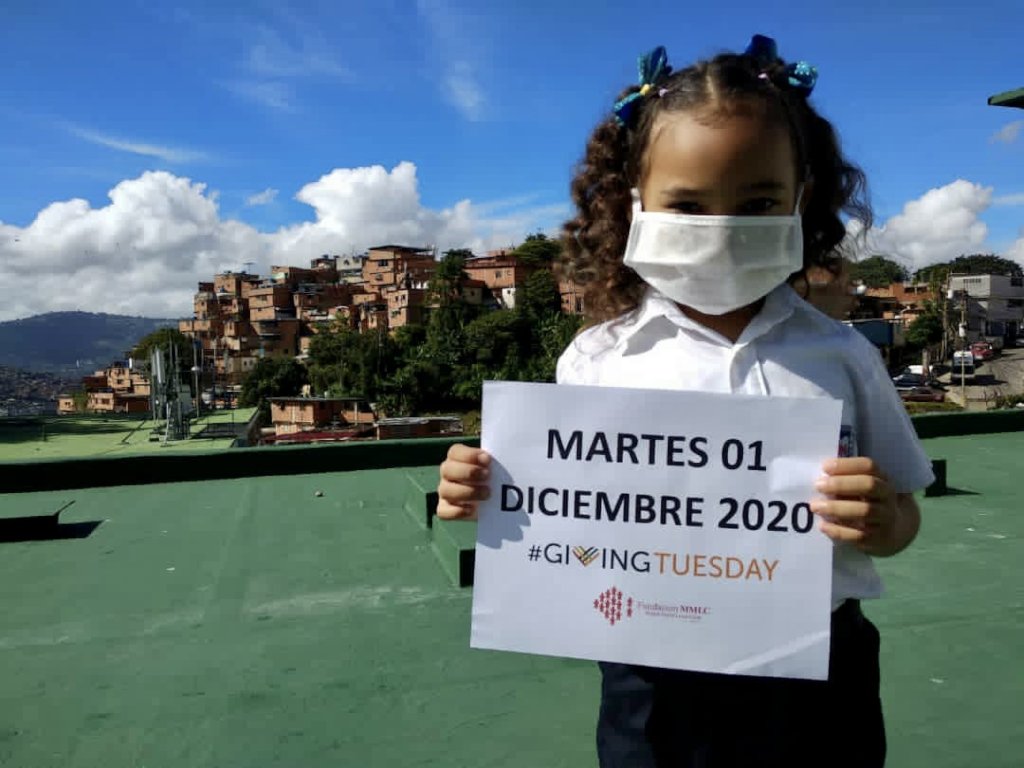 Versión en Español/ Spanish Version
En este año 2020, lleno de desafíos inesperados para todo el mundo, la Fundación Madre María Luisa Casar creció y se adaptó a la nueva realidad. Continuó garantizando educación de calidad, alimentación balanceada y salud a los 400 alumnos de la U. E. Jenaro Aguirre y a la comunidad del Barrio 24 de Marzo.
Hasta el 15 de marzo de 2020, nuestros 400 alumnos asistían a clases en las aulas, tenían atención médica en el Ambulatorio María Luisa Casar para ellos y para toda la comunidad y recibían merienda y almuerzo todos los días en el comedor escolar. De la noche a la mañana las puertas del Jenaro se cerraron, pero ese cierre no fue impedimento para que nuestros alumnos y sus familias continuaran con los proyectos que financia la Fundación Madre Ma. Luisa Casar. Nos adaptamos y rápidamente resolvimos para que el efecto de la pandemia se minimice en nuestra comunidad.
Educación: nuestras maestras lograron conectarse a través de teléfono y correo con el 100% de nuestros alumnos y empezaron impartir clases a través de guías de trabajo. Cuando nos dimos cuenta de que esta situación se prolongaría, entendimos que ya el aula física no estaba dentro de las paredes del Jenaro, el aula de nuestros alumnos ahora es su casa, y los recursos no son pizarrones ni tiza, son teléfonos y computadoras, pero sobre todo la mística y el compromiso de sus maestras y sus padres todos comprometidos con la educación de calidad que siempre hemos impartido en el Jenaro.
Con la asesoría de expertos en educación a distancia y la generosidad de nuestros donantes hemos logrado proveer a nuestros maestros de teléfonos inteligentes, así como de herramientas educativas para que la nueva forma de educar sea lo más eficiente posible.
Alimentación: cerrar las puertas del comedor ponía en situación de riesgo a nuestros alumnos quienes reciben allí diariamente la merienda y el almuerzo. Rápidamente la Fundación Madre María Luisa Casar, gracias al apoyo de sus benefactores, modificó la metodología de trabajo y nuestros alumnos, si bien ya no se sientan juntos a almorzar en el comedor escolar, ellos y sus familias están recibiendo periódicamente bolsas de alimentos y kits de higiene.
Hasta el momento se han entregado 2.864 bolsas de comida y 2.529 kits de higiene para las familias de los alumnos de la U.E. Jenaro Aguirre
Salud: las primeras medidas que se tomaron fue mantener estrecha comunicación con las familias de la comunidad del Jenaro, especialmente con aquellas que representaban un riesgo potencial mayor. Desde el Ambulatorio María Luisa Casar se desarrolló una agresiva campaña educativa sobre prevención y síntomas de Covid-19 la cual se complementó con jornadas de salud en el barrio. A partir del mes de noviembre de 2020 se reabrieron las puertas del Ambulatorio guardando todas las medidas adecuadas de bio-seguridad y hemos seguido haciendo consultas pediátricas, ginecológicas y odontológicas.
Gracias a la generosidad de nuestros benefactores la Fundación Madre María Luisa Casar ha podido seguir trabajando en la U.E. Jenaro Aguirre y en la comunidad del Barrio 24 de Marzo, contribuyendo a que el dramático impacto que ha tenido la pandemia por Covid-19 afecte lo menos posible a nuestros alumnos y sus familias.
Para poder continuar llevando el bienestar a nuestros niños y sus familias, los invitamos a seguir apoyándonos en futuros proyectos de la Fundación Madre Ma. Luisa Casar.
Click aqui para donar en el proyecto del año 2020-2021
Mañana, martes 01 de Diciembre comenzamos la campaña de recaudación anual con Giving Tuesday!
Contamos contigo!
Muchas Gracias!
English Version / Versión en Inglés
In this year 2020, full of unexpected challenges for the whole world, the Madre María Luisa Casar Foundation grew and adapted to the new reality, continuing to guarantee quality education, balanced nutrition and medical support to the 400 students of the U. E. Jenaro Aguirre and the community of Barrio 24 de Marzo.

Until March 15, 2020, our 400 students attended classes in the classrooms, had medical attention at the Maria Luisa Casar Clinic available for themselves and the entire community, and received a snack and lunch every day in the school cafeteria. Overnight the doors of Jenaro closed. Nonetheless, this closure did not prevent our students and their families from continuing with the projects financed by Fundación Madre Ma. Luisa Casar. We adapted and quickly resolved to minimize the effect of the pandemic on our community.

Education: our teachers were able to connect through telephone and mail with 100% of our students and began teaching classes through work guides. When we realized that this situation would go on for a long while, we understood that the physical classroom was no longer within the walls of Jenaro, our students' classroom is now their home, and the resources are not blackboards or chalk, they are telephones and computers, but above all the mystique and commitment of their teachers and parents all committed to the quality education that we have always provided at Jenaro.

With the advice of experts in distance education and the generosity of our donors we have managed to provide our teachers with smartphones as well as educational tools to make the new way of teaching as efficient as possible.

Food: Closing the doors of the dining room put our students who receive daily snacks and lunch there at risk . The Fundación Madre María Luisa Casar, thanks to the support of its benefactors quickly adapted to a different way of bringing food to the students, by periodically providing bags of food and hygiene kits for them and their families.

So far 2.864 bags of food and 2.529 hygiene kits have been delivered to the families of the students of the U.E. Jenaro Aguirre

Health: The first steps taken were to maintain close communication with families in the Jenaro community, especially those who were potentially at greater risk. An aggressive educational campaign on prevention and symptoms of Covid-19 was developed from the Maria Luisa Casar Clinic, which was complemented with health days in the neighborhood. As of November 2020, the doors of the Ambulatory were reopened keeping all the adequate biosecurity measures and we have continued doing pediatric, gynecological and odontological consultations.

Thanks to the generosity of our benefactors, Fundación Madre María Luisa Casar has been able to continue working in the Jenaro Aguirre School and in the community of Barrio 24 de Marzo, contributing to the ease the impact of the Covid-19 pandemic on our students and their families.

In order to continue bringing well-being to our children and their families, we invite you to continue supporting us in future projects of Fundación Madre Ma. Luisa Casar.

Click here to donate in the project of the year 2020-2021

Tomorrow, Tuesday December 1st we start the annual fundraising campaign with Giving Tuesday!

We are counting on you!

Thank you!