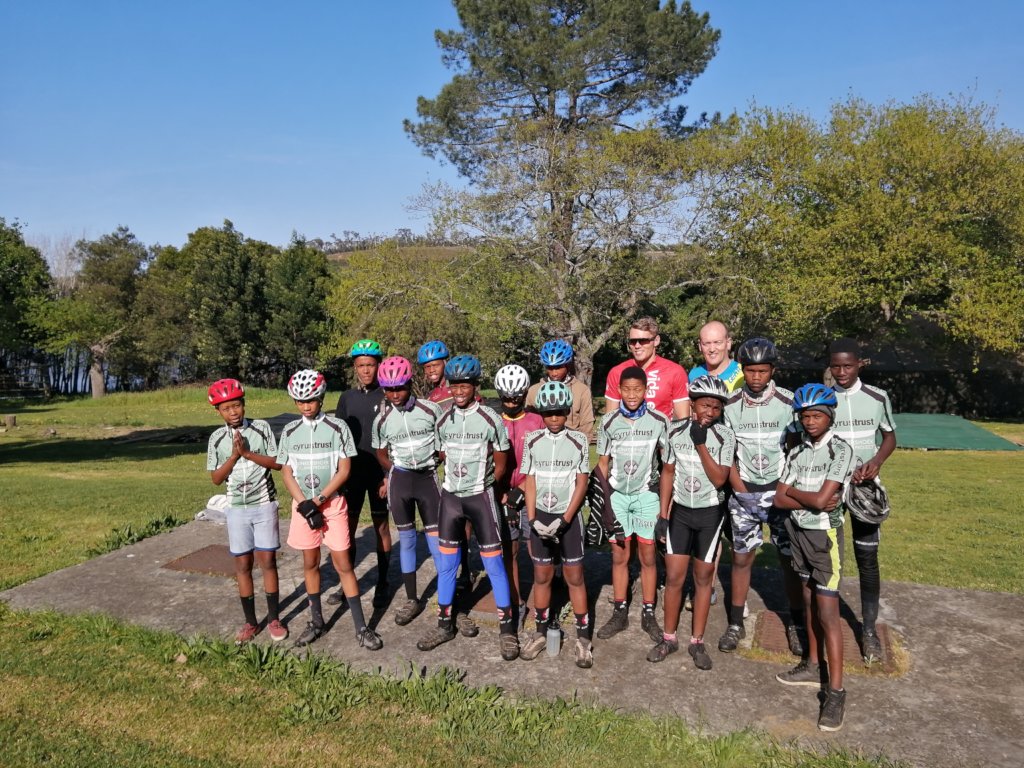 The third quarter of 2021 brought new and exciting opportunities for the project, as we looked forward to resuming activities as normal after some minor disruptions due to the COVID 19 pandemic and some inclement weather.
2021 marks the 10th year of the running of the Jonkershoek Development Cycling Project and we celebrated this with a multi-day cycling tour, taking place in the scenic vistas of Grabouw in the Western Cape during September. The aim of the tour was to gain some practical experience in mountain biking in some challenging and new terrain, as well to grow together as a family. Back2Basics was used as a base for the camp and from there we were able to cycle the wonderful Lebanon trails, as well as experience a much-anticipated day out in the Oak Valley trail nearby, often playing host to major races such as the ABSA Absa Cape; world-renowned 8-day stage race. While at the campsite, the boys were able to enjoy fellowship with one another, the leadership and engage in fun, but challenging team-building activities, and enjoy the wonderful camping facilities. Many hours were shared around the campfire, discussing life, cycling stories, enjoying the outdoors, relationships, and proved to be a valuable time for the facilitators to impart wisdom for life, healthy relationships and spirituality.
The month of September also brought with it an opportunity to return to racing for our riders. We competed in the "Fedhealth MTB Challenge" mountain bike race, hosted by Stillwater sports and Blaauwklippen wine estate in the beautiful Stellenbosch, Western Cape. The race took place over 2 days, the first day consisting of a 15km ride around some of the wine farms in Stellenbosch or our younger riders, whilst day 2 saw some of the older boys, as well as their coaches, complete a 30km saunter in the challenging wet and rainy conditions. Nonetheless, we all finished with big smiles on our faces, as the superb water point, immaculate and exhilarating single track, and encouraging atmosphere made for a truly enjoyable experience for all involved.
This quarter also saw the project partnering up with Amplified Youth, whose aim is to foster healthy community relationships, offer emotional and spiritual development to the youth, and provide leadership training to young people of all cultural backgrounds, socio-economic statuses and ethnicities. These weekly meetings have played a major role in the emotional, spiritual, and leadership qualities we are seeing develop in these young men. It has been extremely encouraging to see the young men engaging with the mentorship program with their leaders and taking responsibility for their own lives and futures.
Without our partners and donors, none of these amazing learning experiences would have been possible, and we are truly grateful for all those who sponsored us with race entries and donations, which make it possible to serve the next generation of leaders and avid mountain bikers in South Africa.
Finally, we're thrilled to announce one of our old beneficiaries, who started cycling for the first time on this project, won the development cycling category of the 2021 ABSA Cape Epic. This is a major achievement and we are very proud of him for working hard and stretching himself towards fulfilling his dreams of being a professional cyclist.