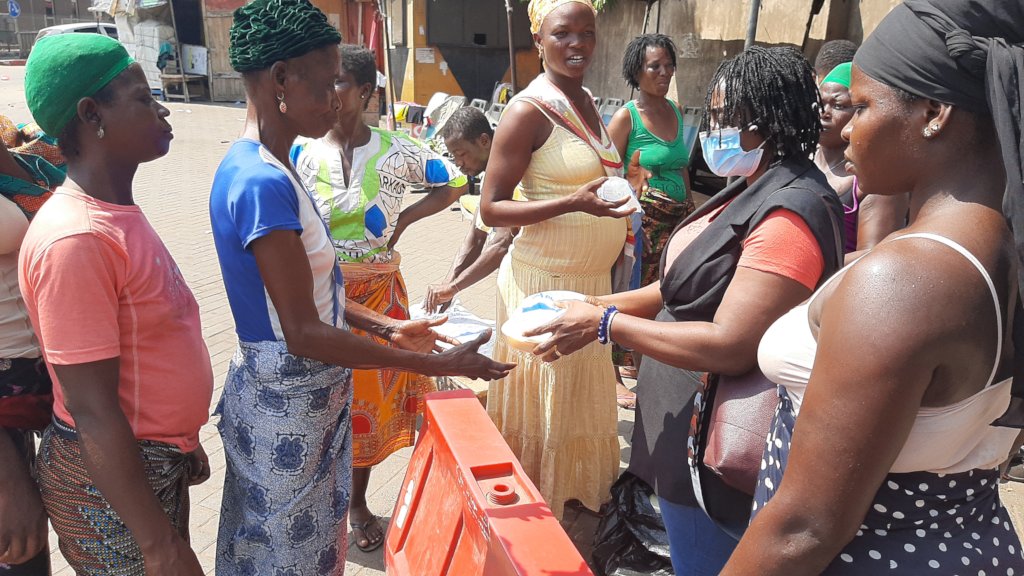 Dear Cherished Donor
We hope this mail finds you well. We are very excited about your support in a difficult time as this.In the past year during the upsurge of covid, headpotters in Accra- Ghana lost their livelihood as a result of the impact of covid 19. They spent days on the streets of Tema Station which became home, in the suburb of Accra Central, doing chores, caring for their younger children, and hoping there will be enough food for them. They risked being raped or robbed at night. When the lock down was imposed many lost hope because money had been tight—and for them the window of opportunity felt like it, too.
This uncertain time especially with the second wave hitting us hard but thankfully to you our donors you stood in the gap for them. Your selfless donations made a tremendous difference .
As stated earlier we were able to quickly train 5 of our teenage mothers on one of our projects to produce 500pcs of face mask which we distributed to them. We educated them on the protocols of covid 19 and how they could keep safe regardless of their plight. We also added 500 hand sanitizers and disinfectant soaps.
During this second wave ,We have given them more education on covid and menstrual hygiene and distributed100pcs of sanitary pads to them.It is prudent these headpotters of whom most are adolescent girls have a chance to learn, to stay healthy, and to stay safe.
Vaccination is here but it has not reached this vulnerable group yet and therefore we will not relent in our quest to support them.
During the womens month this March 2021. We sent them 500 more PPE,S, 500pcs of packed food and engaged them in makeup training while observing all covid protocols.With your help 25 of them used the public toilet for free for 1 month. Paid for with your love donation
In the past month,we sent them some relief items including food and clothes for themselves and their children
We invite you and your network to learn more about this remarkable work and join dels Foundation to support these girls today. What we choose to do now will echo throughout their lives and the world. We owe it them
Thank you for your continuous support to our projects.Even with the difficulties with covid 19,you have shown our beneficiaries so much love.
With the upsurge of the delta variant ,these girls continue to face the risk of hunger ,lack of covid 19 education, lack of PpE,s and lack of access to hygiene and there is no way they are going to get vaccination soon..
Your contribution is a trickle down to a positive impact on the lives of their children who continue to sleep on the street with them and risk being in danger of streetism.
Thank you as you continue to support humanity
www.delsfoundation.org
www.facebook.com/delsfoundation.org