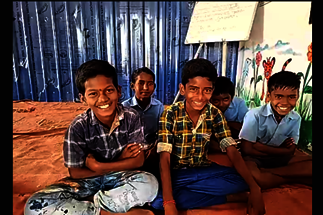 A big thank you to everyone for their support of this project over the last few months.
Although we people in the project still continue to take countermeasures against the spread of the infection, we ACE received good news from the field "Reopening the school"! Finally, our experienced local NGO partner, SPEED, was able to resume the operation of our bridge school in September.
On December 13th, we conducted a video call with children who had previously worked in the cotton fields and only started attending the bridge school recently but had been unable to attend the bridge school for over a year due to the covid-19 pandemic.
In an interview with five children, they seemed very happy to be back in the bridge school for the first time in over a year, smiling a lot while repeating "happy". When asked their favorite subject, they answered "English", the local language "Telugu", "Mathematics", "Kabaddi", "Soccer", and "Chess" one after another.
"I'm happy to be able to go to the bridge school and study every day. I've been studying alone during the pandemic, but now I'm able to go to the school again and feel like I'm studying better. I'm not anxious about the loss of study caused by school closure but am more than happy that the school has resumed. It's a lot of fun with friends. I want to be a police officer in the future, so I'll do my best to study. "
About 3 months after the bridge school reopened, now 75 children are attending school. Our bridge school provides school uniforms, school supplies, and school lunches so that even economically deprived families can send their children to school.
Empowering the independence of girls who could not attend school
Today, I would like to share with you another great piece of news! The operation of the vocational training center for making paper plates started this month in the project area. It provides basic education and vocational training for making paper plates to 10 girls who did not receive compulsory education. They will be empowered to live independently with their profession so that they can continue to work in a safe environment.
We also currently operate the tailor vocational training center for 20 girls. By operating two vocational training centers with different professions, a variety of techniques, and an environment where girls can help each other is created, which will lead to ensuring the safety of girls in the project area. With more opportunities to express their opinions and learning new techniques, girls are becoming more and more confident and making obvious changes.
With the smiles of children
ACE seeks effective educational support for children whose learning opportunities have been lost due to school closure. We continue to improve the educational environment and support the future of children as well as their families and communities who would like to support them.
We continue to seek appropriate operations in these unprecedented situations, believe the situation will improve in the near future soon, and will steadily move forward step by step.