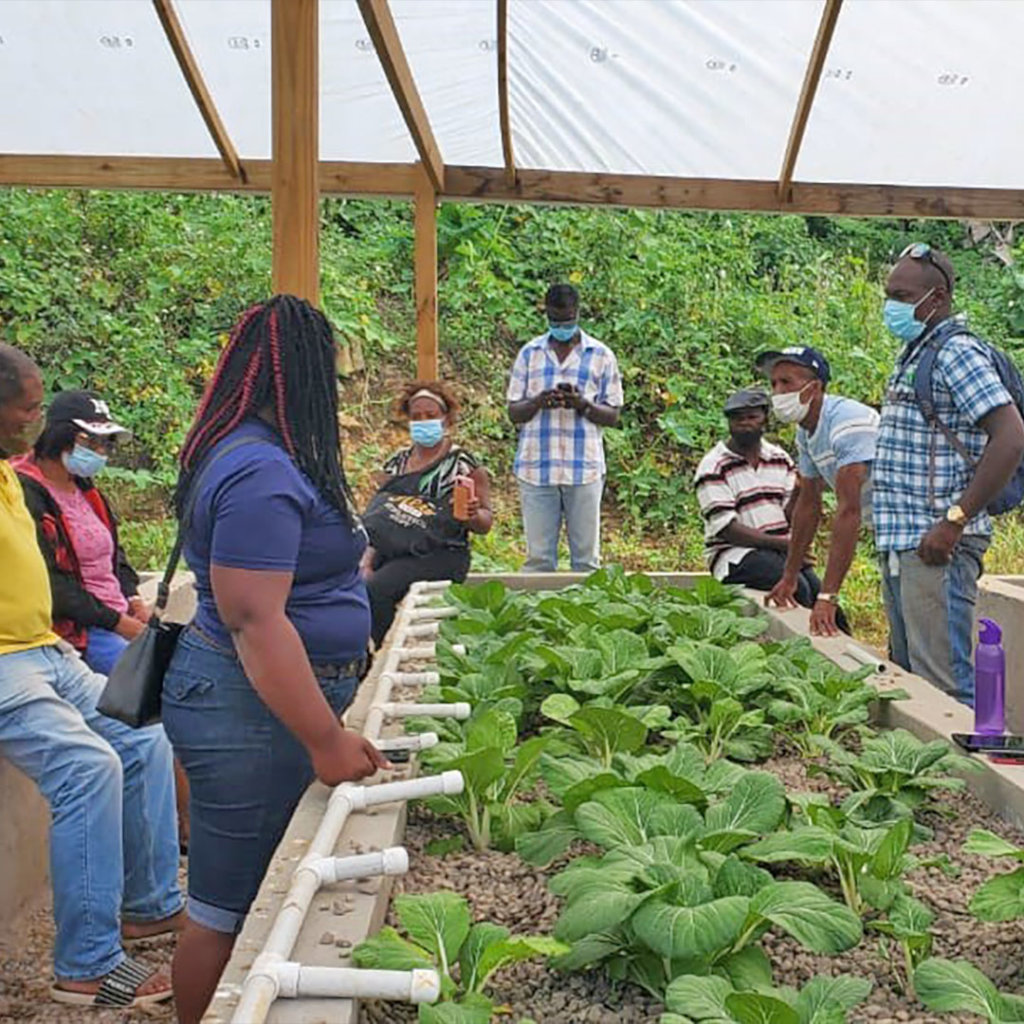 TRAINING has been the focus of the INMED Aquaponics® program in Jamaica in the past quarter. Thanks to the support of the US Embassy Kingston, IDB Lab and other governmental and multinational partners, INMED has continued to strengthen aquaponics farmers in Clarendon and island-wide-- increasing the knowledge and skills of these farmers in the innovative technology, business management and governance. Our team at INMED Caribbean held two training workshops in January in northern Clarendon in partnership with the Rural Agricultural Development Authority (RADA) and the Social Development Commission (SDC).
The initial training schedule planned for five consecutive weekly workshops to be completed in January and February. After staging the second workshop, however, INMED paused face-to-face activities due to a surge in COVID-19 cases in the northern Clarendon region. INMED continued to support the groups remotely and through site visits, as possible, while observing COVID -19 safety protocols.
Making "Lettuce-Aid" Out of a Down Market
We're pleased to report that five aquaponics farming cooperatives in Clarendon have taken great care of their systems, resulting in a bumper crop of romaine lettuce in February. Unfortunately, because of Canada's travel ban to the Caribbean and US advisories against travel to Jamaica due to the pandemic, the market demand for romaine lettuce was severely diminished. Undaunted, the groups found creative ways to distribute their produce, including donations to the Percy Junior Hospital in Spaulding, Clarendon.
Next Steps
To ensure safe and effective delivery of the additional training planned for aquaponics farmers in Clarendon, INMED will double the number of planned workshops to accommodate smaller groups to remain COVID vigilant. The workshops will be held outdoors at different community aquaponics systems in May and June. Smaller groups will allow for more hands-on training for participants, increasing their access to reliable information and support as they gain experience with aquaponics farming, as well as allow for increased monitoring and evaluation activities. Upon completing planned training activities and filling gaps to optimize production, producers will be positioned to supply their identified markets.
These new aquaponics farmers have struggled with food insecurity and economic decline due to the destructive impacts of severe climate events in their communities. Today, they have more reliable harvests for sustainable incomes, and their families and neighbors have fresh, nutritious food on their tables. The entire INMED organization is grateful for your support of this transformational project.
Special thanks to IACA Project Manager Earl Ashley for providing this update .