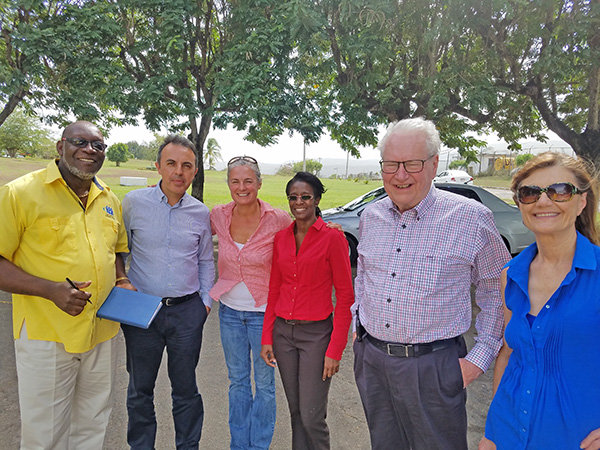 Since our last report, our team at INMED Caribbean has working to make INMED Aquaponics® more accessible to vulnerable communities throughout Jamaica.
New Staff
In August, we welcomed Sean Patrick and Rachel Clarke to our INMED Caribbean team. Sean Patrick will fill the role of Regional Technical Officer for INMED Caribbean's Adaptive Agriculture and Aquaponics Program. A Marine Biology major, Sean has done extensive work in the aquaculture sector, working as an integral part of its rejuvenation in Jamaica over the last several years. His work as a business consultant, providing support for startups and other SMEs makes him the ideal candidate for his role, providing technical and business support to the small farmers as they adopt the INMED Aquaponics® technology.
Rachel Clarke is joining INMED Caribbean as Project Administrator. She holds a Bachelor of Science Degree in Biological Sciences from Adelphi University in New York. She is an operations management and customer service professional with a wealth of experience in the healthcare field. Before joining INMED Caribbean, Clarke was the Executive Assistant at the Heart Institute of the Caribbean and HIC Heart Hospital, where she spearheaded the management and coordination of programs, projects and educational conferences.
New Backyard System
Our aquaponics experts have designed a small backyard starter system to offer a less expensive alternative to the commercial-size system, with a smaller footprint and mobility, ideal for urban and suburban settings. This will allow more home gardeners the ability to bolster their food security and income-generation opportunities. The system is under development and will be introduced later this year.
New Virtual Outreach
INMED Caribbean is planning virtual tours of our commercial systems at CASE (College of Agriculture and Science Education) and throughout Clarendon for socially distant demonstration and training opportunities. Our team also is expanding on our existing online training course to integrate our classroom workshops.
New Partnerships
We're developing a new partnership framework with RADA (Rural Agriculture Development Agency) and Jamaica's Social Development Commission to support our new community systems in Clarendon--specifically for assistance with production (RADA) and cooperative governance (SDC), while we provide technical support with business operations and market development (part of the newest US Embassy grant we just received).
Our team also is in planning discussions with the Human Employment and Resource Training (HEART) Trust/NTA institution about establishing an aquaponics system at its training center. INMED Aquaponics® dovetails nicely with the institution's new agri-business incubator. HEART is a leading provider of technical vocational education and training in Jamaica and will increase INMED's capacity to reach more youth and average citizens who are interested in agri-enterprise.
For more information about these exciting developments, please contact Kristin Callahan, INMED Chief Operating Officer, at kcallahan@inmed.org.