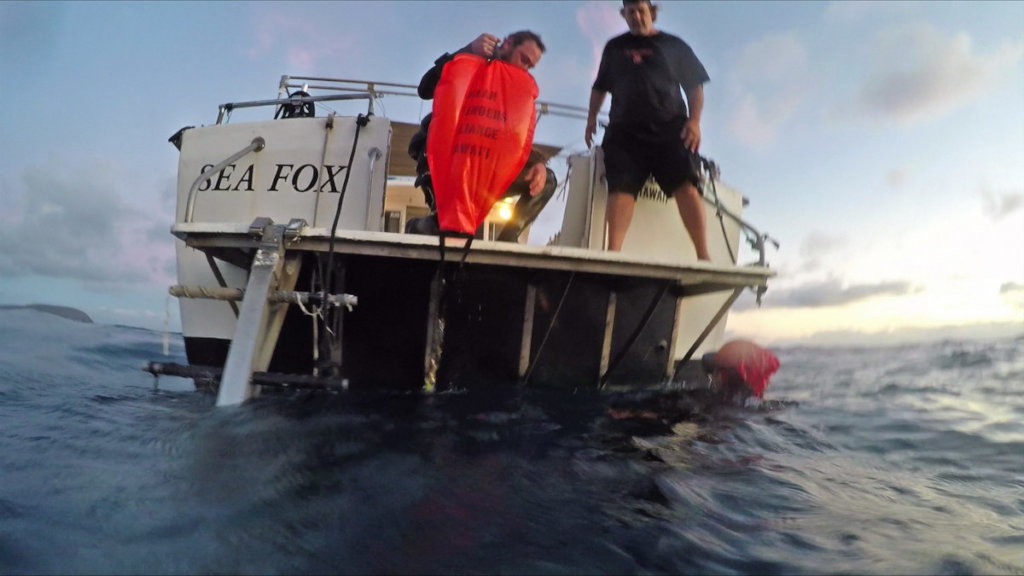 Happy New Year to you and thank you for caring about ocean wildlife and their habitat!

I hope this email finds you and yours healthy and well.

Your support through our GlobalGiving ocean clean-up campaign has been vital during a challenging time in our world. It's critical that ODA continues our debris-removal work without interruption because ghost gear and plastic trash builds up in coastal waters no matter what's happening on land! With your help, we work to alleviate the suffering of ocean wildlife and their habitats caused by this man-made pollution.
In a minute, I'll share our 2020 results with you, but I want to let you know what's coming up imminently for your favorite defenders of the ocean. In California waters, lobster season closes at the end of February, so we expect to have a busy Spring, removing illegal and abandoned traps before they imprison unsuspecting wildlife. We plan to temporarily relocate our flagship Mr. Barker's LegaSea to the coast of Ventura because a couple of reliable sources have given us the locations of abandoned lobster traps in the area.
In Hawai'i, our Oahu crew continues monthly debris-removal dives from our partner Island Divers Hawaii's boat. ODA-HI also assesses incoming reports of debris from concerned citizens and will take action on as many as possible (see mention of most recent below).
You'll be happy to know, this year we've already conducted 9 debris-removal outings in less than 2 months!

And we're able to do that because you're the wind in our sails. Truly, you're our onshore partner and we appreciate you "sailing" with us during the pandemic and rocky financial times.
Speaking of tough times, even though the pandemic seriously affected our operations in 2020, we still made headway in the battle against marine debris. Your dedicated crews removed lots of deadly/toxic debris last year, in many cases from sensitive areas.

Let's look at the 2020 numbers:
Polluting plastic debris: 6,798 pounds
Misc ocean-damaging debris: 1,145 pounds
Deadly traps (all types): 20
Two types of "ghost gear" almost invisible to marine life:

Derelict net: 2,940 pounds
Fishing line: 10,900 feet (most removed from reefs, where it entangles animals and releases toxins)

Poisonous lead fishing weights: 2,376 pounds
Mylar balloons: 21
So far this year:
Our Southern California volunteers have been working like crazy to clean the marshlands of the Seal Beach National Wildlife Refuge. We were thrilled to disentangle a beautiful curlew (shorebird) from some fishing line and watch her fly away! (Link below)
In Hawai'i, our crews have been busy with the removal of two Fishing Aggregate Devices (FADs), doing cleanups at new sites like Magic Island, and hitting some spots that need continuous cleaning like Hanauma Bay and Spitting Caves. (Link below)
Thanks so much for continuing to be our champion onshore! You're an important part of our crew, for sure. Our wonderful alliance is saving lives!

One more new thing happened this year! Have you heard about the uptick in cryptocurrency usage? It was going strong already, but then Elon Musk made a large investment which appears to have further escalated the value and interest in this type of currency. Why do I mention this? ODA is now accepting donations in cryptocurrency! We partnered with a great company that's helping us accept it and cash it in. So if you're a digital warrior (or just technologically evolved) and inclined to support marine conservation with crypto -- please check out our new crypto page.

I can't tell you how much I appreciate you, your care for the oceans, and your support. Together we're effectively fighting the relentless tide of man-made marine debris!

For clean and healthy oceans,
Kurt
Kurt Lieber
Founder & President

P.S. Looking forward to doing great things together this year!