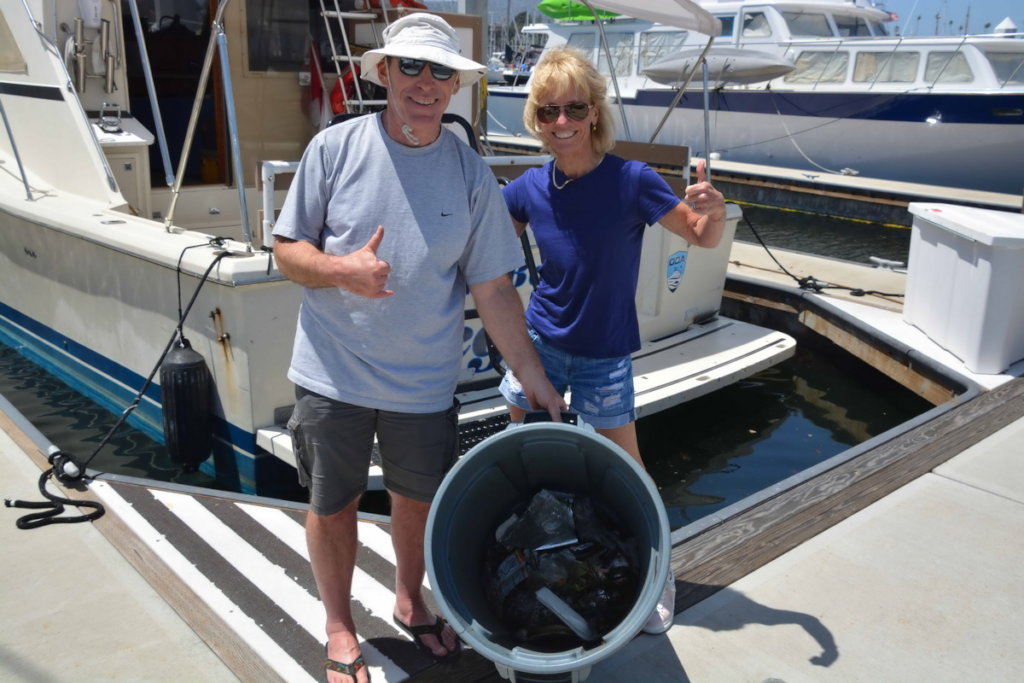 Our first wish is that you, our wonderful supporter, and other fellow ocean conservationists are doing well during this time of global pandemic. You're in our thoughts!
Usually, our reports are jam-packed with success stories and impressive statistics of marine debris removed. However, during this spring and early summer, the global pandemic has marginalized our efforts. The need for distancing has prevented the majority of our debris-removal work because, when on our boats, we operate in close quarters.
However, we're happy to report that we've had success in several efforts, and we're pleased to tell you about them.
Boats can be a challenge to maintain and they need to be run regularly. We needed to check the systems on our flagship the LegaSea, and thankfully, we found a way to get around the need to social-distance on the boat! We had only two of our experienced crewmembers come out on the boat with Captain Lieber. The reason this worked? Those two people were a married couple, so no need to distance there! You can see from the pictures in the article we posted, Captain Kurt was able to stay far away doing his captain's work on the bridge, while Jeff and Sue removed trash from the ocean.
In Hawai'i, several of our dedicated volunteers were able to conduct debris-removal dives at three different sites, and successfully removed fishing lines, ropes, hooks, and lead weights. Way to go guys. :-)
In California, two of our veteran crewmembers were out on the water for some paddle-boarding and spotted illegal lobster traps. They got the trap identification and reported this to Captain Lieber who immediately notified his contacts at the Department of Fish and Wildlife (DF&W). Amazingly, because of our reporting, they were able to remove seven deadly lobster traps! It pays to remain vigilant. Please let us know if you ever see any marine debris!
When early June came, we felt we could safely do a debris-removal dive with a small crew. This time four people went out with Captain Lieber to initiate our new project the "Seven-mile Wall Crawl." Our plan is to remove abandoned lobster traps along the seven-mile breakwall that protects the Los Angeles and Long Beach Harbor. On this particular day, we didn't snag a trap but the crew did haul out three anchors, some anchor chain, and rope. As soon as the lockdown eases up, we'll be back out there to remove the ghost gear that we're sure is present at this known fishing site!

One more positive to share with you: Captain Kurt Lieber was invited to be a guest presenter at our dive shop partner Jack's Diving Locker's annual Ocean Fair. They were quite creative and did the event online. It was a great success and Kurt was honored to be featured along with many other well-respected ocean conservationists. Kurt's 34-minute presentation is on YouTube. We think you'll enjoy it. He showed video from both California and Hawai'i, sharing lots of great information about the good work YOU help make happen!
Your support is essential if we're going to have clean coastal waters in California and Hawai'i. It's so important that the ocean remain free of man-made debris whether it's derelict fishing gear like lines, nets, and traps or the plethora of plastic trash that can often be perceived as food to marine wildlife. We'll be back out there as soon as possible to continue this vital work.
Thank you for your care and concern for the ocean and the creatures who live live in them!
Your ODA Team