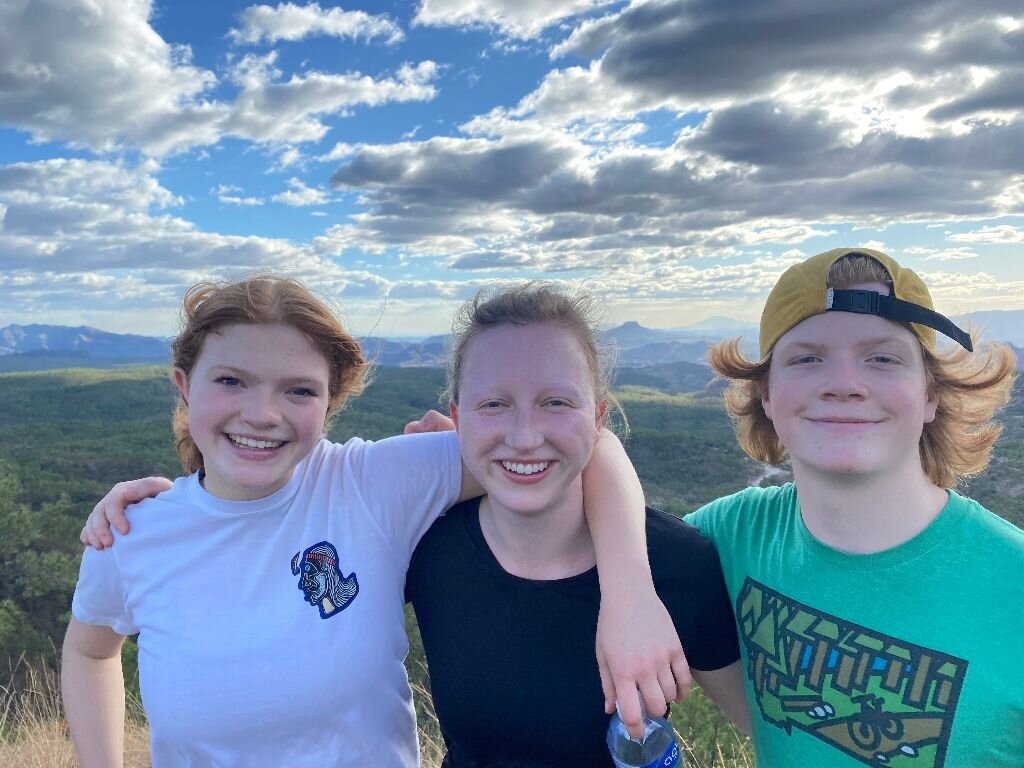 As a first time volunteer, never having been to Honduras, I was nervous and excited for this adventure. As soon as we touched down at Honduras' newest airport, Palmerola military airpot in Comayagua, Honduras, I knew that I would quickly fall in love with this country. The breathtaking mountain ranges, enveloping big blue sky, and kind strangers welcomed me, a 23 year old American girl with open arms and such love and set my anxiety at ease.
Our local contact, Norma, with her magical powers and security clearances met us right at the gate and welcomed us to her country. We were escorted by Norma and airport security to the VIP customs line and upon officially entering the country, made our way to the parking lot to meet up with our drivers and military security detail who would be accompanying us for the next five days. Norma and our other driver began to pack and secure our luggage into the back of a pickup truck as we relaxed and snacked on fresh, local Honduran bananas. As a first time volunteer, the team welcomed me in immediately and within about ten minutes progressed from strangers to friends. We stealthily stacked banana peels on Mitch's shoulder while the team relaxed and joked around. I think we got at least two or three peels stacked up before he noticed :)
Once sufficient bananas had been consumed and the luggage was adequately loaded onto the truck bed, we climbed aboard 2 vehicles to begin the journey to the rural village of Los Encinitos, a three hour car ride away. The first 2 hours of the drive were on freshly paved roads as we made the trek south from Comayagua. Fruit vendors, businesses, horses and mules, family homes, and various tiendas lined the roads throughout the drive as we continued our drive we made our trek.
We bypassed Tegucigalpa, the capital city and headed towards Sabanagrande, the closest main town to Los Encinitos. We stopped here to refuel the cars and purchase a couple of snacks from the gas station with Honduran Lemprias, the local currency, provided to us by Norma.Unsure of how long the rest of the drive would be, I bought two waters, a bag of chips, and some pear juice. Upon refueling the cars and stocking up on adequate snacks, we left turned off the main road and began to make our way south to Los Encinitos on rocky dirt roads. Our cell service quickly began to diminish as we descended into the mountains. One hour later we rolled up to the clinic, ready for a life changing week.
Patient story-ear infection Working as a translator with the team and healthcare providers was such a privilege and joy. This was an incredible experience where I was able to witness firsthand the compassion, love, and affirmation of dignity extended to each patient that walks into our clinic. I learned that patients will walk at least 2-5 hours by foot to reach us or if they can afford it, take a Moto to the clinic on back roads and trails. One boy that came with his mom to our clinic complained of intense headache and ear pain. His mom told us that it was especially bad at night, especially when he was laying down and the intense discomfort was preventing him from being able to rest and get quality sleep. Upon examining his ears and talking with him and his mother, we understood that he had a severe double ear infection and some debris in his ear canal. We explained to both of them what an ear infection was and how a round of antibiotics would make him feel much better and relieve his pain, much to the relief of his worried mom. We dosed him with antibiotics then and there and gently removed wax and debris from the ear canal. Shortly thereafter, he began to feel more like himself and played with a monster truck while talking with his mom.
Patient story 2- pregnant woman A joyful, young, and truly glowing woman came in to the clinic one afternoon to seek prenatal vitamins and medical care. She was so incredibly happy and over the moon to be pregnant and informed us she was just reaching nine months pregnant. I was enamored by her sheer joy and excitement to be a mom and can't wait to return next year to meet her baby. Story- soccer As the patient flow dwindled in the early evening and clinic slowed down, me, Rowan, Charlotte, and Marvin, and Camillo from San Macros team played soccer in the courtyard in between patients. We inflated a soccer ball brought to share and passed it around. Not only was this such a fun thing to do as we wrapped up for the evening but was a fun way to connect with our peers from San Marcos without the struggle of a language barrier. Soccer is such a shared love and pastime in Honduras and we loved being able to share that with each other. The San Marcos team took amazing care of us and smoothly organized patient flow and logistics for the clinic. It was an honor to get to know them and work together with the shared goal of providing quality medical care to local community members.
As a first time volunteer, this experience has already profoundly shaped my life and affirmed the educational path that I am on as a social worker. Going into this, I was nervous and unsure what to expect but I know that I will be a part of this team for a long time and that I will keep coming back. The connection with the team in working together to achieve our mission was incredibly special and one of the best experiences of my life. I feel that I found my people and a mission that speaks to me. Meeting and working in partnership with local patients to further their health was an honor and experience I will continue to carry with me. During my week in Los Encinitos, patients came to us and vulnerably let us into their lives and healthcare so we could work in partnership with them to care for their physical and mental health and provide resources. I am amazed by the kindness and love that exist in strangers across the world and deeply miss the friends and patients I had the privileged to collaborate with. I cannot wait to return to Honduras.