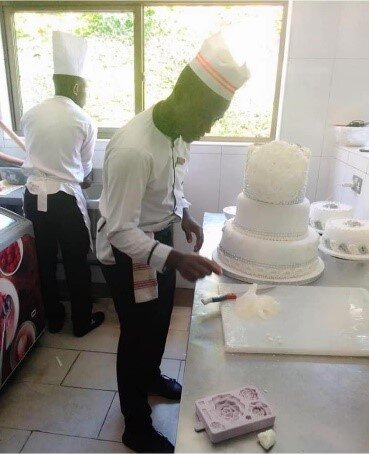 Dear Donors
In our economic empowerment skills trainings last year, we introduced a Training of trainers (TOT) where we have selected and equipped 10 LGBTIQ people with enhanced skills in training other fellows, we realized that if we train some of our peers with skills and Knowledge on how to train others, in the near future it will be cost effective, sustainable and has long term impact, "it is Ours training Ours".
Amdist COVID_19 challenges, we didnt shy away from supporting our fellow communities and below one of our participants - Alicia shares;
when I got selected to take part in the cake baking project, I was very excited to take it on, I had early on faced difficulties in finding myself a job because people had questioned my gender many times, I was sure and attended all the cake baking skills sessions and at the end of the training which was successful, I had acquired skills that transformed my whole life, I started looking for startup capital which wasn't easy, my family had rejected me and they couldn't give me any support, in the end I managed to raise ugshs 200,000 from Friends and that was a breakthrough for me, I started baking from my rental accommodation single room till when I saved enough money to sub-rent a shop with my friend, things are going on well despite the Continuous COVID crisis, am hoping when we are all vaccinated, we will be set free to live the new normal and to me I haven't faced any challenges besides the pandemic, I see the future is in business, I would be maybe in prison now for any offence or dead because I thought my life chances got finished till I was selected and I thank Staff at MRF for having selected me to take part in this life changing skills training".
Alicia went on to urge participants to acquire skills and start a small-scale business on their own.
This year, we hope to continue changing lives and offer 90 LGBTIQ people with cake baking skills.
Until later
warm regards.