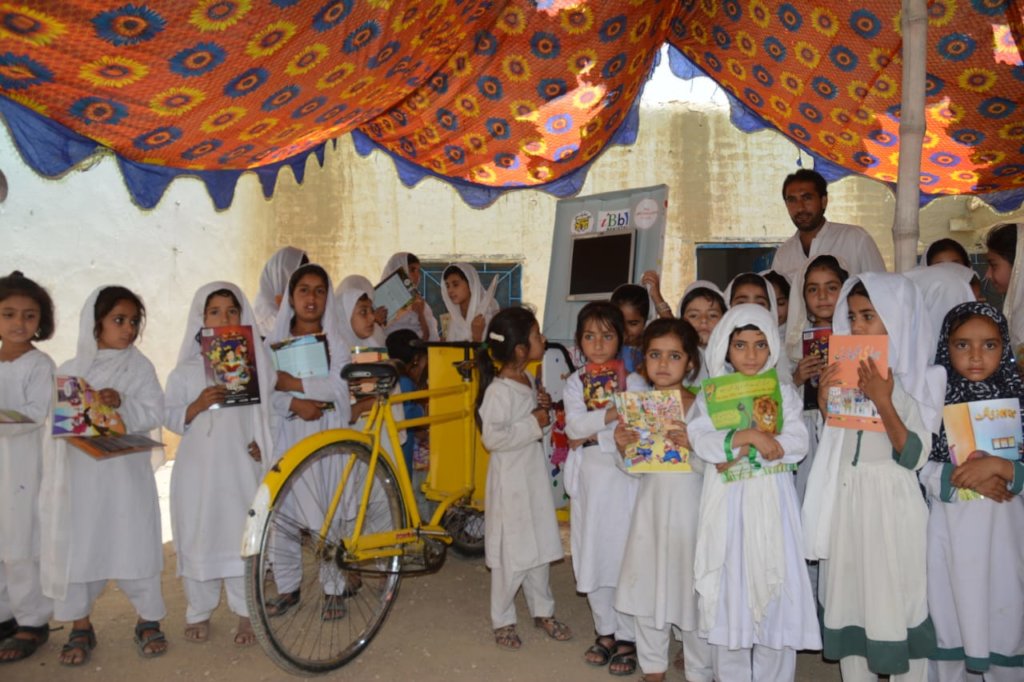 The Book Bike is an initiative launched during the pandemic by Alif Laila Book Bus Society and has been up and running since the last 6 months in four low income communities of Lahore. It has been equipped with 500 books and an LED screen that allows children to learn through watching educational videos. This mobile library has been going to communities and providing books to children whose learning was compromised because of school closure. Many hundred children have rushed to the Book Bike to pick out story books to read and enjoy and to watch interesting science, astronomy, craft and "how to make" videos on the screen installed inside the library box.
The Book Bike was a novelty at the Spring Fair in Lahore in March when the pandemic wave was at an ebb and parks were open for some time.
It also reached out to children at the Pakistan Learning Festival also in March.
After making a mark in Lahore, this project is now running in 13 low income communities of Barkhan District, Balochistan and has visited girls' schools that opened recently, and communities. 664 children have been direct beneficiaries of the Book Bike in the month that it has been in Barkhan. Mobike libraries have become even more needed and empowering for children stuck at home in times of the pandemic; battling mental stress, uncertainty, school closure and poverty due to job losses of their parents. This critical literacy support service does not just bring activity based learning but is a means of psycho-social therapy for these traumatized children.
The Book Bike is addressing a very unique and mostly ignored aspect of COVID-19 pandemic in Pakistan, which is how to mitigate the negative effects of home confinement in children. Home confinement, fear of disease, lack of interaction with friends, financial loss, school dropout, has caused psychological stress at a vulnerable age. It is especially acute for those from low income communities and one-room homes. With no school to divert and occupy them, children have been struggling to remain mentally healthy. This project hopes to counter all these effects while also encouraging reading and a love for literature in our children.
Paucity of funds and resources has not created the bike literacy movement we have in mind, and one library is not sufficient since many areas of need have not been accessed. We are trying very hard to acquire more bike libraries, to take the library/literacy movement forward.
The Bike Library has visited 13 places in Barkhan and it's environs: GGHS Barkhan, GGMS Middle School Madina Masjid, GGPS Babu Allah Dad Sooman, Gul Public School Barkhan, GGMS Middle School Azam Jan Shalmani, GGPS Kareemi Mohallah, Ghazali Public School, The Best School, One Room School Babu Mohallah, Hasan Public School, GGPS Mohallah Sadiqani, Mohallah Haji Sher Ali and Mohallah Gadai Barkhan.
It has created great excitement in Barkan and has been appreciated by adults as much as it is loved by the children.