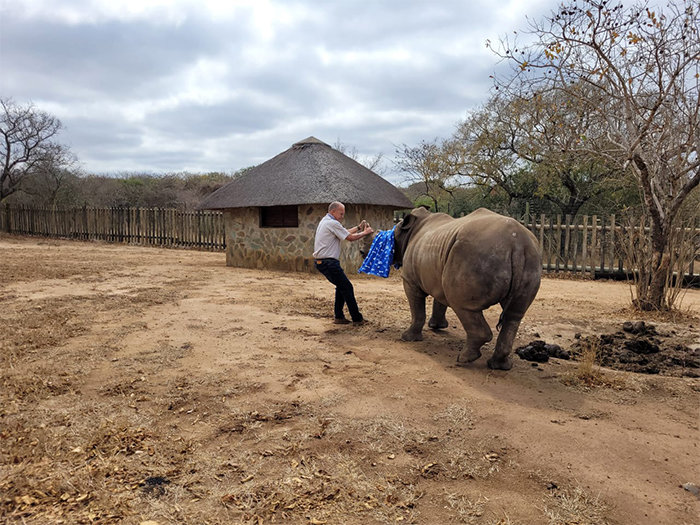 Rhino horn is highly sought after on the black market – fetching as much as $25 000 per kilogram. It is for this reason that poachers will go to great lengths to obtain it, with no regard for the immense suffering, and often death, of the animal. At HESC we support dehorning to deter poachers, sad as it is to remove that which is so characteristic of the rhino.
Recently, it was Esmé's turn, as her horn had already grown to a sizable length. Our vet, Dr Peter Rogers, was on hand to facilitate the procedure. Esmé was darted, then coaxed with a blanket to lie down in a comfortable spot, her eyes covered to relax her and given earmuffs to quieten the noise.
Once the medication and oxygen were administered, the procedure could begin. Firstly, the horn is sawn off, then the rough edges smoothed down with a grinder and lastly, a coat of oil applied to the stump to prevent cracking. The whole procedure takes around 45 minutes and Esmé was soon back on her feet. Our other two rhinos, Lula and Khulula, do not yet need this life-saving intervention, but we will monitor their horn growth closely and when the time is right, they too will be dehorned.
Ensuring the security of our rhinos remains a top priority for us. Your generous contributions through GlobalGiving enables us to address safety issues through various means, around the clock, while also maintaining enclosures and providing veterinary care and food. In winter when natural grazing is often insufficient, bales of lucerne are provided to supplement the natural diet.
We remain extremely grateful for your support and contributions to the conservation of this iconic species. With your support we can continue with our work. The species must never disappear of the face of our planet!