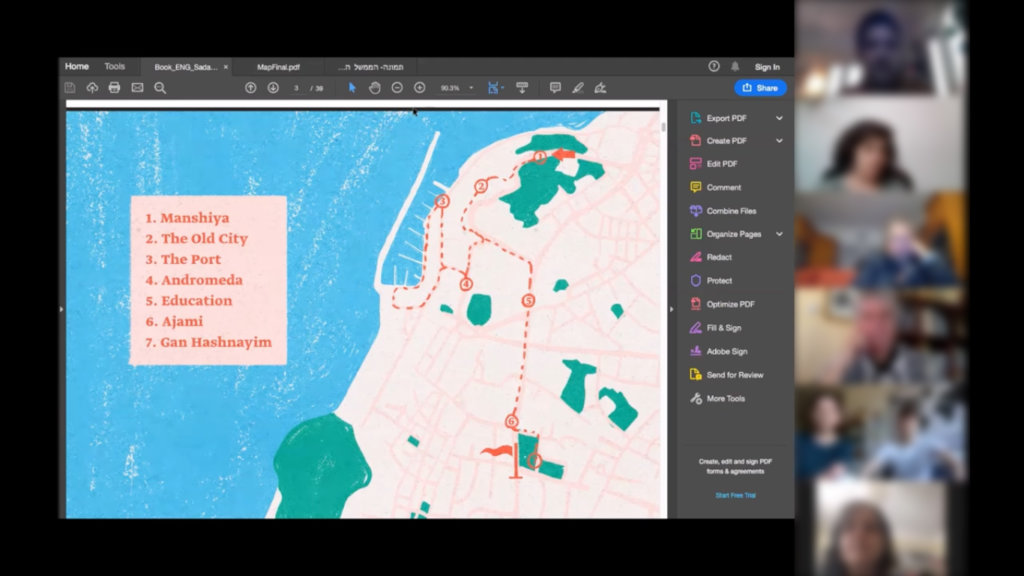 A New Beginning
For many years, Sadaka-Reut has been running a bi-national activism program for young adults from the Jaffa area, called Community in Action. As we have shared with supporters in our final report on the program's GlobalGiving page ('Support Palestinian & Jewish Youth Leaders in Jaffa'), we have decided to re-vamp our program so it can be better tailored to the young people of Jaffa and better address the needs of the local community. We have seen how the localized and acutely felt ramifications of the COVID-19 crisis and the deep-seated discrimination that preceded it, have served to disillusion young people in Jaffa, leading them to become rightfully frustrated with decision-makers and lose faith in their own ability to change their own, and their communities', circumstances. We realized that in order to strengthen communities we must strengthen and empower the potential young leaders within them, countering hopelessness and providing them with practical tools, a community of learning and partnership, and guidance, to instill and sustain their commitment to pursue social and political change.
For this reason, we decided to halt the Community in Action program and begin something new. We decided to adapt and expand our tours department to engage young people in Jaffa and train them to facilitate alternative socio-political tours of Jaffa. Our experience through the years of working with young adults has taught us that providing participants with concrete tools and hands-on experiences, can present powerful educational opportunities that teach young people about their social-political context, and instill in them the confidence to act. In all our years of leading the Community in Action groups, teaching participants to build and lead tours of Jaffa proved one of the most impactful, teaching, and empowering experiences participants had undergone. We believe that in the current political moment, the process of empowering young leaders in the community must begin at this fundamental level.
Developing the program
Since we have changed course, our dedicated Tours Coordinator, Amoneh Asfour, has been working to develop the training for the young tour facilitators. As part of our program, we have decided to open two groups:

The Community Group will be a group of local 18-21-year-old participants, both Palestinian and Jewish, who come from marginalized communities. The purpose of the group is to provide participants with concrete tools and a community for learning and action. The tour facilitation training will enable participants to place their own experiences in their social, political, and historical context, and will function as an introduction to possible paths to activism. Beyond tour facilitation training, the training of the young group will focus on providing participants with additional practical self-empowerment tools (such as resume writing, public speaking, etc.). Participants will receive a scholarship to participate in the program. We are currently recruiting participants for this pilot program, which is due to last for 5-6 months.
The Facilitators Group will be a group of local 22-30-year-old participants, both Palestinian and Jewish. The purpose of the group is to thoroughly train a small group of facilitators who will continue to lead tours of the city and receive an income for doing so. Throughout the training program, facilitators will meet with local experts (residents, activists, and scholars) to enrich their understanding of Jaffa's history and current reality so that they can, in turn, provide an elaborate and complex picture of the city. As this is a professional training, participants will be paid for their time. The training program will span the month of February, with a total of 10 sessions.
All throughout the process of developing these educational programs, we have continued facilitating virtual tours to expose individuals and groups to the untold and erased story of Jaffa.
We are very excited to get started with these pilot programs. As a next step, we hope to guide our facilitators in developing additional tours, to create educational content for schools around the country, and to engage local groups of high-school students in the process of developing their own tours of the city. But for now, we are grateful to be able to get our Tours Department in motion and begin engaging young people around the history, and potential future, of Jaffa.