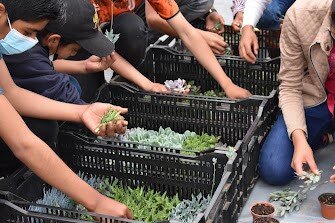 From February to May of this year, Mundo de Talentos implemented a pilot in the rural municipality of Teopisca. This town is located at a 45 minutes car drive from our first location in San Cristóbal de Las Casas, in the southern Mexican state of Chiapas. The positive results of our activities at our first location and the need for similar projects with youth in rural areas, fed the desire to expand outside of the urban zone. Connections with a secondary school in the town called Teopisca, through the father of one of our students in San Cristóbal, made it possible to initiate activities in this locality. The collaboration with this school named José Antonio Gutiérrez Gutiérrez has been very positive. The director and other personnel have been extremely welcoming and collaborative in supporting activities and needs for the workshops and excursions. The proximity to San Cristóbal de Las Casas made it possible to guarantee the quality of the program by bringing interesting guest teachers from this town, as well as from Teopisca itself. See our social media on this successful pilot.
Excursion to the greenhouse of company Xochipilli in Amatenango, Chiapas
We decided to start this pilot with first year high school students, since in rural areas, more than in urban zones, students tend to drop out at the end of primary school. We consider it a priority to stimulate the ones that decide to continue studying after primary school and enroll in high school. Therefore, we provide our orientational guidance program to first year students of high school, with the intention of motivating their continued school attendance and inspiring them with examples of interesting professions and study options.
The pilot with 20 students was a great success. On Saturday May 14, we celebrated the closure of these first months of activities, in the presence of parents, school authorities and personnel. In general, everyone agreed that the project had been of great value and with full potential for continuation. Students mentioned that they had learned many new things, that they had enjoyed participation very much and that they felt sad that it was already coming to an end. All of them affirmed that they would participate again if the project would continue in September. Also, they emphasized their appreciation of coordinator Miguel Contreras´ positive and motivating role in the initiative.
One of the parents mentioned how important he considered this type of project to be, since it offers an alternative to becoming involved in problematic activities such as crime and substance abuse. This father mentioned being grateful to Mundo de Talentos for the new perspectives offered to his son, because the current Mexican context has many problems and conflicts. One of the mothers commented on the positive changes that she had observed in her son following the project. Before he had never assisted her in her gardening activities but after the sessions with the biologist and the excursion to the greenhouse he showed a new interest in taking care of plants and had made suggestions which had resulted beneficial for her garden. Another parent mentioned that he had witnessed his son to be much more active and willing to see himself as part of a team when work has to be done.
Professors of the students also witnessed positive change in the youngsters, with whom they work on a daily basis. Teachers mentioned that they could see a change in conduct of several of the students who participated in Mundo de Talentos. They observed them to be more participatory and at the same time reflective. Some students started giving more importance to their academic preparation, as in being more committed to fulfilling their school- and homework duties.
Below we present the list of 10 sessions that we implemented in Teopisca.
February 12
Opening session with 20 students in the presence of their parents and the director and personnel of the José Antonio Gutiérrez Gutiérrez high school. The students as well as their parents expressed interest and positive expectations about the project, but especially the students were very quiet and seemed not very used to expressing their opinion in public.
February 26
Class about intercultural communication with theater artist and communications expert Beatriz Cadena. The focus of this session was to explore how the development of children in Chiapas can be promoted through intercultural communication, as well as how indigenous girls and women can be empowered.
March 5
The third session was an excursion to restaurant Espiral Biocafetería, in San Cristóbal de Las Casas, where we were welcomed by owner and water-system expert Sergio Urbina. With the purpose of explaining the function of each of its areas we were given a tour through the cafeteria. We learned what it means to exploit an ecologically sustainable bio cafeteria. Sergio and his team made our students reflect on the process of transformation of food and energy in favor of the environment and the people.
March 19
During this session we learned about the profession of a biologist, what this person does during their labor day and what the university career of biology consists of. Biologist Nayely Martínez Meléndez explained about epiphytic plants and the importance of their conservation in the ecosystem. The students played a memorama about epiphytes and enjoyed a photographic exhibition of orchids from the nature reserve Monte Bello. The challenge of drawing epiphytic plants was followed by the delivery of a book about epiphytes to the student with the best drawing.
March 26
During this day our students enjoyed a workshop about jewelry by Ixchel Villa Magalón. She emphasized the talents that she employs in making jewelry, including creativity, curiosity and a love of research. The students elaborated a pendant, in order to understand and simulate the work of a jeweler.
April 2
The sixth class was about social work, with social worker Elizabeth Sánchez. She presented the primary tool of a social worker to be the ability to interview people, in the sense of asking the right questions and listening carefully to their answers. The students practiced this ability by preparing questions and interviewing their peers. They then analyzed which questions had worked and which had not and if they had been able to really listen to what their partner had told them.
April 9
Coordinator Miguel Contreras was prepared for the emergency that presented itself this day: unfortunately the robotics guest teacher could not make it. Miguel decided to focus this session on exploring the personal dreams of our students, as well as on how they see themselves and their peers. This generated moments of silence and individual reflection by each of the students. Participants shared their description of their peers with the group. One student mentioned that he found it interesting to learn how your peers see you as opposed to what you recognize yourself.
April 30
Excursion to the tropical plant production company: Xochipilli, in Amatenango, Chiapas. Agronomist Tammo Hoeksema explained about the production of all sorts of plants and flowers and about the importance of purchasing supplies and seedlings. The students planted succulents and cacti and learned about various types of cutting techniques.
May 7
The last session focused on the profession of psychology and the methodology of psychoanalysis with psychologist Betsy Rivera. She shared with the students what a psychologist does, and which areas of work exist. As an exercise, she asked the students to identify their personal characteristics and share them with the others. The students found this fun and interesting to do. Later, they participated in a role play in which they simulated psychoanalysts and patients. One student mentioned that he had liked the exercise of feeling part of a therapy, in which he had represented the role of the drunk dad.
May 14
This Saturday was the closing of the pilot project in Teopisca, Chiapas. It was a session of memories and emotions, and of socialization with the students, parents, personnel of Mundo de Talentos and of the high school. The students shared their thoughts and feelings and expressed their sadness about the ending of the activities. They mentioned having felt taken into account by coordinator Miguel which was a very positive experience for them. We had noticed that some of the shyer students had started to participate more actively during the last sessions and had gained more self-confidence when expressing opinions. Some of the testimonies that we expressed during this day were the following:
I am sad that this process is ending because I will miss learning new things so much!
I hope the classes will continue, I learned many new things that I like, such as psychology and social work.
It's great that this type of program exists. It helps kids to know and do useful things and not get distracted or fall into vices or worse things
I noted that my son learned more about plants. He never missed a class of Mundo de Talentos, not once!
We have been able to witness a rapid growth in the students in the sense that they have opened up and been able to let their shyness aside during the classes. The stimulation of coordinator Miguel Contreras helped the students to gain confidence to share their opinions and express their doubts, feelings and thoughts. Also, the more silent students resulted to participate without embarrassment during the last few sessions.
The team of Mundo de Talentos is very happy and proud with the results of the pilot project. The group of students has been enthusiastic and with firm participation since the beginning. Of the 20 students, two decided to discontinue their participation because of necessary labor activities. However, of the other 18 students, seven are working students as well, who found the activities of Mundo de Talentos to be of such importance for themselves that they prioritized them over labor activities on Saturday mornings.
Links: