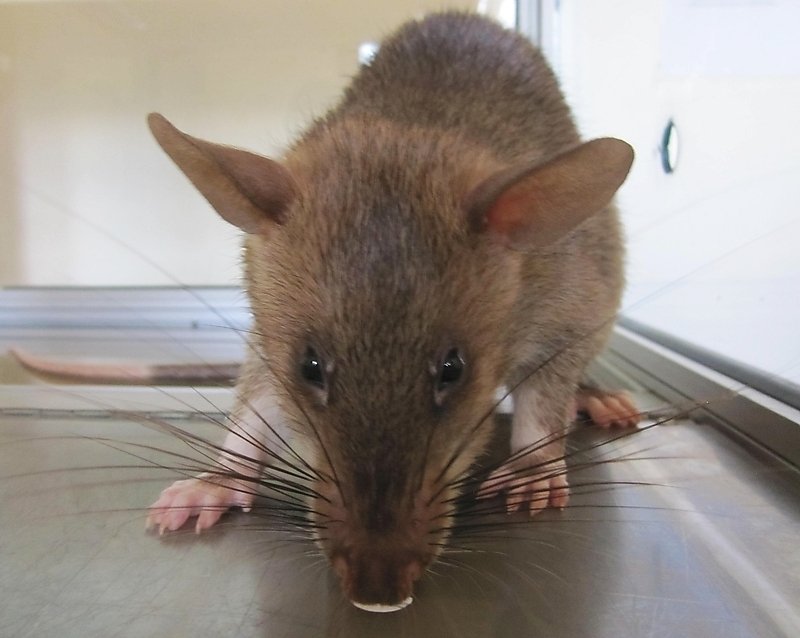 Dear Supporters,
Thank you for your life-saving support to APOPO. Due to your generosity, we have started training Hamisi, the HeroRat, to detect Tuberculosis (TB). Here is what the journey of Hamisi will entail over his nine month training process. This process forms the foundation for a successful 6-7 year lifespan of the TB detection rat to significantly impact the spread of tuberculosis.
3-4 weeks of age
At 3-4 weeks old the baby rats can open their eyes and at this time they still live with their mothers, but minimal socialization by one of our caretakers can begin.
5-6 weeks of age
The rats are weaned from their mother, and they begin a period of socialization. During this period, the caretaker and trainers expose the rats to different smells, sounds and textures, for example hearing music or a motorcycle engine, smelling flowers or coffee, exploring different surfaces like grass, concrete and soil, and going for a ride in the HeroRAT truck. This is an essential part of the training process: the rats need to feel comfortable and relaxed in the human environment they will be working in, to ensure they are not afraid.
Click training
After two weeks of nursing, the rats begin click training twice a day, in approximately 5 minute sessions. Here they learn to associate the "click" sound with a food reward. This takes place in a square glass-walled cage, with a small food hole in one wall. Immediately after the rat hears the "click", the trainer gives them a mouthful of mushed banana and crushed pellets. Click training takes one-two weeks.
One hole and Three hole
Once the rats learn that "click" means food, trainers can begin to teach the rats that they must now find something in order for the "click" and subsequent food reward. They start with one hole in a three-hole cage. When the rat goes to the hole, they hear a "click" and must learn to return to the food hole to receive their reward. They do this twice a day for one week, for 5-10 minute sessions. Once the rat has learned to go to one hole and then respond correctly to the clicker, trainers begin to introduce more holes (3), with one positive and two neutral samples for a few weeks.
Multiple Sample Evaluation
The rat will move to a larger cage, which holds sample bars with each 10 samples under sniffing holes in a long stainless steel plate. In this training stage, the rat learns to evaluate large numbers of samples. The rat is then trained in this setup for several months until the accuracy rate is at an acceptable level.
TB Rat accreditation
APOPO's TB rats must pass an internal accreditation process before working under operational conditions. The test is conducted under blind conditions and to pass the rat must find every positive patient.
Once Hamisi is accredited, Hamisi will then work for the next 5-6 years detecting thousands of sputum samples and detecting hundreds of TB patients originally missed by hospitals.
From APOPO and the future beneficiaries that Hamisi will help, a huge HeroRAT thank you!!