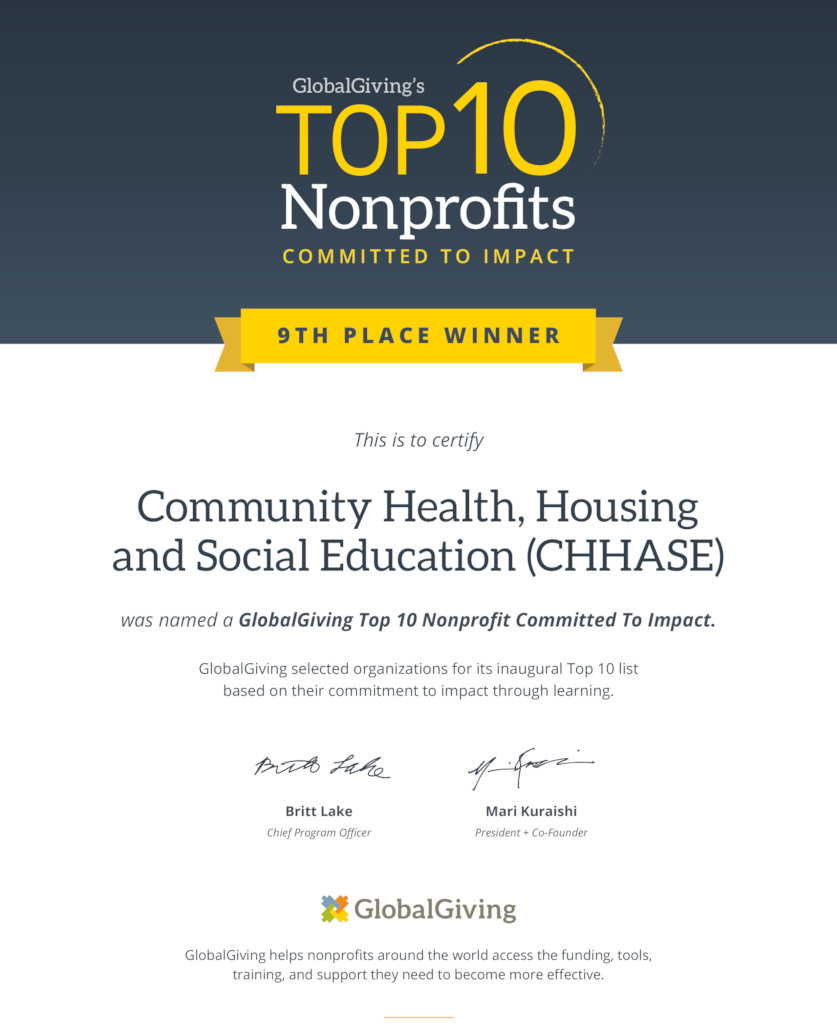 Respected Donor / Supporter,
I would like to sincerely thank you on behalf of the staff and on behalf of the women and girls for your generous donations to CHHASE.
your support has enabled us to provided training to 60 women in sewing. They all completed their training and started own sewing business with the support of donors like you. We have provided free sewing machines to those, who are very poor and cannot afford to buy. This beneficiaries were selected basing on their family condition with consultation of village elders. Now all are doing well and earning sufficient amount to run their family.
On behalf of our beneficiaries, CHHASE would like to thank you for your generous donation to help them to learn sewing skills.
Your support towards these under privileged will bring bright future and make them remember you lifelong. One of our earning beneficiary said that " I got training in sewing and basing on my family poor condition,CHHASE NGO provided me a sewing machine freely. I am working at home and earning hand some money while being at home and looking after my children and family. I thank you my donors for giving safe life for me and to my family."
On her comment, I felt happy and proudly thank you and want to say that all the merit goes to you only. CHHASE is a mediator only to provide training, But the major part is yours by providing us funds. We once again thank for your generous donation to women and youth skills training program.
"Instead of giving a fish daily, teach how to catch a fish."
We have exciting news! Community Health, Housing and Social Education (CHHASE) is one of GlobalGiving's Top 10 Nonprofits Committed to Impact! Look for us at number 9th on the list: https://www.globalgiving.org/learn/top-10-nonprofits/.

This inaugural list highlights 10 of GlobalGiving's nonprofit partners (and five honorable mentions) that have demonstrated a commitment to impact through learning. Winners have earned the most points in GG Rewards, GlobalGiving's way of tracking how nonprofits Listen, Act, Learn. Repeat. GlobalGiving has found that nonprofits that listen to their stakeholders, act on what they hear, and learn from the results of their actions are more effective and have a greater impact in their communities.

This is a great moment for us, we're proud to be recognized for our commitment to effectiveness and impact. This rank, we got because of your support. We thank you for all the support you give us.

Could you please help us celebrate by sharing on social media? Here's a sample post:

* It's great to see Community Health, Housing and Social Education (CHHASE) named on @GlobalGiving's Top 10 Nonprofits Committed To Impact list!

Trainings are great opportunities for our women and girls to further develop their marketable skills and therefore a little step towards self independence.
Many thanks again for your support! We will continue to keep you updated about our work and events of the following months.
Warm Regards,