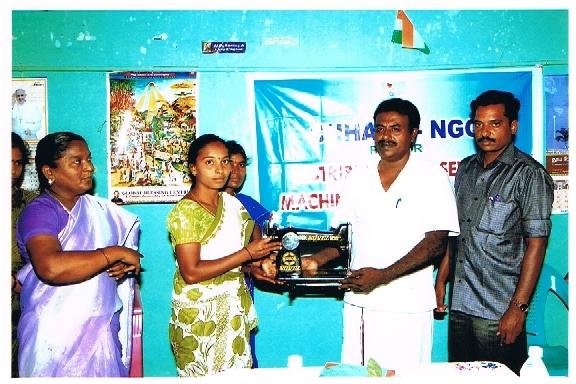 I would like to sincerely thank you on behalf of the staff and on behalf of the sewing machines to poor youth to earn income program for your generous donations to CHHASE.
In this thanks giving season letter we would like to share some of the most important events with you about the program you have supported. Your support has enabled us to provide free distribution of sewing machines to 58 poor youth and women and brought smiles in their faces now.
Without you, it was not possible for them to buy these machines and start their sewing at their homes or get trainings. Now their sewing business is going on well and they are working at their homes and earning handsome money.
Read what Radha said " I am living in rural village called Kollakottai, tiruvannamalai district. I am the elder daughter to my parents. Because of family condition, I discontinued my studies after 12th grade. My parents are aged and unable to go for work. I have two brothers who are studying. Their educate is expense lying on my shoulder.
With your kind help, I learned sewing. After completing my tailoring training, I received a sewing machine. I got a free sewing machine with your generous donation.
Now I am earning and looking after my brothers education and feeding my famly. I work at my home.
Now I feel confident that I can look after the education of my brothers and look after my parents too.
On behalf of my family, I thank you for your generous help given to us.
You can bring more smiles in poor families, As Thanks giving days are nearing, Can you able spare one hour of your valuable busy schedule time to explain about our projects and why you are inspired to your friends and neighbors? This way you can help us to get donations as the needs are growing and our receipts are small.
Or you can send mails to your friends and colleagues about us and you can explain about your involvement in our projects. If you feel, it is comfortable, kindly help us.
Your support towards these under privileged will bring bright future and make them remember you lifelong.
Many thanks again for your support! We will continue to keep you updated about our work and events of the following months.
Warm Regards,