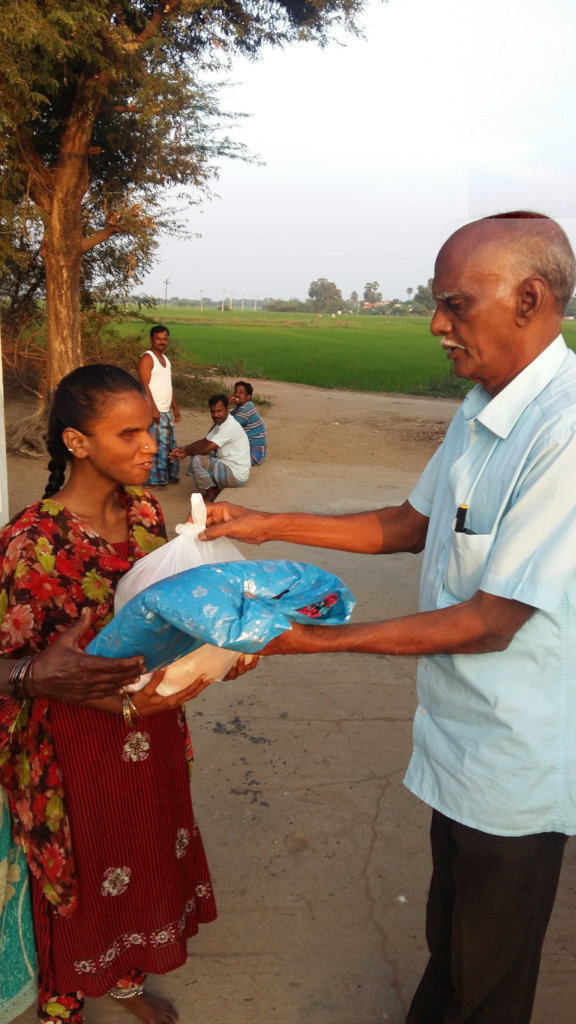 Respected Donor !!!
Warm Greeting from CHHASE India !!

We have been getting your high valued liberal support through GlobalGiving and we are thankful to you from our heart.
Your generous contribution helped us to provide clothes, food groceries, toiletries etc. to the visionless(blind) girl and to her guardian father. She is happy and conveyed her thanks to you with joyful smile.
We were planning to engage some companies workers in our food groceries program evaluation. one person from HR department of Ammayapper Textiles came forward to conduct the evaluation and took the list of beneficiaries and their addresses.He promised to evaluate atleast 5 beneficiaries.
After his evaluation he said " I went interviewed not only beneficiaries and other village people. In my evaluation, I found this program helps the neglected elders to live without starvation and dignity. Now I am happy to see their smiles while evaluation. I feel it is a great service."
This kind of evaluation is required to find out, how our service is serves our community and their feelings about our services. We want to help our affected community in right time to the most needy. .
Give Recurring donation to Double your Impact !
We have been getting your valuable support and we are thankful to you from the core of our heart. If you are satisfied from our performance then you have a Recurring opportunity to donate for women empowerment, education, children rights, skill development, elderly care and other noble work. GlobalGiving will contribute 100% (match bonus)to your donation up to $200.

Here are our vetted, high-impact projects that can accomplish even more with your Recurring support:
Provide food groceries 78 neglected elderly women
Support neglected elder's food, medicine & clothing
Eye sight to neglected lonely elders
Free neglected elder from starvation & ill health
Less privileged elder need care & Meal support
Food groceries to 78 neglected elder, Leper cured
Thanking you for your kind cooperation and financial support. Without your generous donations it is very difficult for us to ''To provide food groceries to 78 neglected elders !!''
Respected donors, we welcome your valuable suggestions and feedback for this noble work. Please do provide your suggestions in the comment box to be more successful.
Many thanks again for your support!!