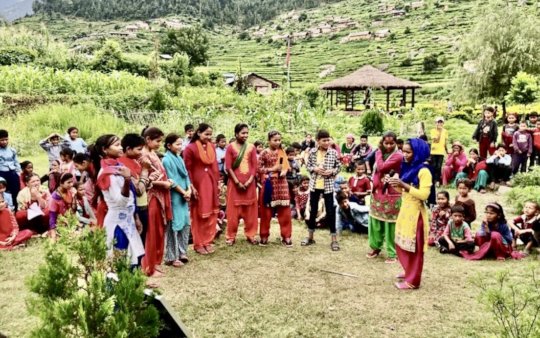 Thanks to you, we are making progress in Nepal! Days for Girls' recent collaboration with the Oda Foundation resulted in 17 new Training of Trainers graduates in the Mahawai and Suva Kalika rural municipalities. These new trainees (ages 19-24) participated in a week-long intensive theory of menstrual health education. Using Days for Girls flip charts, they learned how to address topics including:
Average days of bleeding
Puberty
Female and male reproductive systems
Menstruation process
Menstruation calendaring
Importance of menstrual hygiene, including proper hand-washing
Instructions on care and usage of DfG reusable pads
Self-defense
How to recognize and avoid human trafficking
Unfortunately, in Nepal, discussions on menstruation are often taboo. These new trainers learned to speak with confidence, boldness, and without shame or embarrassment. They are now prepared to teach girls the joy that comes with knowing that their bodies are healthy, normal, and strong.
While working in the field, one of the new trainers was confronted by a local faith healer and accused of "spreading nonsense regarding menstruation." The young trainer reported, "In the past, this would make me feel bad, but having gone through the training I now feel proud. Proud that people know I am spreading education and awareness on menstrual hygiene. I am proud of myself and see myself as a change maker."
Armed with these newly acquired skills, our amazing new DfG Training of Trainers graduates are conducting Ambassador of Women's Health (AWH) training in their communities. Because of your donation, they are able to give out our beautiful DfG washable pads while using language that emphasizes the beauty of being female.
While interacting with local girls, these AWH trainers are deconstructing the myth that menstruation is impure and emphasizing that chhaupadi (the dangerous tradition of relegating menstruating females to huts) is unnecessary and inappropriate.
Thanks in large part to your generous contributions to this project, over a recent three month period of time, nearly 3,500 girls were armed with knowledge and tools to handle their menstruation with dignity. And we are confident this trend will continue to Shatter the Shame in rural Nepal.
Namaste!