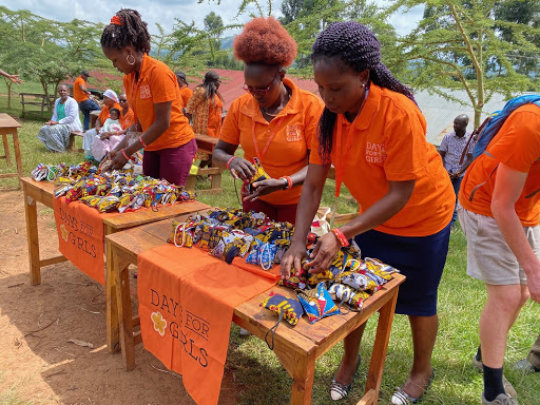 "Periods don't pause for pandemics."--Celeste Mergens, Founder and CEO of Days for Girls. Even with the upheaval that is being felt worldwide, your contributions are continuing to give women and girls in Africa hope. And hope is needed now more than ever.
During the first quarter of 2020, Days for Girls African Enterprises continued to provide employment opportunities for women in sub-Saharan Africa. In March, Enterprise leaders in 16 countries met in Kenya and Uganda with a team from Days for Girls International. Enterprise and country leaders were instructed on ways to improve their businesses; including branding, marketing, reporting, time management, budgeting, and goal setting, as well as improvements to Ambassador of Women's Health and Men Who Know curriculum instruction. DfGI leaders answered questions and addressed concerns from Enterprise leaders. And Enterprise leaders received DfG officially branded materials with enthusiasm.
While in Kenya, DfGI leaders met with government officials including staff from the Ministry of Education and Ministry of Gender offices and received enthusiastic support for DfG efforts. The First Lady of Bomet County, Kenya sat in on discussions and pledged her support for our campaign to end period poverty and empower women and girls in her jurisdiction.
DfGI leaders also went to schools in Kenya and provided much needed menstrual education and DfG Kits to girls. Girls were taught how to handle their periods with dignity. During one course, a local news team arrived and filmed and interviewed girls and leaders. As the news team left, they pledged support for doing their part spread the word to end menstrual shame.
With the recent COVID-19 crisis, Days for Girls African Enterprises will continue to provide menstrual supplies and education to women and girls. And, we are pleased to announce that DfG has included sewing masks for local healthcare workers and those individuals most vulnerable to the spread of the virus. To learn more about our #Masks4Millions campaign, click here.
More than ever before, women and girls in Africa need our help; both in the fight against period poverty and the battle against the COVID-19 virus. Your generous donations are making a difference in the lives of so many of the world's most vulnerable.
Thank you!
Links: