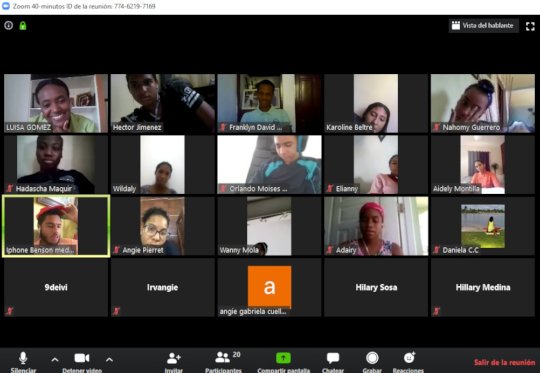 Dear donor, please accept our heartiest greeting. Your social awareness led you to our project to enrich the lives of all the members of the school.
Your support demonstrate you are conscious about education is one of the factors that most influences the progress of people and communities. In addition to providing knowledge, education enriches human culture, spirit and values.
These are hard times but "United we are Stronger", better times will come !
The suspension of face-to-face teaching in our country, due to the isolation measures imposed by the Government to counteract the spread of covid-19, gave way to the implementation of virtual education at the school, following the guidelines of the Ministry of Education. Students and teachers, through the Classroom platform (virtual classroom) continued the educational curriculum from their homes. This new modality (distance learning) has represented a great challenge to the educational community, but fortunately the subjects have been taught without interruption, thus ensuring that the development of the school year is not disrupted. Please see the picture attached
The technological training that we have been implementing in the school for years has played a key role in this process. Fortunately the students have laptops in their homes which had been provided a few months before by the Ministry of education, in recognition to the academic achievements of the school.
The school successfully concluded the 2019-2020 school year. Nowadays the parents, students, teachers and the administrative staff are eagerly preparing the 2020-2021 school year, which will begin on August 24, 2020. There are new challenges to face (health protocols, adjustments to the schedules and physical spaces and calendar of activities etc) due to the "new normal". The registration and admissions process began in the first 15 days of June 2020 and will conclude in the first week of August 2020.
We have postponed the plans of roofing the bleachers of the basketball / volleyball court and the launching of the first Science Fair as well.
In the upcoming months we will keep you updated on the progress of our project. If you have any comment, advice or question, please let us know and we will respond as best we can.
Thank you very much again for your support, we really appreciate it !
Best wishes !