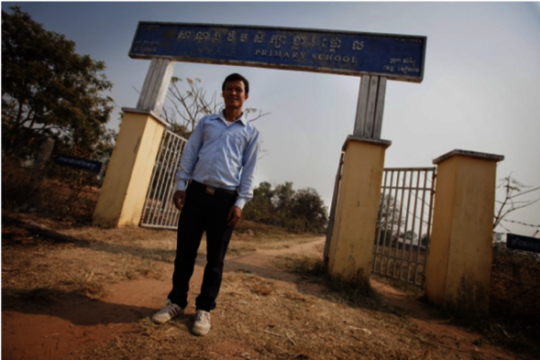 It's almost Giving Tuesday - this year it falls on November 27th (tomorrow). One day of the year dedicated to celebrating generosity and giving back. This year, we ask that you use Giving Tuesday to support APOPO in our big push to clear Cambodia of as many landmines as possible.
---
"My name is Bundoeth and I have been the headmaster of our local primary school for four years. There are 128 children at this school. The school is situated in the middle of what used to be live minefields, on the edge of the main road from Siem Reap."
---
We meet many Cambodians like Bundoeth; people who must consider the threat of stepping on a landmine just to do their job and complete daily tasks that we take for granted.
---
"Many of my pupils have parents, siblings, or grandparents who have been maimed or killed due to leftover landmines from the war"
---
Whether it is going to school, popping out to the supermarket, farming to feed your family or running a small business too many people are putting themselves in harm's way just to survive.
Leftover landmines and explosives threaten more than a third of the world's countries, including Cambodia, which has the highest number of amputees per capita in the world. These weapons remain active long after hostilities have ended, causing terror, killing indiscriminately and hampering the development of vulnerable communities.
Tomorrow, between 00:00:00 ET and 23:59:59 ET you can help us Clear Cambodia.
Global Giving are offering to match all new, recurring donations up to $200 per person started on #GivingTuesday and throughout the fundraising season. That's your donation, DOUBLED.
There's also a $150,000 incentive fund depending on donations raised, and bonus prizes which mean further funds towards our goal.
Remember, just $10 can clear 30 square meters of land for local people removing the threat of loss of life or severe injury.
With your generous help, we can Clear Cambodia.