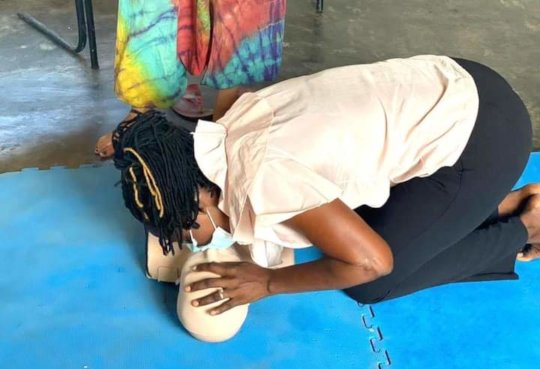 A wealth of workshops to educate women and girls
We thank our donors for their support of women and girls around the world.
Michele Obama once said, "When girls are educated, their countries become stronger and more prosperous." We strive to provide opportunities for women and girls to develop skills and knowledge as individuals and as a community.
Our programmes support workshops and other learning opportunities. We ensure workshops meet the desired needs of the community and that wherever possible, we utilize the skills and knowledge of the community.
Workshops aim to address day-to-day needs as well as helping with employment prospects. Recently in Ghana, for example, sixteen women have been trained in basic first aid. First Aid certification is not only an asset in managing illness and injury in day-to-day life. The certification also increases employability. First Aid skills are a strong point on any CV. Consider the bigger picture. The more people trained in First Aid, the greater the chance an illness or injury is managed effectively - the community benefits.
Education is family-friendly too. In Fiji, door-to-door education with local nurses has been an effective way of reaching families with vital health information about local issues. Workshops and information brochures have also been a way to inform families of important health information. Once pandemic restrictions have eased, this approach can be back on the agenda. Another example of family education is in Ghana. Family workshops addressing malaria provide practical advice for families.
In Cimorrones, Costa Rica, we have been able to support women and girls with English lessons. English skills can lead to employment opportunities as well as access to further education opportunities. The learning environment also helps women to build a support network of fellow learners.
As well as English lessons, our Cimorrones project aims to develop computer literacy. A skill set that includes computer literacy skills empowers females to operate in today's world. It opens the door to employment, self-learning, and access to a breadth of information.
We are excited about the next steps in Cimorrones. Women are keen to learn more about business. Our project there is working towards business skills development. The plan is for women to develop the skills and understandings to develop business plans. The women's knowledge of their community needs, combined with business skills, is a good recipe for progress.
Education in English, business, computing, and healthcare can have an ongoing impact on individuals and their families. Women and girls can develop skills to make a difference in their lives. Your donations go a long way to making these projects happen.
We appreciate your ongoing support and wish you continued good health and wellbeing.