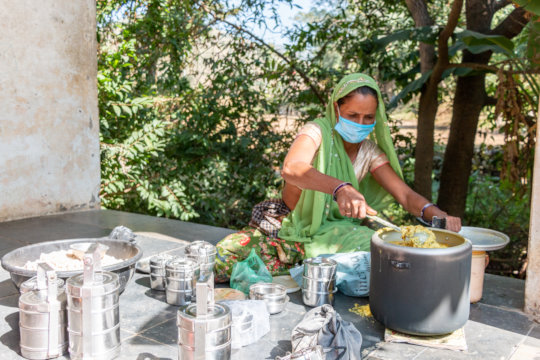 Wishing you and your loved ones a very Happy New Year!! May this New Year bring with it an abundance of joys and infinite happiness to you!
Bhavesh, the youngest son of Ganga and Shravan, aged 1.5 years got enrolled in our Rajpur Balwadi (Daycare) in January'20. Soon, the Covid-19 pandemic hit, and all children could not attend Balwadi. Balwadi teacher Kaali was in constant touch with all the children during that period and provided supplementary nutrition to all of them. During July, Bhavesh got severe diarrhea and became weak. Kaali, during one of the visits, found out that Bhavesh was not keeping well and advised the parents to consult a doctor. Kaali weighed the child and found out that he was weighing only 6.8 kgs, and was in SAM (Severe Acute Malnutrition) category. Both parents were reluctant to take their child to the hospital due to a fear of the Covid-19 infection. With some persuasion and the offer of Kaali to accompany them, parents agreed to take their child to the hospital. Bhavesh recovered in a few days, and Kaali continued to visit him every day. She also provided him hot-meal regularly. In a month, Bhavesh gained 2.5 kg weight and is now healthy.
Thank you for your help and support to our project. Support from well-wishers like you helped us reaching out to 4,375 children of 0-5 years of age in the last six months through our 160 Balwadis. We hope that you will continuously support our programme and will help us in changing the lives of many more children.
Best Wishes,
Atul Lekhra & the Seva Mandir Team
Follow us on www.facebook.com/sevamandir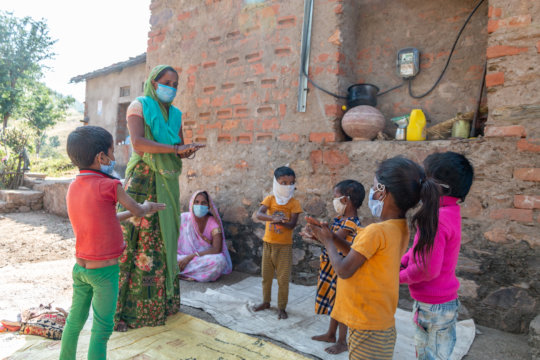 Links: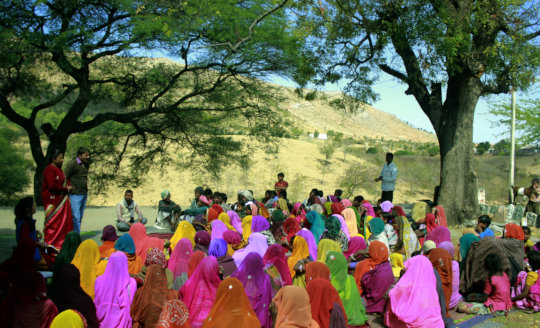 Dear Friend,
Seva Mandir has always believed and worked towards empowering communities to take accountability of social transformation as the most sustainable way of moving ahead. Seva Mandir has nurtured its village development groups into spaces where people are able to actively participate in the decisions which directly affect their lives.

To further empower these village groups, the groups have been amalgamated into federations. These are multilayered, self-governing community institutions created by Seva Mandir to resolve larger-scale issues. The federations work on the social as well as financial issues of the region and liaise with various government as well as non-government agencies.

Rod ka Guda is a small village situated in the rocky area of Kumbhalgarh. This village consists of around 100 households with a population of 700. The village people have very few government services and have long had problems with drinking water. In addition to working on pastureland development and some soil and water conservation work, Seva Mandir has formed a Village Development Committee (VDC) as well as two women's Self-Help Groups in the village. Seva Mandir spent INR 429,000 (just over USD 6,000) on construction of a water tank and pipeline for the villagers under the supervision of the VDC members. The VDC then negotiated with the village panchayat (local Government body), successfully securing INR 100,000 (nearly USD 1,500) towards the purchase of a pump to help them lift water to the tank.
Now the VDC is taking primary responsibility for its management and maintenance. They have devised rules, fixed a token amount of INR 200 (just under USD 3) which each household must pay per month towards water service charges, and appointed a point person to operate the machine twice a day. The amount paid by households is being used for payment of the point person, electricity charges and other maintenance.
This case is notable for the collective effort and contribution of the VDC and also because they were able to persuade the panchayat (local government body) to play a positive role in their development.
We would like to thank you for letting us meet our commitments in the field. All this has been possible due to your consistent support and trust in us.
Our whole team wishes you a lot of joy and happiness during this holiday season. May the upcoming year bring new achievements and happiness to you and your family. Happy New Year.

Best Wishes

Atul Lekhra & the Seva Mandir Team

Follow us on www.facebook.com/sevamandir
Links: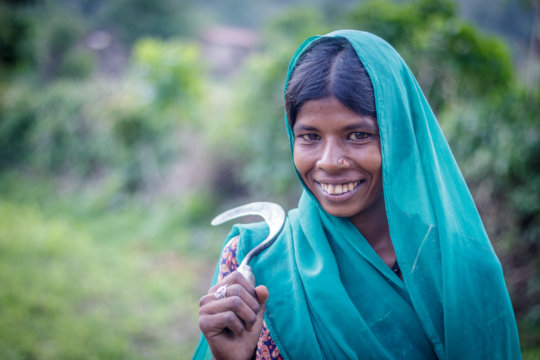 Dear Friend,

Let me start out by wishing you and your loved ones the season's greetings.
Agriculture is the primary source of livelihood in Seva Mandir's working area, with nearly 93% of households being self-employed farming families. Unfortunately, agriculture contributes very little to household incomes and many even fail to produce enough for their own food security due to a variety of factors. The increasing population has led to a decrease in the size of landholdings, and the shortage of rainfall outside of the monsoon season makes it difficult for farmers to reap more than one crop a year. Furthering this problem is the low quality seeds and inefficient practices that lead to a decreased productivity level.

Over the past years, Seva Mandir has identified and promoted a range of activities to address the challenges of agricultural development in the area. In previous years, horticulture badis (orchards) were raised across all blocks. Saplings of various fruit trees, including gooseberry, lemon, mango and guava were planted in these badis.

With the help of Seva Mandir, Leela (name changed) developed a beautiful and productive lemon orchard on the hill behind her house. Leela proudly tells us; "I sold 200 kgs of lemons last year. Now I no longer need to migrate to far away cities to make ends meet, leaving my children behind". This year, Leela again expects to make a good earning from her lemon orchard so that she will be able to take care of her children's needs.

Modern experiments were also conducted in agro-forestry, in which a variety of fruits were planted in pastures and private wastelands. This experiment was being conducted throughout Seva Mandir's region, to provide communities with increased benefits from their regenerated lands. Additionally, vegetable nurseries were created and the saplings were sold to other farmers in the area, thereby increasing vegetable consumption in tribal families (and thus their nutritional intake) whilst providing them with an opportunity to sell excess produce as cash crops.

Farmers in our region largely use the same seeds for many years or use hybrid seeds that have to be replaced constantly, resulting in low productivity. Hundreds of kilograms of seeds, including maize, black gram, sesame, kulat and green gram were supplied to farmers of various villages in order to revitalize seed supplies. New seed banks for wheat, gram, and maize were also established, providing a means to replenish and store seed varieties.

Seva Mandir has provided farmers in the region with an opportunity to revitalize depleted resources, sustain their traditional methods of production, and eventually generate new sources of income.

All this has been possible due to your consistent support and trust in us. We would like to thank you from the bottom of our hearts for supporting us. We have been able to benefit more than 10,000 farmers through various interventions because of you. These farmers can now grow enough food in their fields and don't have to migrate from farming in absence of basic necessities.

Thank you once again for your support. Your support is making a huge difference in the lives of these poor farmers.
Our whole team wishes you a lot of joy and happiness during this holiday season. May the upcoming year bring new achievements and happiness for you and your family. Happy New Year.

Regards

Atul Lekhra and the Seva Mandir Team

Follow us on www.facebook.com/sevamandir
Links:
WARNING: Javascript is currently disabled or is not available in your browser. GlobalGiving makes extensive use of Javascript and will not function properly with Javascript disabled.
Please enable Javascript
and refresh this page.