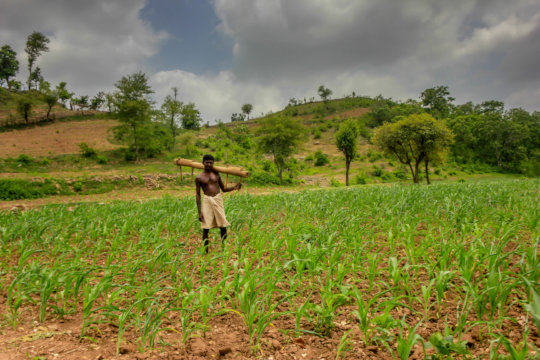 Dear Friend,
84% of the farmers in rural parts of our work area are small and marginal farmers earning only about INR 13,000 (USD 185) annually from agriculture. The outputs from agriculture and livestock are usually less than the state and national averages. As a result, after their family's consumption, farmers are left with little or no surplus for sale to enhance their income.
A recent survey states that 30-50% of all agriculture-dependent rural households in this region are facing indebtedness. Even after a good harvest, it is a challenge for a farmer to earn any meaningful income without connectivity to markets. Not only do most farmers live far from markets, but they also have little understanding of how they work. Furthermore, they sell their produce as individuals and not as a group, which would help to achieve economies of scale.
Seva Mandir works with farmers to increase their income by identifying critical areas in the farmers' value chain and providing solutions. Seva Mandir uses its community-based agri-extension service model, through trained agriculture workers called 'Krishi-karyakartas' and agriculture experts, to support these farmers at every stage of the production cycle to ensure best results.
Through our network of women's Self-Help Groups (SHGs), we help women farmers to start agricultural and livestock-based livelihood activities at an entrepreneurial level. SHG members can take out loans from their group to invest in their farms and livestock. They are given training and other technical assistance to implement the business plan with the help of experts from farmer-producer organisations or social enterprises, trained agriculture workers and local agri-entrepreneurs. These groups are evaluated from time to time to measure their progress in building entrepreneurship.
Seva Mandir works in tandem with the community groups and federations that we have helped set up to enable them to aggregate farm produce in order to achieve economies of scale, enabling farmers to receive a fair price at current wholesale prices and to benefit from these organisations' expertise in rural agri-business developments in the region.
Through this intervention, Seva Mandir aims to increase the prosperity of the rural farming community by enhancing their entrepreneurial capabilities through links to training and credit and by giving them access to fair markets, without the need to travel long distances.
Many thanks to you for all your help and support to our project. It is because of your support we have been able to help increase profits of these farmers.
Regards
Atul Lekhra & the Seva Mandir team
Follow us on www.facebook.com/sevamandir
Links: