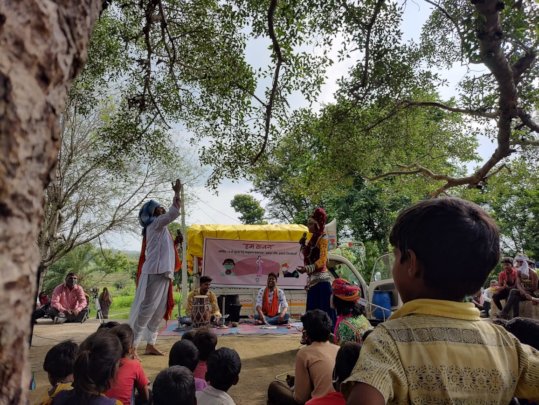 Dear Friend,
While the second wave of COVID-19 that hit our country left a trail of fatalities, in addition to economic and social crises, health experts warn of a third wave.
Our experience during the second wave shows that a set of measures would help face the third wave. Strengthening of local administration, civil society organizations lending them support and their synergic work with community collectives is a potential way of overcoming the situation, when it arises.
Through our HUM SAJAG (We are Alert) initiative we aim to build a pool of trained and equipped human resource base of 6,000 frontline workers and village volunteers in 1,500 villages spread across 14 blocks of Udaipur and Rajsamand district in 100 days. Establishing collective COVID management norms in villages through active village groups, youth, community and women leaders will be a core focus of this initiative. We plan the following:
1. To provide basic safety kits, diagnostic kits and a COVID safety protocol and education material reference book to 6,000 frontline staff and village volunteers.
2. To train and build capacities of over 6,000 front line workers and village volunteers through a comprehensive training module designed in consultation with health experts, Government IEC materials and other health-based organization. The training will majorly focus on critical aspects of addressing COVID-19, its spread, home isolation, monitoring, referrals, vaccination and post COVID care.
3. Activating village groups (10-12 members from youth, village institution leaders, women committed to minimize the impact of Covid-19 in villages) to understand and establish commonly agreed community norms to increase vaccination, reduce fear and myths and isolate in case of a potential third wave.
4. We aim to support block level Community Health Centers to help improve the health infrastructure for better management of COVID-19 at block level. Earlier we have connected such donors to government for supplementing the need of Oxygen concentrators in health institutes.
5. Reaching out the areas with most vaccination hesitation in southern Rajasthan using a combination of different traditional theatre forms and music. Actors will use popular folk songs to talk about many myths and fears of vaccination.
"If I feed my child after getting vaccinated, the virus will come through milk in the child." said one of the women. Pregnant and lactating women are experiencing higher doubts and hesitation towards vaccination. Through theatre and discussion, we will try to clarify these types of concerns.
Thank you for your precious support to our programme. Your support is a source of encouragement to us during this much needed time.
We are also happy to share with you that we are participating in GlobalGiving's Little by Little Campaign. This is a five-day crowdfunding campaign taking place from September 13-17. All eligible donations up to $50 per unique donor per organization will be matched at 50% during the campaign. So, this is a chance to double the impact of your donation. We hope that you will support us to get matching funds for our programme and for the communities we work with.
Stay safe and healthy.
Regards
Atul Lekhra & the Seva Mandir Team
Follow us on www.facebook.com/sevamandir
Links: