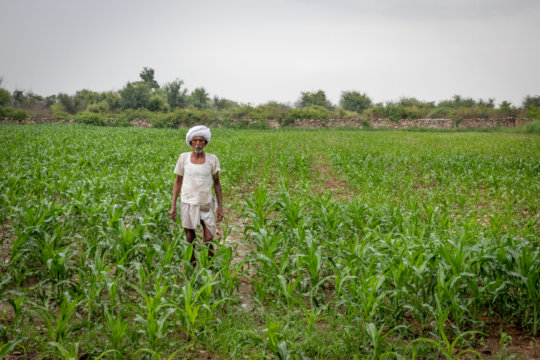 Dear Friend,
80% of the people in our region live in remote rural areas far from (formal) markets, and depend mostly on subsistence agriculture, livestock rearing, forest produce and wage labour for their livelihood. 84% of the farmers are small, marginal farmers with two hectares of land or less, of which only half is fit for cultivation. Agriculture in the region is mostly rain-fed with only 23% of the cultivated area under irrigation. So most farmers are able to farm in only one season, during the monsoon period. Women constitute 72% of the agricultural workforce. 56% of households have at least one member, usually the male household head, migrating for casual labouring work away from their village to meet their household consumption and income needs. A concern for farmers in the region is also access to markets to purchase supplies for farming and animal rearing, and to sell their produce from agriculture, livestock and forests. Most markets are 10-40 km away from the villages, so transport costs are an additional burden. Without access to established markets, most farmers have no alternative but to sell their goods in their village at prices 20-50% lower than the market rate. This results in very low profits.
Seva Mandir addresses the challenges in two main ways:-
1. Improving agriculture and livestock
Seva Mandir works with farmers to enable them to utilise their farmland in the most efficient manner with the best possible agriculture practices. To utilise existing farmland to its optimal capacity, following watershed or ridge-to-valley treatment, soil and water conservation activities are undertaken to ensure the fertility of soil and enhance moisture. Irrigation facilities are also provided through water recharge, and water pumping and distribution systems, to ensure a constant supply of water for crops.
Seva Mandir provides a community-based agri-extension service through trained agriculture workers, who act as facilitators to encourage farmers to adopt the best agricultural practices.
Through various interventions Seva Mandir benefited 80,000 farmers, and improved agricultural productivity by 40-60% and livestock productivity by 30-50%.
2. Income enhancement
Seva Mandir works with farmers to increase their income by identifying critical areas in the farmers' value chain and providing solutions. Seva Mandir uses its community-based agri-extension service model, through trained agriculture workers and agriculture experts, to support these farmers at every stage of the production cycle to ensure best results.
Through this intervention, Seva Mandir increased the annual agricultural income of around 4,500 families by INR 15,000-40,000 (USD 215-600), a 40-120% increase. Seva Mandir also helped 220 women's Self-Help Groups to undertake entrepreneurial activities, and linked 20 community groups and federations in over 40 villages to provide access to fair markets.
Many thanks to you for all your help and support to our project. It is because of your support we have been able to help increase profits of these farmers.

Regards

Atul Lekhra & the Seva Mandir team

Follow us on www.facebook.com/sevamandir
Links: