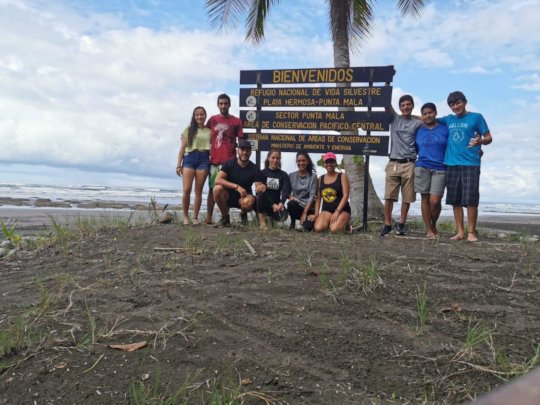 Merry Christmas, and may 2021 bring all families in the world the peace, health, and prosperity we all long! This report is long because, although this year was challenging, we moved every program forward. With your help, we were able to accomplish more, serve more people, and be more impactful.
What a year this has been!
This year started with many changes; Steven stepped down as president of the foundation after more than two decades of leading it. As long-time members of the organization, Steven invited Jim and me to step on the board. I have served as president of this organization during these challenging times that have hit the world hard.
In mid-February, all the plans for the beginning of the year started to crumble, and in mid-March, everything changed. We had to suspend all in-person training and educational activities planned for the following months. Community park ranger workshops, consultant visits to community-based tourism projects, and meetings of environmental education groups were suspended.
To serve those that need us the most!
We quickly regrouped and committed to staying positive, proactive, and supportive. We soon understood that our duty was to assist the communities we serve, which are highly vulnerable to tourism closure in the area. In Bahia Drake, at least 85% of the people survive directly or indirectly from tourism, mainly international. We decided to readjust and rethink ourselves so that we could help the communities, our members. We started to rethink how to use our platforms and networks to support those who need us the most. To do this, we started using our media to raise funds and buy food and cleaning supplies for the elderly population and the most impoverished families of Bahia Drake. At this point, we have raised USD 14,000, and we have delivered 450 food packages to 50 older adults and families living in poverty since the end of March.
Regenerative agriculture
We have managed to refocus some of the funds approved for activities such as workshops and field trips, which given the pandemic, will not happen, and we have used them to promote regenerative agriculture in the communities. Regenerative agriculture will help us promote food independence and, at the same time, encourage practices that allow soil restoration. The idea is to help communities plant their gardens in their homes or farms in a regenerative way to guarantee their sustainability and productivity. With the pandemic's arrival, we realized regenerative agriculture could help local families alleviate the family's economic situation, reduce the pressure on natural resources, and reduce the hunting of wild animals. Thanks to that, 24 families have completed their regenerative agriculture training after receiving five theoretical workshops and three practical visits. They have learned about soils, preparation of cultivation beds, organic fertilizers and repellants, extraction and conservation of seeds, and seedlings preparation. They have also received all the materials and supplies needed to produce their crops.
Virtual environmental education
Regarding our environmental education program, we have also reinvented ourselves. Our environmental educator has been creating videos for children, challenging them to practice, research, or do an environmental educational activity from home. They send us back their photos and videos doing it, thereby keeping the children at home interested, active, and motivated. For the longest time, our environmental education activities were the only extracurricular activities these kids had. Then once the schools closed due to the COVID19, our activities were the only educational activities available. We delivered fruit trees, endangered trees, and educational supplies to each kid in the groups. More than 40 kids in the communities received watercolors, markers, cardboard, pencils, among other things. This material will help the kids participate in the remote challenges from the safety of their homes. We have carried out more than seventeen environmental challenges, in which up to 27 children have participated per session.
Sea turtle conservation
This year, we did not have international volunteers. This was a challenge because we have been able to maintain the program through the support of volunteers who come to work on the beach and pay for their food, accommodation, and part of the cost of the project. However, instead of reducing our sea turtle project's impact and scope, we have expanded it and double its efforts. We are now working in two beaches: Punta Mala-Playa Hermosa on the Central Pacific and Rincón near Corcovado National Park.
We moved our sea turtle conservation program in Playa Rincón to Esteban's property. This local young man has spent several years working in turtle conservation and owns a beachfront property in the Rincon area. The results there have been excellent. We have been providing Esteban with the funds for his salary and to purchase food for his volunteers. He has managed to lead a group of local kids that have been very committed and successful at protecting the sea turtles. They had 17 volunteers and 102 nesting activities, of which 92 nests were relocated to the nursery and 7 nests were poached. 3800 baby turtles were released, which means a 95.1% hatching success.
In Punta Mala, we have had a team of 3 members, who with the support of 26 volunteers, mostly Costa Ricans, managed to take care of 924 nesting activities, including 490 nests that remained on the beach and were not depredated, 224 nests relocated in the nursery, 121 nests lost to predators, and 12 poached nests. This beach is crucial because of the massive amount of nesting, the pressure from predators and poachers, the eroded beaches, and other natural and human impacts on the sea turtle nesting activity.
Other community accomplishments!
Seventy community park rangers trained and equipped to support the Corcovado, Piedras Blancas, Marino Ballena national parks, and Golfo Dulce Forestry Reserve.
Eleven people from the La Amistad-Talamanca communities trained to obtain their official guide certification, which meant an investment of $2000.00 per guide.
Eight grassroots organizations in the La Amistad-Talamanca region strengthened with technical support to improve their sustainability.
Together with Terri and Gary, we are organizing a castration event for 40 dogs on Dec. 13.
Thanks to a donation of 6000 kg of dog food from the Humane Society, we have provided 96 dogs in Los Planes and 67 dogs in Los Angeles with food, reducing predatory pressure on the environment. 300 more dogs will receive support soon.
After 10 years of waiting, and thanks to the leadership of our very own Mayra and our lawyer Estela, the Ministry of Education approved the land's purchase to build a proper high school for Drake Bay.
It has not been an easy year, but we have adapted and reinvented ourselves. We have been at the forefront of a series of initiatives, being among the first to move from doing face-to-face activities to online workshops, virtual environmental education activities, and fundraising to feed the most vulnerable. We are very grateful for your support. Everything we have achieved is thanks to you, who supported us and trusted us.