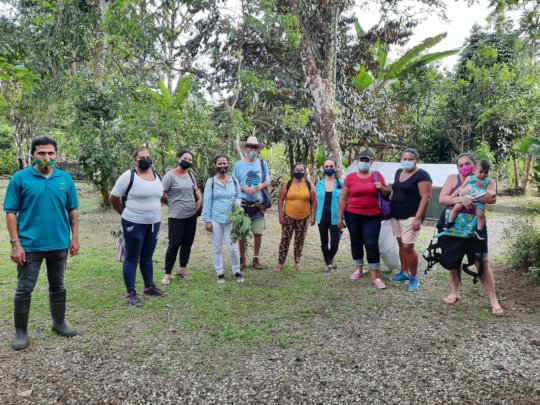 Regenerative agriculture
Spanish report below
With the COVID 19 pandemic's arrival, we realized that regenerative agriculture could help local families alleviate their critical unemployment situation in the area. The lack of income and jobs has produced an increase on the pressure of natural resources and wildlife hunting.
As of April 2020, we decided to encourage sustainable ways to put food on the table for all these families. Therefore, the foundation launched regenerative agriculture workshops to promote self-sufficiency and food independence, allowing families to have the necessary food for their subsistence and avoiding the use of dangerous pollutants. Helena, our environmental educator, tells us that "A beautiful process took place since the training began. Families are exchanging their knowledge and their progress in their gardens, creating spaces to produce food where there was nothing before."
Regenerative agriculture encourages practices that allow soil restoration and reduces the production of greenhouse gases. There has been a transformation in the process where families have understood that organic matter is not "garbage" as it is commonly called, but a source of wealth for our soils.
The main idea is to help communities develop small family gardens in a way that promotes the conservation of biodiversity and soil restoration, generates a healthy food source, and conserves seeds and their biodiversity in our communities.
Since June 2020, our program has had extraordinary effects on communities. Twenty-four families have completed their regenerative agriculture training after receiving five theoretical workshops and three practical visits. They have learned about soils, preparation of cultivation beds, organic fertilizers and repellants, extraction, conservation of seeds, and preparation of seedbeds.
The most beautiful thing is that the process has not stopped there. The group continues in contact, exchanging advances, achievements, and seeds and demonstrating their interest in learning and advancing in their gardens. It is beautiful to see the variety of species that these families have managed to produce in such a short time: squash, cassava, tomatoes, sweet potato, peppers, hot chili, melon, watermelon, celery, coriander, spinach, cucumber, among others. Besides, the families started rescuing local, super-nutritious varieties such as the chicasquil or chaya (Cnidoscolus aconitifolius).
The benefits of these training sessions have been substantial, and many other families and communities have contacted us requesting to participate in this program.
Español
Con la llegada de la pandemia del COVID-19, nos dimos cuenta de que la agricultura regenerativa podría ayudar a las familias locales a aliviar la situación crítica de desempleo en el área. La reducción de ingresos ha aumentado la presión sobre los recursos naturales y la caza de vida silvestre en la zona.
A partir de abril de 2020, decidimos fomentar formas sostenibles de poner alimentos en la mesa para todas estas familias. Por ello, la fundación puso en marcha talleres de agricultura regenerativa para promover la autosuficiencia y la independencia alimentaria, permitiendo que las familias tengan los alimentos necesarios para su subsistencia y evitando el uso de contaminantes peligrosos. Helena, nuestra educadora ambiental, nos cuenta que "Se ha dado un hermoso proceso desde que comenzó la capacitación. Las familias están intercambiando sus conocimientos y sus avances en sus huertos, creando espacios para producir alimentos donde antes no había nada".
La agricultura regenerativa fomenta prácticas que permiten la restauración del suelo y reduce la producción de gases de efecto invernadero. Ha habido una transformación en el proceso donde las familias han entendido que la materia orgánica no es "basura" como comúnmente se la llama, sino una fuente de riqueza para nuestros suelos.
La idea principal es ayudar a las comunidades a desarrollar pequeños huertos familiares de una manera que promueva la conservación de la biodiversidad y la restauración del suelo, genere una fuente de alimento saludable y conserve semillas y su biodiversidad en nuestras comunidades.
Desde junio de 2020, nuestro programa ha tenido efectos extraordinarios en las comunidades. Veinticuatro familias han completado su capacitación en agricultura regenerativa luego de recibir cinco talleres teóricos y tres visitas prácticas. Han aprendido sobre suelos, preparación de camas de cultivo, fertilizantes orgánicos y repelentes, extracción, conservación de semillas y preparación de semilleros.
Lo más bonito es que el proceso no se ha detenido ahí. El grupo continúa en contacto, intercambia avances, logros y semillas y demuestra su interés por aprender y avanzar en sus huertos. Es hermoso ver la variedad de especies que estas familias han logrado producir en tan poco tiempo: zapallo, mandioca, tomate, camote, pimiento, ají picante, melón, sandía, apio, cilantro, espinaca, pepino, entre otros. Además, las familias empezaron a rescatar variedades locales súper nutritivas como el chicasquil o la chaya (Cnidoscolus aconitifolius).
Los beneficios de estas sesiones de capacitación han sido sustanciales y muchas otras familias y comunidades nos han contactado solicitando participar en este programa.