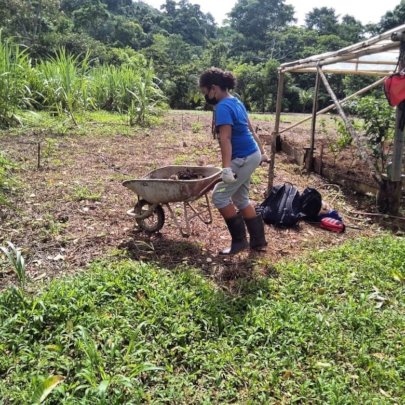 Soils hold three times the amount of carbon currently in the atmosphere: This is how we are changing the way we look at our soils.
Since 2020 we began a training process with local families from Drake Bay. They were in a highly complex situation due to the unemployment situation in the area due to the global Covid-19 pandemic.
Many families returned to planting to survive, but using harmful techniques, such as chemical and agrochemical fertilizers, damage the soil and ecosystems. That is why we wanted to support families in learning cultivation techniques that respect the environment and biodiversity: Regenerative Agriculture.
Regenerative agriculture is all about tourist and volunteers can help us reach our goal: 1000 trees planted by the end of 2021 feeding the soil. According to the American University in Washington DC, soils hold three times the amount of carbon currently in the atmosphere.
49 families have received training on regenerative agriculture.
18 families of those in the training process in 2020 are currently being trained with new knowledge that improves their crops, soils, and biodiversity.
They are also learning about the respectful and sustainable care of farm animals like pigs and chickens. In addition, they are carrying out an exceptionally beautiful process of exchange of work (helping in each other's farms), crops, and experience called "changed hands" in which a group of families supports another on their farm in the development of activities that improve their crops and exchange seeds products of their crops.
One of the families expressed to us how one of the most beautiful experiences was sharing with other families, seeing different ways of cultivating and exchanging experiences and seeds. "This process has made me see things differently, what I previously considered waste, now I know that it is extremely precious, the organic matter that plants feed on" she told us.
29 new families from Drake Bay have begun in 2021 the formation process that the other 24 families already completed last year. They are learning basic techniques of regenerative agriculture. After a distance training process through 3 workshops by Zoom, they have been learning about the essential concepts; soils, their composition, how to improve them, and different cultivation techniques.
During last weekend, we made the first practical tour in which we visited each family, to see the conditions of their land and we advised them on the challenges they will have to face to improve their crops.