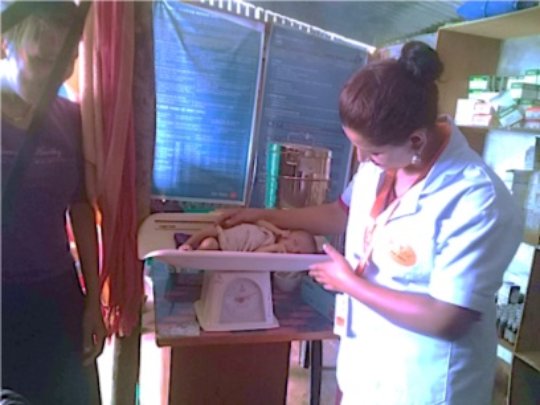 PHASE has been providing direct clinical services and community awareness programme in remote villages hilly villages, Baruwa and Bhotang of the Indrawati Region, Sindhupalchok in order to strengthen the government health services since 2017. Here is a short progress report in the past six months.
In Bhotang Village PHASE is supporting the government health post with fortnightly outreach clinics three settlements namely Chhimti , Yarsha and Larkhe. In Baruwa, PHASE is running a separate outreach clinic in Bolgaun Settlement, fortnightly outreach clinic (ORC) in three other Dalegaun , Ripar and Yangri settlements along with supporting essential medicines to the Government Health post, Baruwa.
The provision of two additional full-time staff in each village played a significant role to make health post and ORC services more efficient. In addition to this the provision of free medicine from PHASE has also solved the deficit of the medicine in the health post. Though the government promises to provide free medicines in its health posts, the supply is largely insufficient especially in the remote villages like them.
In addition to the regular clinical services during the day, PHASE ANMs provided 24 emergency services in both the villages.
Both the services were provided in close co-ordination with the District Health Office, Sindhupalchok and the local health posts. In the last six months, more than 2700 patients have received direct medical services in Baruwa and Bhotang clinics supported by PHASE-HDFA project.
Now that each village have their own local governments and have rights to allocate funds in the needy areas of the villages the situation is expected to be better in the coming years. However, the transition has been very slow and several sub committees like health committee, education committee are not yet fully functional. Nevertheless, the local government seem to catch up a bit from this year. This year with PHASE's efforts in upgrading the infrastructure of Bolgaun Clinic, it has allocated a fund of Rs. 4,00,000 (~AUD 5000) to the management committee. PHASE Nepal is working to find additional funds and plans to construct a permanent building for the health facility this winter.
The major services that have been provided at PHASE supported clinic till now can be summarized as follows:
General OPD services
ANC, delivery and PNC services
Immunization –BCG, DPT Hepatitis B, Oral Polio Vaccine, Pneumococcal Vaccine, Measles & Rubella, In-attenuated Polio Vaccine and Japanese Encephalitis
Distribution of deworming tablets.
Family planning counselling and contraceptive services such as providing the pills, condom and Depo-Provera and implants.
24-hour emergency services
2.1.2 Awareness Activities
Health promotion and awareness raising is another major priority of PHASE health intervention programme. This is very important, first to make people aware of proper health habits and second to make them aware of the government provision of free health service so that they become able to raise their own voice to demand their rights in the course of time. This year, a series of promotional activities were conducted to move a step towards this goal.
I. Door to Door Visits
PHASE ANMs conduct door to door visits three times a week in Bhotang and once a week in Baruwa for raising health awareness in the village. In these visits, ANM's work to make sure that nobody is staying ill as their homes relying on traditions remedies; to make sure that every young couple in the village knows about contraception, antenatal checks (ANCs) and proper care during pregnancy; to coach people on proper sanitation of home and around; to counsel people on preventive measures of communicable and non-communicable diseases and related immunizations; to counsel people on regular visit to the health post during any kind of illness; and to spread the word of several practical aspects of a healthy lives. In the last six months a total of 218 instances of home visits directly reaching 968 people at their homes and counselling them on better health practices, care and cures.
II. Strengthening the capacity of Female Community Health Volunteers (FCHVs)
FCHVs are motivated individuals willing to work free of cost to work on health sector recruited as per the regulations of district public health office. These include: female, permanent resident of the related ward of VDC, interested to work as FCHV for at least 10 years, between 25 and 45 years, married, has children under age five, committed to serving the community, with priority given to those who can read and write and are from underprivileged and marginalized groups. Currently there are 9 FCHVs in Baruwa and 9 in Bhotang.
Every month PHASE ANMs sit with 9 FCHVs – representing each of the smaller settlements in each village, to follow up on health-related issues from their localities as well as to coach them on proper handling of their major roles such as:
- To act as community-based, voluntary health educators, promoters, community mobilizers, referral agents and service providers in areas of health, as per trainings received.
- To promote utilization of health services and adoption of preventive health practices.
- To link the community with available PHC services and play key roles in services for family planning, maternal/neonatal health, child health and selected infectious diseases
A total of 6 FCHV follow up meeting, problem sharing and orientation were conducted this year.
III. CBIMNCI Training – In addition to the regular monthly coaching and discussion the FCHVs have also received a full package of Community Based Integrated Management of Neonatal and childhood Illness (CBIMNCI). Training 18 FCHVs from 18 different settlement will enable efficient addressing of neonatal and childhood healthcare at the community level. In the last six months, 2 batches of CBIMNCI training was conducted reaching 45 ladies with under 5 children, mothers group members and FCHVs.
IV. Strengthening the Health Management Committee
Every month PHASE calls for the meeting of Health Management Committee to reflect on several issues of health post management and to make them aware about their roles and responsibility for efficient running of the health post. Although the committee is the governing body of the health posts at the community level the members are common villagers still not fully aware of their rights and responsibilities. PHASE team is working regularly to bring this to body to become fully functional. A total of 8 Health Management committee meeting has been facilitated by PHASE in the last 6 months.
V. Working with the Traditional Healers
Baruwa and Bhotang like all the remote communities have tendency to visit Shamans (Dhami or Jhankri in Nepali) and traditional healers as the first contact person whenever they fall ill. This is because people blame gods and goddesses or some evil spirit for their illness instead of germs. PHASE has started to work and counsel these healers in a way that they redirect the patient to visit health post after they have finished the prayers or ritual for gods and goddesses. Working in the community, PHASE respects indigenous culture and practices while working for change. After a series of counselling the healers agreed to sit on a one-day training run by PHASE in both the villages. A total of 29 healers in Bhotang and 24 healers participated in PHASE workshops last year following up on their first training in the first year of the project. These people are continuously recommending the patients to PHASE Clinics after performing the traditional rituals and are acting as opinion leaders.
VI. Support in Immunization
Baruwa and Bhotang has been declared completely immunized Villages. PHASE, as a major stakeholder of the primary health services in these villages, provided all the necessary support in both the events. Since the start of the project, PHASE has also been spreading awareness about immunization in children while providing vaccination service from the government Health posts. A total of 230 immunization took place in the last six months at PHASE Supported healthposts and outreach clinics.
Recognizing the contribution, District Immunization Unit had also awarded letter of appreciation to both PHASE Nepal Baruwa and Bhotang team last year.
VIII. School Deworming Programme
In addition to the supporting the immunization for the new born and under 5 children, the project team is also running school deworming programme in which Albendazole tablets are fed to all the school going children every six months to prevent the infestation from hookworms, roundworms, tapeworms etc. In the last six months, 834 children who have not taken the medication from any other places such as health post were provided with the medication.
Declaration of Open Defecation Free Ward in Baruwa
Baruwa (Ward no. 3 of Panchpokhari Thangpal RM) has been declared as open defecation free ward ensuring every household in the village to have a toilet of some kind. PHASE has received an award of appreciation from the local government for its contribution in raising health and hygiene awareness and the prevention of communicable diseases via use of toilets.
VII. Health Education Classes to School Children
PHASE Health team has successfully managed to provide 23 events of School Health Education in Bhotang and 21 events in Baruwa directly reaching a total of 641 children directly in the last six months. During these sessions where the participant students took part in interactive classes provided by health workers and fulfilled any queries related to the topics. This is a unique opportunity for students to interact with real health workers and learn first-hand information about various diseases, preventive measures, personal hygiene, menstrual hygiene, first aid and other related issues.
VIII. Empowering Mothers Groups
Every month PHASE ANMs sit with mothers' group who are also the mothers-in-law of the families especially to inform, counsel and address the need of extra care of their daughter-in-law during their pregnancy and after the delivery of child. In the villages the daughter in law are expected to do all the household chores such as fetching water from tap, doing the cooking, working in farm even during the time of pregnancy. This burden could be lessened if the mothers-in-law are sensitive of these issues. In addition, the mother groups meetings also address common health-related awareness like in other health education events. A total of 6 meetings and orientation events have been conducted in each village by PHASE in the last six months while the groups were encouraged have the periodic meeting as per the needs to discuss and solve mutual problems.
IX. Participatory Village Cleaning Campaign
With the initiation from PHASE, village cleaning committee has been formed in both the villages and regular cleaning events were conducted. This was done to implement what has been learned in real practice. During the events the villagers were also taught about proper management of waste and reduce the practice of littering. It takes time to bring behavioural change in people's habit but guided events and regular follow up during home visits have brought gradual change in the sanitation behaviour of the residents. 10 cleaning campaigns were conducted in different settlements were conducted in this reporting period where 177 members from different families took part in cleaning and burning the village trash in the last six months.
With support from several individual donors and partner organizations, PHASE aims to continue the service for the next 3 years until these clinics are fully strengthened to run on their own.