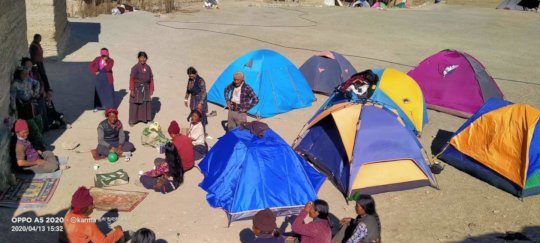 The winter school periods of our schools in Saldang and Nyisal were largely completed. From the middle of April, however, all schools in the mountain villages were closed. They are used as quarantine stations for returnees from Kathmandu. The lockdown measures in Nepal are carried out very strictly. Many people from Kathmandu went back to their home villages as they did not get any job and thus not enough food in Kathmandu and other areas. As always, we only can provide a more comprehensive report of our winter school sessions later this year once our school coordinators of the winter schools come back to Kathmandu. Right now, the Government of Nepal has announced an easing to the nationwide lockdown on June 15, although the country is still far away from being back to normal.
The overall situation in Nepal is dramatic. After 74 days of lockdown, over 1,200 people have already committed suicide by end of May. This is more than twice as much as in the whole year of 2019. People have mental health problems, have lost their jobs and can no longer repay their debts. The loss of tourism this year will have extreme consequences. There are still over 500,000 Nepalese workers in Qatar, Dubai and other countries that are now to be brought back. Unlike in Germany, in the Himalayan regions there is no state aid, unemployment benefit or any financial aid for the people concerned.
Our friends in Saldang and Nyisal in Upper Dolpo are suffering under Covid-19 as well. Although they are able to seed and do farming, people cannot move as they want or need. Many herdsmen and Yak owners urgently need to move their animals to the lower pasture areas, but they are not allowed to, because they have to be tested on Covid-19 first. This is not as easy and the Government thinks about sending test ampules to Upper Dolpo with helicopters. Another downside of Corona is that the Yartsa Gunbu season has been canceled. This means, that many people miss a necessary income this year because they cannot deliver this medicinal mushroom which is highly demanded from mainly people in Asia.
In addition to our school projects in Saldang and Nyisal, we gave financial support to provide food to the most affected families. This campaign was set up by our local administrative partner Dolpo Tulku Charitable Foundation. It was absolutely necessary to give food to people with no income.
It is still uncertain how the situation will develop in Nepal. After the earthquake in 2015 there is another dramatic year for all guides, cooks, helpers, porters, horse drivers, lodge owners, hotel employees, drivers and travel companies and many other people. We wish the people in Nepal the easing of the situation as quickly as possible and very much hope that we can start school again in November.
In our next report we hope we can give first information about last winter school period from November 2019 to April 2020.