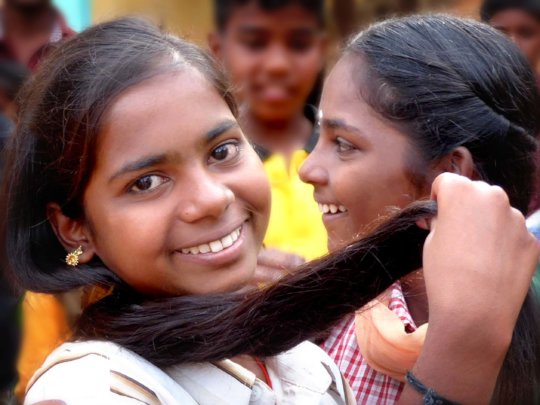 Note that those pictured do not necessarily have HIV
IMAGINE YOU ARE A HIV POSITIVE YOUNG WOMEN LIVING IN INDIA, SOON YOU WILL BE EXPECTED TO MARRY.
As you will see below, complex decisions must be made. This is a draft of a handout to women in this position.
Please ask us questions. What else would you want to know? Please give us your feedback and help us to improve it. Please contact John Dalton at
dalton.jn@gmail.com
[*We have included some notes in brackets to explain the Indian situation for those not familiar]
Some thoughts about HIV Positive young women who want to get married.
We followed up 57 HIV Positive young women who were born with HIV and got married over the past few years. Based on their experience we have made some observations which may interest you. This is not to advise you what to do, but to help you think about it. These thoughts are aimed at young HIV Positive women because the study was conducted among them. Many things apply to HIV Positive boys and young men also.
Medical, maternity and ART* Centre staff generally give good advice. But a few still give old ideas and information. Some advise HIV Positive girls and young women not to have children, to terminate pregnancies or even not to marry at all. We think this is wrong advice and suggest you ignore it. Nearly all of the mothers we studied were raising healthy children.
[* ART is antiretroviral therapy, the medicines which are essential to keep people living with HIV alive and healthy]
Just like anyone else you can marry a relation, have an arranged marriage, have a love marriage, marry within or outside your caste*. But you have an extra choice to make – whether to marry an HIV Positive or an HIV Negative man. Here are some of our findings. The choice is yours.
[*Most marriages in India are arranged by guardians, and nearly all arranged marriages are within the same caste, marriage to relations is very common]
Marriage of an HIV Positive young woman to an HIV Positive man
In the past, HIV Positive young women were advised to only marry HIV Positive men due to fear of transmitting the disease to the husband. Things have changed. If you are on ART you can marry who you like. However there remains a strong belief among young HIV Positive people, HIV Positive adults, the medical profession and the community at large that marriages where both partners are HIV Positive is preferable. In our study over half the marriages (34 out of 57) were to HIV Positive men. Positive Networks, NGOs, and counsellors continue to facilitate such relationships often at the request of the guardians. Some charge money for these matrimonial services.
Possible advantages of marriage to an HIV Positive man
- Family more often agree to the marriage since they may have taken part in arranging it. For this reason there may be better family support and less objection if the husband is a different caste.
- Disclosure is less of a problem and there is less need for secrecy since the spouses, their guardians and others close to them already know the HIV status of both partners.
- Possibly there are fewer marriage breakdowns – the study found that most marriage breakdown was when the husband was HIV Negative.
- Social acceptance - many people think that marriage between HIV Positive people is more responsible.
Possible disadvantages of marriage to an HIV Positive man
- The husband may be much older due to the more limited choice in finding a match. This has the potential to cause problems, for instance some older and thus less sexually active men may start to suspect their wives of infidelity.
- If only for the sake of caring for children, extra attention is required related to health since both partners have increased risk of becoming ill. Strict and regular attendance in person at ART Centre are essential. Close adherence to the testing schedule is essential.
Marriage of an HIV Positive young woman to an HIV Negative man
There is no reason why a young HIV Positive woman should not marry an HIV Negative man. With better ART there is very little chance of HIV spreading to the husband or baby. There are important precautions:
- Absolutely regular ART and personal attendance at ART centre. Close monitoring of CD4. Quick action in case of infections. Insist on Viral Load testing if you get infections or lose weight. The husband should be tested periodically*.
- When pregnant or not trying for a baby – use a condom (most couples do not follow this)
[*CD4 is the first line test of level of immunity, if it falls there is a chance the ART is not working and needs to be changed. Viral Load testing is a more sensitive test if virus is detected the person becomes infectious again and the ART drugs must be changed]
Factors in girls and young women marrying an HIV Negative man.
As you know most marriages are arranged to relations or within the caste. In our study only a few such marriages were arranged. Most HIV Positive women who marrried HIV Negative men did so through a love marriage, often by eloping.
This may be unavoidable but it also carries the risk of disapproval and lack of support from families on both sides – HIV complicates matters more.
But however you marry, as an HIV Positive young woman you have another choice to make. If the groom does not know and accept that you are HIV Positive you have to decide whether or not to tell him and when.
Disclosing your HIV status carries the risk of rejection before marriage.
On the other hand your husband WILL find out one day, perhaps when you become pregnant. When this happens, our study shows there is a very high risk he may desert you.
All focus groups we talked to strongly recommended that you tell your HIV status before marriage. Your local Positive women's Network will arrange good people to help (phone …………………).
But that is the choice YOU must make.
Please scroll down to the section "About this Project" and click on the photo of the boy to see our new short video.
Thanks, as ever, for your support,
John Dalton