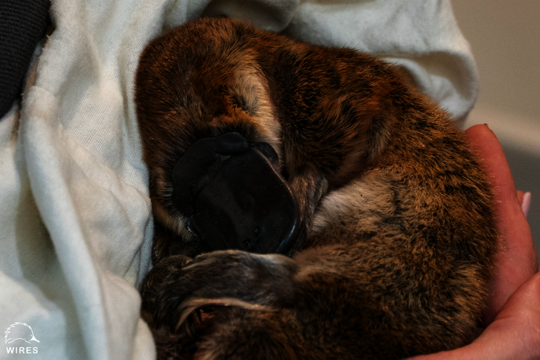 Across Nov/Dec/Jan our volunteers attended over 10,000 rescues. Thanks to your support we are able to respond to assist wildlife in need.
The bushfire emergency in Australia has taken a tragic toll on wildlife and the global community acted significantly to help wildlife in January donating millions of dollars to WIRES to help native animals.
WIRES takes the diligent management of these funds extremely seriously and is working closely with a wide range of organisations to implement plans designed to deliver maximum value for immediately affected wildlife and surviving wildlife in the wild. Many animals are also facing long-term challenges due to the food and water shortages and lack of habitat.
No-one knows yet whether hundreds of animals at risk of extinction have survived and for the remaining animals of these species, unprecedented actions to preserve their future may be required.
Thanks to our incredible donors, we are immensely proud to have been able to already have approved or disbursed funding to 70 licensed rescue groups or individually licensed carers across 6 states and territories, in addition to supporting our 28 WIRES Branches across NSW, and every day there are more applications being received and processed.
These funds have been used to:
• provide food and water to hundreds of animals in care, including more than 11 tonnes of hay.
• fund medical equipment for emergency animal care
• fund veterinary expenses
• fund lifesaving medications
• expand existing care enclosures to accommodate the increased amount of rescued animals in the aftermath of the bushfires.
• repair damaged enclosures or facilities destroyed by fires.
Additionally:
• water tanks, pumps, pipes, high-visibility vests and radios have also been funded to help volunteers to stay safe in the dangerous search and rescue conditions.
• specialised facilities are being built for Koalas and Greater Gliders.
• 26 ICU incubators have been purchased. These incubators are invaluable when caring for young orphaned animals who would still be relying on their mothers to keep them warm.
• 5 flying-fox flight aviaries are being built along with the repair and extension to an existing facility.
• supplies including pouches, possum boxes, safety equipment and medical supplies have been distributed to 7 states and territories with the assistance of the Animal Rescue Cooperative.
Thank you for your support, we have been very moved by the level of compassion from around the globe, it is greatly appreciated.