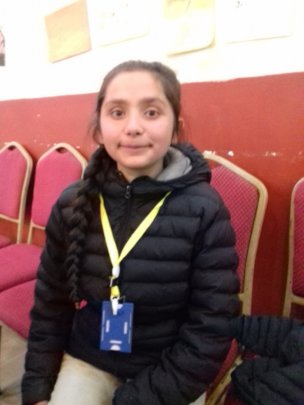 Thank you so much for your generous donations! You are helping to make the life's dreams of all our children come true! We just received all the cheques from GlobalGiving and are so relieved! We used to worry too much about not having enough money to support the children's needs including tuition, food, clothing, special lessons, a safe functioning house and more. Now we know that we have enough support for this year. We had various donors over the years since we started Mary Home in 2007. And are so grateful to all of them. For the past 10 years a group of friends and donors, USA have made a huge difference in the children's lives by sponsoring the tuition for the all the children – special thanks to all these dear friends.
And now, friends and organizations who want to donate but don't have a direct way since PayPal and other well-known portals don't function in our part of Nepal, have a portal to support Mary Home as well. Donors from many countries are all helping out. Many of you are good friends who have visited and volunteered at Mary Home and know firsthand the needs of the children and how we struggle to maintain the Home. We invite you to visit Mary Home and would be so grateful to welcome you to our home.
We will be preparing reports every 3 months as suggested By GlobalGiving. We are trying hard to personalize every reports by highlighting a different child in each report.
This time we would like to introduce you to Anjila (please see the photo). She works very hard on her studies and is excelling in all her classes at school. She likes to draw, and dance. Anjila's grand mother is alive but she can't afford her education and food. Her parents died in accident when thay were traveling in bus. She have 2 yonger brothers. She came mary home but we can not afford 3 children because of lack of fund and room to stay. So werequested to another orphanage for 2 boys . Our help to them also continues . This year Ajila requested us to help her to go back with her grand mother, who is too old and is unable to handle her day to day activities properly, to help her along with her brothers. We are happy to hear from 16 years old Anjila's thought. So we sent her back home in village. Now we are providing nutritional and educational support to her family. We,sometime visit at her place but it's so sad to see the difficult situation of her house after the disaster of earthquake which is still the same. With the support of Global Giving she is able to continue her education, live with her family and eat a healthy diet. In spite of the hardships she has experience. She is now a happy, talented, well-adjusted child who can look forward to a bright future. We will continue to support her family in the areas where it needs to be done incooperating with globle giving foundation.
In conclusion, we value the importance of education, nutrition, good environment and seek to help each child in need to protect their birth right and humanity.
Thank you for helping us reach our goals.
Highly Appreciated for your support, love and care for Nepali childrens.
Much love and gratitude,
Kopila, Anne and leah