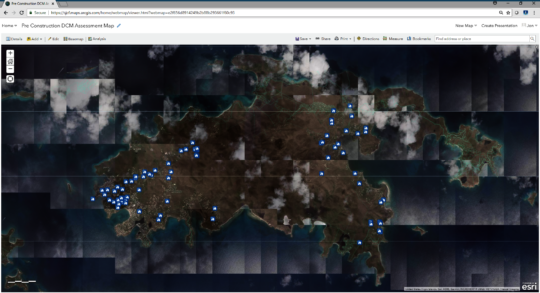 After the 2017 storms damaged nearly 74% of low and middle income we began a Senior Roofing Initiative in order to assist the elderly, vulnerable residents on St. John with construction efforts on their primary residences. Realizing quickly that there was much more work to be done, we teamed up with two other non-profit organizations, All Hands and Hearts and Love City Strong, to develop what we call the Resilient Housing Initiative (RHI). Thus allowing us to expand our scope to help not just senior reseidents, but all vulnerable, low-income St. Johnians in need of a dry, safe place to sleep at night.
Our organization's role in this partnership is to provide the staff support from Disaster Case Management to do outreach and properly qualify clients for our rebuild program and construction facilitation from our in-house leads. One of the responsibilities of our in-house construction team is obtaining the expensive permits associated with these projects. We have set aside $17,000 of our GlobalGiving Funds in order to go through the permit process for ten homes (roughly $1700/home).
We are also the responsible party for supplying the materials for these projects. In that way, the Cruzan Island Spirit Fund has been invaluable. Last week, we placed a bulk order for both structural and and non-structural materials that totaled in close to $50,000. These materials will aid in the completion of 3-4 homes and with the steady flow of funds from Cruzan, we are able to continue to order these supplies as needed without the added worry of where our next funding is coming from. We plan to place similar orders with the Cruzan money each month as long as the funding is available to us.
Additonally, we set up three local accounts with $5000 in each of them ($15,000). These accounts will be used to pull home specific items that will not fall under the bulk materials being ordered. They also allow us easier access to items we run out of on site and the opportunity to support local businesses which is vital in our post-storm declining economy.
As of this week, we have compiled the following numbers in reference to the success of the RHI:
Roofing Projects Completed: 3
Full Rebuild Complete: 1
Projects Beginning this Week: 3
Vetted Clients Awaiting Assessments: 28
Clients in the Vetting Process: 22
We have just begun to speed up our efforts as with this new partnership and the assistance of funds through this program. We plan to move forward more quickly with these 50 homes beginning this month and are aggressively conducting outreach activities to reach more of those in need of our help.
The above image is from our in-house arc-GIS system, shared amongst our partner organizations. The homes notated on the map are those we have identified and are in our evaluation process. Our internal users are able to access information in regards to the construction notes, schedule/scope of work and qualifying factors by clicking on the icon.