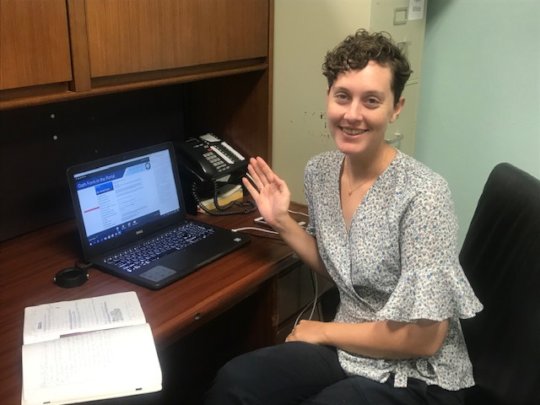 To achieve sustainable resilience in the aftermaths of Hurricanes Maria and Irma, St. Croix Foundation has chosen to focus on nonprofits, youth and workforce development, energy independence, and food security. Our strategy? Select two groups of beneficiaries – nonprofits and youth – that are best poised to carry initiatives forward, seek out and implement innovation, and stretch the boundaries of what resilience really looks like. By choosing to focus on these two segments of our community, we sought to set the groundwork for long term progress and we're happy to report traction is being gained! But we've also chosen two programmatic priorities – energy independence and food security – which we believe to be trigger points we can leverage several times over for economic benefit as well as sustainable resilience.
We hope you enjoy reading about the work you've directly supported! These are not just single projects in time, but models that can be expanded and modified as needed. But even more than that, it's a strategy that is community-based and therefore, sustainable and undeniably resilient. Without you, it just would not happen.
Students Prepare for NCCER Solar Certification!
In our last report, we announced the official launch of our Solar-Supported Community Center Project and Workforce Development Initiative. Addressing workforce development, energy independence, and nonprofit capacity building, this single initiative is closing in on some major milestones which we are happy to report on.
Today, our 9 students have completed 400 hours of curriculum and are on their way towards gaining their National Center for Construction Education and Research (NCCER) certification in solar installation. After just under six months, upon successful completion of their exams in November, students will graduate, fully certified in NCCER Core Curriculum, Electrical Levels 1 & 2 and Solar PV Installation. Our newly certified solar workforce will then proceed with solarizing the Caribbean Center for Boys and Girls of the Virgin Islands (Formerly the Boys and Girls Club) in late November and the Flamboyant Gardens Seniors Independent Living Community Center in December.
The best news we've received to date is that we were approached by a solar system vendor who asked to meet with our students to inform them that he is prepared to hire 5 students immediately upon completion of the Project to work for his company.
Today, the Foundation is working to identify additional funding for the final two centers, which will also serve as resilience hubs.
The Solar Supported Community Center Project and Workforce Development Initiative is made possible through a partnership with the Virgin Islands Department of Labor, the Center for Disaster Philanthropy, Global Giving and a number of other national and local corporations and philanthropic entities.
SCF Awards Youth a Grant for Transportable Solar Station Prototype
While our solar students close in on graduation this Thanksgiving, the Foundation was recently approached by Kieran, a 17-year-old student and Boy Scout on St. Croix who has invented a solar charging station.
As part of Kieran's final and rigorous service project to graduate as an Eagle Scout, Kieran devised a solar station that can be mobilized throughout neighborhoods during times of crisis. The station can be used to charge phones, laptops, and any medical equipment such as insulin testers that are rechargeable. In recognition of his vision, the Foundation awarded Kieran a grant in the amount of $2,100 that will allow him to create a working prototype of the station for our community to use and possibly invest in. Kieran will also teach 2-3 youth from the Caribbean Center for Boys and Girls of the VI how to build them and create a manual/ video to ensure the sustainability of this exploratory project. In addition, Kieran has agreed to host one community meeting to inform community members about his invention.
The Foundation couldn't be more pleased! While we are building capacity for resilience in times of trouble, we are also supporting young people like Kieran to help them realize their dreams and begin to build a future for themselves and their Community!
St. Croix Welcomes Our First AmeriCorps VISTA Volunteers!
Early this summer, St. Croix Foundation was awarded over $300,000 by the Corporation of National and Community Service to assign fifteen (15) AmeriCorps VISTA members to support eight St. Croix nonprofits. And while we are still recruiting volunteers and trying to identify affordable housing for VISTA (an unfortunate outcome of the Hurricanes), we are happy to introduce one of our first AmeriCorps VISTA volunteers. Meet Sinead (pictured in our report), a young volunteer who is just now getting settled with the Caribbean Center for Boys and Girls of the VI. Her scope of work will be to assist the Caribbean Center for Boys and Girls VI with website development, community outreach, and the creation of an alumni database.
The overarching objective of our VISTA Project is to strengthen our nonprofits so that they may, in turn, better serve our Community (particularly children and families). By helping our nonprofits build capacity, some of our most vulnerable residents will be empowered to broaden their experiences and rise above the conditions of poverty. But, as with all of the Foundation's work, our VISTA project has multiple benefits: improving awareness of St. Croix and nonprofits for volunteers as well as providing work opportunities for local residents.
Farm Tiendas on the Way to 7 Farmers!
First, we wish to extend our deepest appreciation to our Community and Philanthropic Partners (like GlobalGiving), who have made our Farm Tienda Agricultural Small Business Grant possible! An exciting initiative that serves to improve food security on St. Croix by bringing farmers back online while also bolstering our economy through the support of small businesses, this is another initiative that serves to also strengthen neighborhoods by creating resilience hubs.
Since we last reported to you, we convened a diverse committee of community stakeholders to review applications and selected seven farmers to receive 8x16 steel container Farm Tiendas, complete with 1000 gallons of water, approximately 4 solar panels and Wi-Fi connectivity.
While the Foundation had originally budgeted for six Farm Tiendas, one of the Foundation's Donors, who was on the review committee, decided to fund one more. The decision was made after we determined that one of St. Croix's oldest farms had not made the cut score. In the end, all eligible farmers were awarded Tiendas!
To date, farmers have been notified verbally of their selection and are preparing to sign formal contracts that will outline their reporting requirements and expectation for how the Tienda will be incorporated into the community.
In addition to the prototype Tienda that we presented in April, 6 more containers have been ordered. Of those, two containers have already been wrapped and prepared for delivery to the farm site, and we anticipate that the final wrappings will be completed by Thanksgiving. We are very excited to report that all Farm Tiendas will officially be delivered to our farmers during the second week of December. Once the Tiendas are delivered, solar systems will be installed on-site.
The Farm Tienda Small Business Grant Program is made possible through a partnership with Coca Cola, Global Giving, and ProTouch Communications.
Thank you!
As St. Croix Foundation nears major milestones with the completion of the first phases of several of our most comprehensive recovery initiatives, we are mindful of the many partnerships that make this possible. The Foundation has never been more prodigious than we are today, and this is in large part fueled by our philanthropy partners who have committed sustained support for our recovery and who believe as we do: that making strategic investments in communities affected by natural disasters scalable models can be built and the lives of people can be transformed. As we near November 15 and National Philanthropy Day, it should be noted that all we do is ultimately driven by our unabashed Love for Humankind. And we thank you for sharing that love.