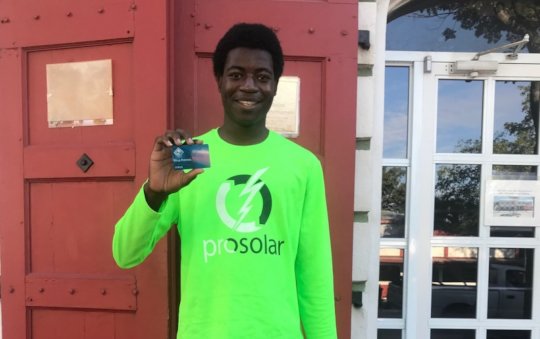 Since September 2017 when Category 5 Hurricanes Irma and Maria hit the Virgin Islands, our Community has faced challenges that require the collective investments of every sector (public, private and civic) to overcome. True to progressive place-based philanthropy, St. Croix Foundation for Community Development is nurturing sustainable resilience by utilizing data to inform our investments and cultivating cross-sector collaborations as the cornerstone of social impact. We are pleased to report that our work continues to gain traction.
As we usher in 2020, this report showcases major milestones met with the completion of the first phases of several of our comprehensive recovery initiatives. We are mindful of the many partnerships that make this possible. The Foundation has never been more prodigious than we are today, and this is in large part fueled by our philanthropy partners who have committed sustained support for our recovery and who believe as we do: that making strategic investments in communities affected by natural disasters can create scalable models that have the power to change lives. While this quarterly report is lengthy, we have a lot to report – work that reflects our collective efforts – and we hope you'll enjoy reviewing the story you've helped to write!
Changing Lives, Building Capacity: Solar Workforce Initiative Graduates Students and Installs Solar on First Community Center
As St. Croix Foundation rolls up its sleeves for the long-term phase of our hurricane recovery efforts, two fundamental principles have governed our planning and programing- equity and sustainability. In 2018, when we first conceived our solar and workforce development initiative, those principles informed every facet of programming.
By November 2019, St. Croix Foundation was proud to report that, 9 young adults have graduated from a 6-month National Center for Construction Education and Research (NCCER) course. Those students represent the first formal class of certified solar installers in the Territory. And, we couldn't be more delighted to announce that two students have been hired by ProSolar Systems, a local solar engineering company. Another student received several job opportunities on the mainland, and we look forward to an exciting update from them soon. Overall, all of our students received a certification card that is nationally accepted in addition to a tool bag sponsored by the Foundation.
While building a skilled workforce around sustainable energy is undeniably critical to St. Croix's social and economic health, the Foundation is equally excited about how this initiative will impact nonprofit community centers and the neighborhoods they serve. Community centers were selected based on their strategic location to isolated or underserved neighborhoods and their connection to established nonprofit organizations serving vulnerable populations and providing structured community-based programming. As part of our Solar Initiative, students are solarizing 4 community centers on St. Croix including the Caribbean Center for Boys & Girls in Frederiksted and Flamboyant Garden Seniors Independent Living Community Center. These centers will, in turn, become resiliency hubs for vulnerable communities, providing energy independence and greater operational capacity to serve residents.
In late November, our newly certified solar workforce began solarizing the Caribbean Center for Boys and Girls of the Virgin Islands (formerly the Boys and Girls Club), which is today enjoying energy independence and estimated utility savings of up to 40%. The center will, in turn, invest its utility savings into the expansion of services to the over 100 young people and families it serves every day.
Our cohort of solar students isn't done yet though! As part of the initiative, they are also completing a soft skills workshop to help prepare them for the workforce and develop their skills in areas such as interview techniques, financial literacy, and employment policies. While they complete this portion of their training, the cohort will also begin their next install on Flamboyant Gardens' Community Center in early March, allowing them to complete the last portion of their on-site workforce development hours.
To date, this initiative is made possible through funding support from the VI Department of Labor's Workforce Investment Board, GlobalGiving, and the Center for Disaster Philanthropy among other generous local and national partners. For more information call 340.773.9898. Thanks to these generous Philanthropic Partners, SCF has secured the necessary funding to solarize 3 of the 4 community centers. We invite additional funders to please contact the Foundation to become partners on this high impact resiliency project.
AmeriCorps VISTA Volunteers are Building Capacity!
As you may know, after 400 staff hours of coordination and development of our application, the Foundation was awarded over $300,000 by the Corporation of National and Community Service to assign 15 AmeriCorps VISTA members to support eight St. Croix nonprofits (including the Foundation) for a full year. Established in 1964, AmeriCorps VISTA (Volunteers In Service To America) is a program that brings passion and perseverance where the need is greatest – and that's equity in action. This delegation will represent the first VISTA team in the Territory in over 20 years.
For 2020, the St. Croix Foundation's VISTA Team is off to a great start. We currently have four VISTAs in place supporting Caribbean Center for Boys and Girls of the VI, St. Croix Long Term Recovery Group, and Virgin Islands Good Food Coalition.
AmeriCorps VISTAs are providing technical assistance to build capacity for organizations in addition to raising community awareness of each organization's services and initiatives. Our first VISTA, assigned at the Caribbean Center for Boys and Girls (CCBG) since October, has already accomplished her first newsletter and updated the organization's website, providing new development materials to CCBG. She also held a presentation for young people on the Peace Corps, sharing her experience in global civic work. A second VISTA has also recently joined St. Croix Long Term Recovery Group as our Volunteer Outreach Coordinator with the goal of developing and implementing a volunteer recruitment strategy in her time on St. Croix.
Through a grant from the Virgin Islands Office of Insular Affairs, the Foundation is also sponsoring all VISTA with professional development and is targeting nonprofit training, grant research, and social media techniques into a year-long strategy to ensure VISTAs receive a holistic experience while building capacity for nonprofits. In testimony to the collaborative spirit embedded in this project, St. Croix Landmarks Society has also offered professional development workshops on the rich cultural heritage of St. Croix.
St. Croix Foundation is excited to see the VISTA Team grow! Thanks to a generous grant from GlobalGiving's Cruzan Island Spirit Fund to help subsidize housing costs for our volunteers, we continue our quest to recruit 8 more members and invite on and off-island candidates to learn more by visiting the AmeriCorps portal.
As always, the overarching objective of our VISTA Project is to strengthen our nonprofits so that they may, in turn, better serve our Community (particularly children and families). By helping our nonprofits build capacity, some of our most vulnerable residents will be empowered to broaden their experiences and rise above the conditions of poverty. But, as with all of the Foundation's work, our VISTA project has multiple benefits: improving awareness of St. Croix and nonprofits for volunteers as well as providing work opportunities for local residents.
First Farmers Receive Farm Tiendas, and Resilience Building Begins!
In 2017, just months after the storms, with lead funding from Coca-Cola followed by a grant from the Cruzan Island Spirit Fund at GlobalGiving, the Foundation developed an initiative that would assist local farmers in building for the future and anchor them as community hubs in times of disaster.
Launched in April 2019, through this grantmaking program, the Foundation is awarding durable, eco-friendly container farm stands, or "Farm-Tiendas," to seven eligible farmers to help bring their businesses back on-line. Farm stands are made from steel containers that will be outfitted with solar panels, Wi-Fi, and potable water to allow farmers to stabilize and expand their businesses while also providing community hubs in the aftermath of future disasters.
In December 2019, seven grantees were awarded and received public recognition at the 4th Annual Coconut Festival. Today, St. Croix Foundation is pleased to report that the original prototype and six additional units have been purchased, wrapped, shipped and customized for each farmer. One Farm Tienda has already been delivered to Sejah Farm; the remaining six will be delivered to individual farms by February 29, 2020. They are currently stored at a secure location at no cost to the project, thanks to a collaboration with another nonprofit partner, St. Croix Farmers in Action.
As part of establishing Farm Tiendas as neighborhood resilience hubs, seven 1000-gallon water buffalos have also been purchased and will be installed when the Farm Tienda is delivered. Additionally, each farmer will receive 4 solar panels, 1 inverter, 1 charge controller, and two 150-amp hour batteries with aluminum battery boxes. With their Farm Tiendas equipped with water and solar energy, farmers will have the capacity to power lights, a small fridge, and multiple charging stations for use by residents in times of need.
Engineering for Resilience
With an eye on sustainability of the Farm Tiendas, St. Croix Foundation has contracted a Farm Tienda Project Engineer responsible for evaluating site locations and working with each farmer to create an affordable, structurally sound installation plan that complies with local building permit regulations. All site inspections have been completed and installation plans will be finalized by the second week of February.
From the onset, St. Croix Foundation also determined that Wi-Fi was a critical component to helping improve communication in times of need. The project will cover over $850.00 of Wi-Fi service costs per farm. All Tiendas are scheduled to be completely installed and outfitted by March 31, 2020.
Farm Tiendas as Community Hubs
While St. Croix Foundation was unquestionably excited to launch this pilot with a single Farm Tienda, when the Cruzan Island Spirit Fund and GlobalGiving reached out with a grant opportunity to expand the initiative, it significantly improved our ability to gather data and assess the impact. Perhaps most importantly, this funding provides the Foundation the ability to create multiple, strategically placed small community resilience hubs that can serve as distribution points for food, water, medical supplies, etc.
Our Farmers and Community Partners
Our farmers are critical as small business engines and as food providers during times of prosperity and need. They are, to St. Croix Foundation, more than grantees. They are our community partners. Whether it's sweet local honey, organically grown sunflowers, fresh fruits, and vegetables, or meat and eggs – these are the farmers who make a difference every day. Below is a list of farms that have been awarded Farm Tiendas:
Sejah Farm at Castle Burke, Frederiksted; Production: Livestock, Poultry and Egg, Fruits and Vegetables, Forage
GLG Farm in Community Gardens, Frederiksted; Production: Fruits and Vegetables, Honey
Mystical Farm in Mount Victory, Frederiksted; Production: Fruits and Vegetables, Forage
Jackson's Farm at Estate Diamond Frederiksted; Production: Livestock, Fruits and Vegetables
Chez Sherron Farm in La Valle, Frederiksted; Production: Fruits and Vegetables
New Breed Farm on South Shore Christiansted; Production: Fruits and Vegetables
Ridge to Reef Farm in Mount Victory, Frederiksted; Production: Livestock, Fruits and Vegetables, Forage
Evaluation and Data Collection
Evaluation and data collection will begin in April 2020 and run through November 2020. The Cruzan Island Spirit Grant has allowed us to procure different containers for us to assess performance in a variety of circumstances. For each farm, St. Croix Foundation will be collecting metrics on several key components of the project including:
Structural integrity of the container in an island environment
Increase in business capacity/ expansion of services
Usage of water, electricity, and Wi-Fi
Community benefits
Disaster recovery usage and performance
As a first-of-its-kind concept, we are pleased with the design of the initiative as a relevant and economically critical resilience vehicle, but we are equally encouraged by our ability to explicitly embed an Equity Framework into the process for selecting the farms that received Farm Tiendas. The design of the prototype, wrapping, site inspections, and installation conversations have also been highly productive. As a place-based hybrid community foundation, however, we feel that one of the greatest testimonies to the success of this initiative thus far lays in the collaborations that have made this possible. From the public, the private, and the civic sector, this is a true collaboration that has allowed the initiative to move forward.
On behalf of St. Croix Foundation for Community Development's Board and Staff and the community we serve, we wish to thank Coca-Cola One, Cruzan Rum, and GlobalGiving for sharing our vision of a sustainable, resilient St. Croix.
Thank you!
As a place-based community philanthropy, St. Croix Foundation is mindful that to achieve sustainable growth and real resilience, strategic investments must be directed at a consortium of nonprofit organizations that are providing stable social services and are filling critical service gaps that our government alone cannot. We firmly believe that the Territory's Civic Sector represents a viable pathway to healthier social systems in the Virgin Islands and we could not be more appreciative that you share this understanding with us. The work here represents real collaboration and investment in assets that exist in our Community – and we continue to believe that it's an approach and a model that can be used to strengthen communities just like ours.